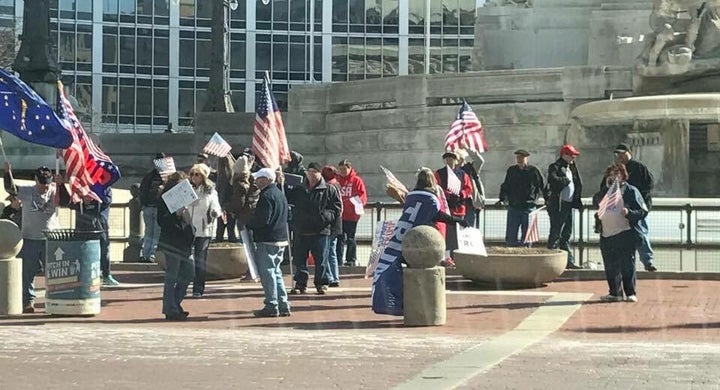 And with the help of Trump protesters, many of the crowds appeared to top dozens of people or more.
President Trump has thankfully set a new course, and no matter your race, creed, color, gender, orientation, age, or anything else traitors exploit to divide, We The People are one. Come show your support for him, each other, and our country right in the heart of our capital.
Speakers at various demonstrations railed against the media and protesters, called for Obama and 2016 Democratic presidential candidate Hillary Clinton to be jailed, accused Democrats of "forgetting 9/11" by electing the 44th president and generally lamented people lamenting Trump. An outbreak of violence was also documented at the capitol building in St. Paul, Minnesota.
"Hoping that our president fails ― our president who is the captain of the American ship ― if you hope he fails, we will all sink on that ship," one speaker said at a rally in Washington, D.C.
Trump, who was scheduled to stay at the Mar-a-Lago Club over the weekend, reportedly stopped a motorcade in Palm Beach to wave at supporters.
Here's a look at some of the rallies across the country that folks on Twitter shared images of:
Colorado
Indiana
Tennessee
Minnesota
Washington, D.C.
Ohio
Patriots from both sides of the aisle took over Columbus.
Missouri
New Jersey
Pennsylvania
Florida
New York
Popular in the Community