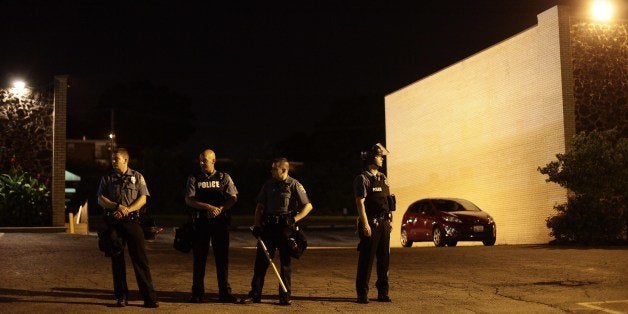 Last night, the police in Ferguson set up a designated protest zone, where protesters could stay out all night if they cared to. By 4 a.m., it was down to a determined few. The media was gone. The police were largely gone, except for one squad car parked across the street. People compared bruises and abrasions. One man carried the beanbag he was shot with, so that he'd have evidence in case anyone cared. They were well aware that the media cleared out once it became clear the night would be peaceful, and they talked about what that might mean.
There's an established pattern now: During the day, there is cleanup and scattered protests. People have jobs to be at. In the late afternoon people start to filter in -- media, protesters, police. Florissant fills up. There is a directed protest; last night people marched in a circle between two barricades about five blocks apart. At some point, the tension builds. People start to get restless after a few hours of discussing amongst themselves exactly how many of their rights are being violated now and why. Police are uncommunicative; last night I heard rumors of a curfew and asked an officer to confirm. He refused and referred me to the press officers, who were located well away from the protests.
Protesters stand in parking lots and on sidewalks during the evening protests. For the last two nights, they have not been allowed to stop moving. I spoke with a man who asked me what people who couldn't march for hours were supposed to do. What's struck me is the determination; people tell each other all night to stay peaceful, that they will win if America sees them be peaceful. Last night, a man rigged his food truck to play music to keep the protest lighthearted. The police immediately ordered him to turn it off because people would congregate. An hour or two later, protesters had managed to get one of those trains that pulls kids around in parks and malls. They put a sign on it proclaiming it a peace train, and they played Marvin Gaye from loudspeakers.The dancers weren't stationary.
But that was last night. Tonight it's raining, with heavy thunder and lightning. People seem determined to stay; police seem edgy already. The crowd skews young. The march continues, with the same chants we've heard for days. Hands up, don't shoot. I am Mike Brown. The people haven't forgotten. The mood is watchful.
Nobody knows what will happen tonight. Perhaps another night of peace, or perhaps another night of running from flashbangs and hoping live fire isn't next. People come and go, deciding to join in or avoid the rain at about equal numbers. Most people talk about how this is their home. They hope for the best and prepare for the worst. They are carrying their masks in their pockets instead of around their necks, but there have already been arrests tonight. As I write this, it's only 9 p.m. There are a lot of hours left before the residents here know whether tonight will bring peace, and sleep.
Ferguson isn't the "projects." It's just a place where people live. Now, it's a place where people mourn. Whether they want to be there or not is irrelevant; they don't have the choice of leaving. People keep trying to come up with new ways to say "surreal." One man told me three times in ten minutes about the nightmares he's had for days. They are of a masked figure emerging, gun at the ready, from clouds of choking smoke. Just that scene, and then he wakes up.