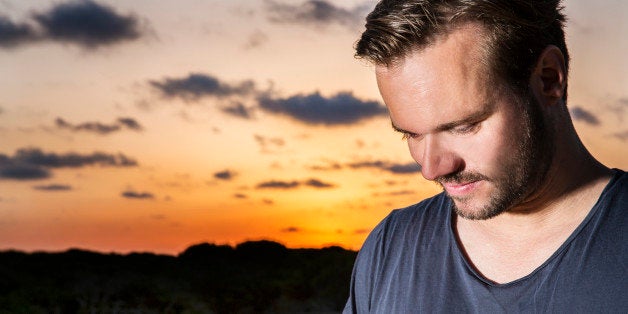 Marco Niemerski produces sleek, melodic club music as Tensnake, but the German artist didn't start out behind a turntable. He first had to get over his mod period.
"I'm glad that no records exist," the producer laughed during a recent interview with The Huffington Post. "I tried to play guitar when I was young and we had a cover band that did The Who. At school, I'm almost embarrassed to say, but we had a Ramones cover band too. In a suburb of Hamburg, so you can imagine that it wasn't that glam."
After graduating, Niemerski struck out into the music industry, doing public relations work for labels like Strictly Rhythm and eventually settling into advertising. ("It was very, very boring," he said.) He's come a long way, though: On March 11, he'll release "Glow," a studio album that features the likes of Nile Rodgers, Jamie Lidell, MNEK, Fiora and Jacques Lu Cont.
The LP makes for a good start-to-finish listen, with a good mix of timeless sounds ("See Right Through") and contemporary takes on post-club mood music ("Holla"). In advance of the record's release, a tour and an opening gig for Giorgio Moroder and Chic at the Hollywood Bowl in May, we spoke with Niemerski about his inspirations, working with Rodgers and his somewhat controversial views on modern R&B.
You're fond of saying that disco never died. Who are some of the artists you've been enjoying for the past few years?
Over the past couple of years I sort of rediscovered my love for it from Tim Sweeney's Beats in Space show. Then there was this wave of not "nu disco," because I don't like that word at all, but Scandinavians like Todd Terje, Prins Thomas and others who did this type of sound. That inspired me a lot, and obviously DFA Records with LCD Soundsystem's disco influence.
Some of your earlier stuff, like "Coma Cat," sounds like it could have been made this year, but it's almost four years old now.
Yeah, I was a bit too early!
Through that lens, is it interesting to see groups like Disclosure taking off now?
Of course, I'm happy. I remember when I made "Coma Cat" I was quite unsatisfied with the sound in the clubs. It was very minimal, with no vocals, and to me it was missing the fun and the melodies. Back then, I wasn't sure if I should put it out at all, because no one was doing club vocals. But now there are so many club bands with vocals that you almost have to have them. If "Coma Cat" helped bring that back, then of course I'm happy.
Do you think there's a space for the type of music you make on pop radio?
I'm not afraid of pop music, I grew up on it. I grew up in the suburbs of Hamburg, and there wasn't so many things to do. Music was very important to escape that life when you were young. I grew up on '80s radio music, so I was confronted with the big pop song very early. Some people are strictly underground and I don't know if they're afraid of making more money or reaching more people, but I'm not like that. What is underground? Underground is just not selling records -- the less you sell, the more underground you are.
I can definitely say that I had to get used to playing in front of more and more people in bigger clubs, but only because the dominant, main sound in those places is made for masses. The place I come from isn't necessarily what the masses like. It's changing, though. Because in my mind, I think that I come from an underground space but it's more and more mainstream. In the States, for so many years you had hip-hop and rock, and that was it. Then you had this explosion of EDM, and hopefully they're discovering some new sounds. It's getting more diverse.
Between performing and recording, which do you prefer?
The most fun for me is sitting in the studio and the production. The creative process of making music is what's tickling my brain. It makes me happy and it takes me on a journey. To stand in front of people, I had to really get used to playing festivals, because you're very far away from people and it's very hard to connect. But over time, I've come to also enjoy it because you reach a lot of new audiences and I can also hear a lot of bands.
The sets are usually also just so short at festivals.
Yeah, very often you're just playing one hour, and you have to start with a climax. Every DJ wants to be the best at a festival, so you don't have a choice but to play hard from the start.
When did you actually start working on the album?
To be honest, it was years ago. One of the first songs that I finished was "Feel of Love," and it's my bow-down to Prince. Hopefully it sounds Prince-ish without too much copying. The Nile Rodgers song, "Love Sublime," was done in March of last year. All of that was before "Get Lucky" came out. I think the whole process took me about two years and it got signed to the label a year ago. Everything takes ages.
Was there a broad vision for the album?
No, there wasn't a master plan. But all I knew is that I didn't want it to have a collection of tracks, I wanted it to work from the beginning to end and make it sound a bit like we were back in the '90s. Sometimes you would buy a CD or vinyl for one song, but you'd discover a lot more. That was the main goal, to make something that people would listen before they go out, when they return from the clubs. During the creative process, you might think it doesn't make sense, but when you're putting it together in the end, it does.
Did you think that people already had certain expectations of your sound?
I wanted to show myself that I could produce different types of music. I try not to think about it, because there are people who want "Coma Cat" part two or three or four, then there are people who say Tensnake is too commercial so they want the first release from six years back. I try just not to think about that.
Did you and Nile have any studio time together?
No, we didn't unfortunately. We met for dinner a couple of times and were together on stage in Ibiza. Suddenly his management called and said, "Nile is in Hamburg for two days, do you want to record?" I wanted to but I had a DJ booking somewhere else. I sent him some stuff and when he was back in New York in his studio, we did a Skype session. He just told me, "Dude, I'm just your session guitar player." So you can imagine. But he makes it easy!
He's also such an amazing storyteller.
Yeah, that's what happened in Miami when we were at Joe's Stone Crab which is a classic place. It was just my management and his management and some people. It's like I wasn't even there, because it was so surreal. He was telling us stories about Herbie Hancock, Stevie Wonder, and a bit about the Daft Punk thing.
Was there a particular production of his that really inspired you?
I love "Get Lucky." It's a genius track, and the whole Daft Punk album is so original. It's very important to do something else -- they could have very easily done a sure shot, and this wasn't one.
You're keen on viewing what you do as proper songwriting, not just a means to an end for dancing. How does your process work with vocalists?
Mainly I'm finishing the instrumental and I send it over. Except where Fiora is featured, because we worked on "See Right Through" and she sent me her track the next day. I was very impressed because the background track is very boring, it's kind of like a tech house loop. I then invited her to the studio, and she's someone who really cares about lyrics. I'm usually not even listening to lyrics. My brain works more with melody. We finished the rest of the tracks together.
Are you fond of the direction that dance music is moving, in terms of the more popular content?
I'm super excited. I think now, more than ever, good electronic music is becoming very popular. People are hungry for something new, and there's so much attention from the media because it's generating so much money. I grew up on music that was made in America, so I'm looking forward to moving to L.A. for three months. I came up on '90s R&B, which I don't really think exists so much anymore. I would like to work with some people and come see if I can get involved in helping bring R&B back a bit more.
Who would you like to work with?
I'd love to work with artists like James Fauntelroy, and the guy who produced the Frank Ocean. Los Angeles in general is a great place for pop music, so I'm excited to learn.
REAL LIFE. REAL NEWS. REAL VOICES.
Help us tell more of the stories that matter from voices that too often remain unheard.