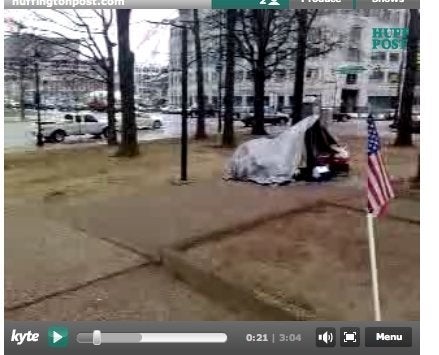 A couple weeks ago a reader shared word with the Huffington Post of a tent city in Virginia, about an hour outside of D.C., where tons of middle class people had put up stakes after getting ousted from their homes.
The tip was reporter's gold and seemed entirely plausible. Foreclosures are surging, and those people have to live somewhere. But calls to five Virginia counties turned up nothing; the original tipster conceded it might just be a rumor.
NBC Nightly News followed up with a "sign of the times" piece on the Sacramento shantytown. Apparently recently-employed people were shown cooking soup in coffee cans and living out of tents along the American River. The report said tent cities were also popping up in Seattle, Reno, and Nashville. Several other news organizations jumped on the story, all linking the tent city phenomenon to the recession. A UK Times Online headline declared that "America faces new Depression misery as financial crisis worsens."
What those reports didn't say is that Sacramento's tent city has been a part of the landscape for years -- at least five, according to a spokesman with the Sacramento mayor's office. Those people weren't all washed onto the banks of the American by a recent wave of foreclosures.
On Friday, the Huffington Post asked readers to let us know if there were tent cities in their own areas. Readers responded with tips on over a dozen improvised communities across the country, from Olympia, Washington, to Camden, New Jersey. Our follow-up reporting showed, however, that the camps tend to predate the current foreclosure crisis.
There's nothing new about tent cities in the United States. There's nothing new about poverty in America. Some folks will be living in improvised shelters in public space whether we're in a recession or not. And with food stamps, unemployment benefits, and pension funds -- things unavailable at the onset of the Great Depression -- there's a safety net that can catch the unemployed and foreclosed, giving them time to get back on their feet before they're living under the stars. Moreover, a widespread consumer item that wasn't available to our great-grandparents' generation -- the RV -- assures that we'll see waves of people living out of their massive vehicles before communities of middle-class families start sleeping in Wal-Mart tents.
"It's a little early for us to get victims of the economy," says Dick Lawrence, pastor of the St. Vincent de Paul church in Baltimore. For now, "people double up, take each other in."
Lawrence is intimately familiar with the type of people who wind up in a tent city. His church has been by Baltimore's inner harbor since 1840. As the surrounding neighborhood has revitalized in recent years, the church has stayed the same, and so has its adjacent "Bum Park."
"We've had this park beside the church 50 years and it's always had homeless guys during the day," says Lawrence. When Lawrence arrived at the church in 1973, he says, the bums were already here. Maintaining a stable community in the park next to the church is a matter of "staying on the knife edge between compassion and enabling."
When the city put the park up for sale in the 1990s, the church bought it to prevent unwanted development, says Lawrence. After the property changed hands, the police department lost its prerogative to clear people off the benches at night. Lawrence says he had no problem with letting people sleep in the park. He's not going to shoo them away, and he figures their presence in downtown Baltimore, just a stone's throw from city hall, gives good visibility to the problem of homelessness.
To discourage prostitution and drug-dealing, the church banned actual tents years ago. So denizens of Bum Park (what residents themselves call it) claim a bench, put their stuff under it, drape a tarp across the top, and call it home.
On Saturday, the Huffington Post visited Father Lawrence and Bum Park to investigate a reader's tip. Fifteen or so men and women were lying down or sitting on benches during a cold drizzle. About half the park's residents rested prone beneath their tarps, making the barren park seem like an alien landscape filled with bright-blue cocoons.
"Everyone gets along," says Reggie, 26, who's been living in the park since last June. "Sometimes people fight over food, especially when it's hot [outside]."
There's lots of food at Bum Park. Within a few blocks there are two organizations providing free lunch, and people frequently drive by the park to deliver goods. In the few hours the Huffington Post spent at the park, a man in a pickup truck dropped off several bags full of new clothes and the Salvation Army visited with hot food.
Lawrence says St. Vincent de Paul church splits the cost of a portable toilet with a nearby Protestant church. There's no shower or running water, though. The only sanitation service, he said, is a once-monthly "Chinese fire drill" in which parishioners ask park residents to vacate for a few hours and leave behind nothing they want to keep. The rest is scrubbed by the volunteer cleaners.
Some in the park are long-term residents, like Johnnie Hardy, 44, who has lived there for five years. Hardy says he's slept in the park under his tarp in ten-below weather. He might be crazy, but you can't tell from talking to him. He says he'd rather sleep under a tarp than stay in a shelter.
Pastor Lawrence says 40 percent of the park's residents have alcohol problems, 40 percent have drug problems, and 30 percent are mentally ill. There are no families in Bum Park, but there are in other east coast tent cities.
"We have several tent cities here," says Keanna Ralph, a spokeswoman for the Camden, New Jersey mayor's office. Ralph says there a few families living in the "main" tent city, which she says has existed for longer than two years. The city doesn't interact much with the tent dwellers because they're on state property, not city property.
On the west coast, tent cities are a movement, and the local government is forced to cooperate.
In Olympia, Washington, and some of its surrounding jurisdictions, a tent city called Camp Quixote rotates from church to church every 90 days with the approval of local residents and government.
It all started as a protest against a city ordinance to ban people from sitting or lying down on the sidewalk. A group of homeless people and activists set up a tent city on government property. The ensuing fight became a dialogue.
Anna Schlecht, the housing program manager for the city of Olympia, says the tent city there rotates from neighborhood to neighborhood, settling on the property of a difference church every three months.
"What we came up with is that these camps could be located on church property if as soon as they move, the church holds a neighborhood meeting," says Schlecht. Through the meetings, the neighbors become familiar with the camp residents, and familiarity breeds civility. With each new location, Camp Quixote initiates a new permit process with the local government. After three months the permit process gets prohibitively expensive, Schlecht says, so Camp Quixote moves to a new host site and starts over.
"Camp Quixote is an alternative model for communities of poor people to live together in a safe, nurturing environment," says Selena Kilmoyer, a member of the Olympia Unitarian Universalist Congregation, the first church to host Camp Quixote. She says the tent city model harks back to the shantytowns of the '30s, "safe environments where poor people could be together and not be afraid."
There's a very similar setup in Seattle. Since 2002 the city has worked with local nonprofits to maintain a rotating 100-person tent city sanctioned by the actual city, according to a spokesman with the Seattle Department of Human Services.
Sacramento hasn't figured out yet what it wants to do with its celebrity tent city. But mayoral spokesman Steve Maviglio says they're trying to form a plan before the utility company that owns the land beneath the tents begins a scheduled development project.
Even though the population there "quadrupled in last year," Maviglio says, it's not the economy's fault. Maviglio estimates that 75 percent of the tent dwellers are chronically homeless, unlike the recently middle-class folks featured on Oprah. Maviglio says foreclosure victims "are not the usual suspects."
Popular in the Community