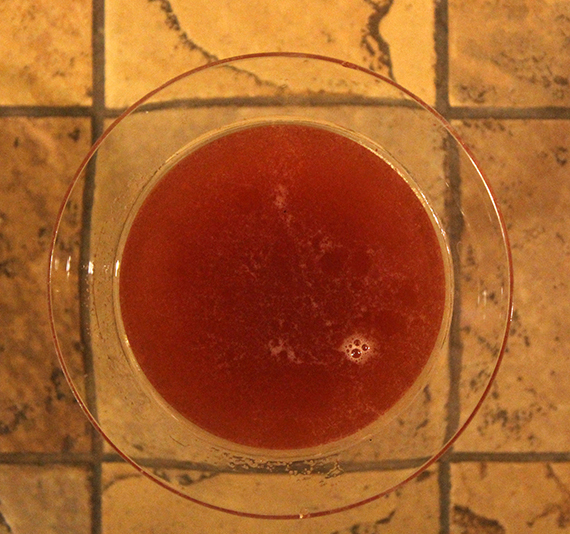 Modestly put, this is the best cocktail I have ever made. One of the best I have ever tasted, strawberry or not. It uses homemade mango tequila and a strawberry-pepper shrub.
To get that Mango Tequila, you do need to make it at home. You can find a recipe on YouTube but I recommend the technique in Infused by Susan Elia MacNeal. Basically, it's a standard 750 ml bottle of tequila, 3 cups of diced fresh mango, and ¼ to 1 cup of sugar syrup. Mix them, let them stand in glass container for a month, then strain into another glass bottle and let that mature for at least one more month. For many, many lovely ideas you do want to scan the lovely, lively pages of Infused.
The Strawberry-Pepper Shrub is inspired by Shrubs by Michael Dietsch. My recipe follows below, and I have adjusted both the quantities and the technique. But the core idea is from Michael.
Here's the recipe for the cocktail itself. It does use a new orange liqueur I've discovered, Liqueur à L'Orange au Cognac, a French product developed in 1959. It's become my favorite orange ingredient with a deep flavor that does not bite you back as do so many unsophisticated orange liqueurs.
The Tequila Mango Strawberry Pepper Shrub Wonder

2 ounces mango tequila
2 ounces strawberry-pepper shrub
1 ounce simple syrup
1 ounce orange liquor [ideally Liqueur à L'Orange]
Preparation:
Place all the ingredients in a cocktail shaker filled with ice. Shake vigorously for 30 seconds and pour into a chilled glass.
Photo Information: Canon T2i, 18-55mm Macro Lens, f/5.6, 1/50th second, ISO-3200
2 cups strawberries, hulled and quartered
½ cup sugar [or more to taste]
2 tablespoons peppercorns, crushed with mortar and pestle
½ cup apple cider vinegar [or more if you prefer]
Place the strawberries and sugar in a metal bowl. Using a pastry cutter, chop through the berries to mash them and mix with the sugar. Add the crushed pepper and stir to mix. At this point, taste test and if you desire add a little more sugar or pepper.
Cover the bowl and refrigerate for a day.
Remove the bowl, taste test again, and adjust again. Pour the bowl contents into blender, add the vinegar and process. Taste test, yet again, adding more vinegar if you desire. Your preferences here are your guide. What you do want to taste is the pepper. It will be dominated by the strawberries and vinegar at first, but the pepper should ultimately rise to the occasion and should provide finish.
Put the blended and adjusted contents back into a bowl and refrigerate for another day. This gives everything time to meld for 24 hours and let you get every bit of berry flavor into your shrub.
Now, you have a decision to make. You can use this shrub as it stands, thick and viscous. Or you can create a very fine syrup by sieving the contents to eliminate the solids. I've done both, enjoyed both. If you are a purist and want no solid sensation on your tongue as your drink, then you do want to sieve. But, when you do, press hard to extract every drop you can get.
For many more cookbook reviews and hundreds of excellent recipes, please visit Suzi's Blog at www.cookingbythebook.com. While you are there, you can learn how we use the kitchen for culinary teambuilding.