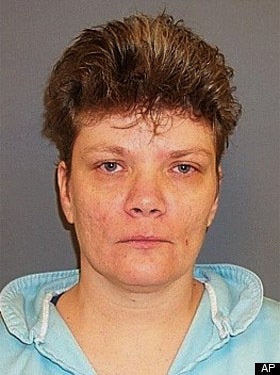 Teresa Lewis is scheduled to be executed by lethal injection today, Thursday, Sept. 23, 2010. At 9 p.m. Eastern Standard Time, she will be the first woman to be put to death by the State of Virginia since 1912. Lewis' crime is not one that ordinarily would warrant the death penalty. If any case has highlighted the need for the abolition of capital punishment, it is Teresa Lewis' impending execution.
Lewis was sentenced to death for plotting the murders of her husband and stepson, yet the two actual murderers, Matthew Shallenberger and Rodney Fuller, received only life sentences. Lewis never held a gun or fired a shot, but received a harsher sentence than those who did. Equally disturbing are the results of an IQ test administered to Lewis prior to sentencing which showed that she had a full scale IQ of 72. In other words, she was functioning at an intellectual level far below the norm, on the borderline of mental retardation.

According to Court documents submitted as part of Lewis' appeal, Shallenberger has stated that he and not Lewis was the actual mastermind behind the murders of Julian and Charles Lewis -- though prosecutors claimed that Lewis "lured" Shallenberger and Fuller into helping her. Furthermore, Fuller also stated that "Ms. Lewis would do just about anything Shallenberger asked her to do," and that "Shallenberger was definitely the one in charge of things, not Ms. Lewis."
Dr. McCance-Katz, a psychiatrist who examined Lewis in 2004, explained that her IQ score revealed that she was likely to "have difficulty with reasoning and judgment," and that "persons with this level of functioning are likely to have difficulty with complex tasks such as problem solving, arguably the most important skill necessary to support the accusation that Ms. Lewis planned and directed the murder for hire.
This examination tallies with that of Dr. Costanzo, a psychologist and professor at Duke University who examined Teresa after she was sentenced. He explained that "because of her multiple functional deficits, [Teresa's] functional mental age is that of a young teen in the range of 12-14 years of age, and that while she scored 72 on her overall IQ, Teresa scored within the intellectually disabled range on the "intelligence subtests reflecting normative comprehension and deliberation in social domains, verbal knowledge, abstract reasoning, arithmetic abilities and short run memory and concentration." Dr. Costanzo stated:
This pattern of verbal abilities suggests that Ms. Lewis has quite profound functional limitations in verbal domains. Decision making and planning in advance greatly depend upon verbal mediation and scaffolding. It is quite unlikely that a person of Ms. Lewis' verbal intelligence could form the abstract cognitive 'bridge' from present-time to future-time that would be necessary to any but the simplest planned activities or ends.
In short, Teresa's documented level of intellectual functioning, cognition and judgment make it far more likely that she was led into the scheme by Shallenberger -- as Shallenbeger himself has stated -- and not vice versa. Lewis' attorney James E. Rocap III has argued that one of the gunmen later claimed he manipulated Lewis, and "duped her into believing he loved her so that he could achieve his own selfish goals."
When multiple sources of evidence are taken into account, it is very clear that Teresa possessed neither the verbal intelligence nor the independent initiative to frame and mastermind a plan to murder the victims. Yet, today, she will be executed. Teresa Lewis' mental health alone should grant her exemption from this execution. Furthermore, the fact that she did not carry out the executions should also exempt her from the death penalty. This is an unconscionable failure of the system.
According to Laura Moye, director of AISA's Death Penalty Abolition Campaign:
This case highlights the arbitrary nature of capital punishment in our nation. When the triggermen get life and a woman who seems incapable of plotting the crime gets death, something is clearly askew. Given the capriciousness of the death penalty overall, combined with issues such as witness misidentification and shabby lawyering, it is clear that the system can never be truly just.
Rocap has urged Gov. Bob McDonnell to reconsider his decision to deny clemency to Lewis, claiming that there is new evidence that should spare her the death penalty. To quote a letter sent to Gov. McDonnell earlier this week by Amnesty International USA:
"Proceeding with this execution would come dangerously close to violating the U.S. Constitution, which prohibits capital punishment for those with "mental retardation" -- a precedent established thanks to Atkins v. Virginia."
In 2002 in Atkins v. Virginia, the Supreme Court prohibited the death penalty for people with mental retardation. The Court reasoned that the impairments of defendants with mental retardation diminish their personal culpability and their ability to understand consequences, rendering the death penalty unjustifiable on grounds of retribution or deterrence.
As Council of Europe Goodwill Ambassador and Founder and Chair of the Bianca Jagger Human Rights Foundation (BJHRF), and as a Member of the Executive Director's Leadership Council of Amnesty International, I respectfully urge Governor Bob McDonnell to consider all the mitigating factors in this case. I appeal to him to halt the execution of Teresa Lewis and grant her clemency, commuting her sentence to life imprisonment. It is not too late. If Teresa Lewis is executed tonight, in this questionable case, it will be an egregious miscarriage of justice: a lasting shame on the American legal system.

Popular in the Community