 The members of the school's Board of Visitors were appointed by two governors from different political parties and have donated more than $2.1 million to partisan political causes in recent years. Board members' lack of academic expertise, and their messy ouster of UVA President Teresa Sullivan over the objections of students and faculty, underscore a trend in the leadership of public higher education institutions toward wealthy, politically connected executives.
The 18-member board, led by university Rector Helen Dragas, forced out Sullivan less than two weeks ago without input from the school's faculty, who have since rallied for Sullivan's reinstatement amid a general outcry on the school's Charlottesville campus and from American higher education professionals. UVA consistently ranks among the top U.S. public universities.
"Political contributions to our governors have become more important factors in the selection of our board members," said John Casteen III, who served as President of UVA for the 20 years prior to Sullivan's appointment. As the state's Secretary of Education from 1982 until 1985, Casteen was involved in the decision-making process for selecting UVA board members. "The question of whether or not people who are political allies and are identified popularly as having been donors to campaigns, that issue never came up back when I was serving on the governor's staff."
The current slate of Board members contributed a combined $831,452 to political campaigns in the last three elections, with $682,702 going to Republicans and $148,750 to Democrats, according to a HuffPost analysis of data from the Center for Responsive Politics. Board member John Nau III has given an additional $100,000 to the Karl Rove-linked American Crossroads Super PAC, and bundled $199,404 for the 2008 presidential bid of Sen. John McCain (R-Ariz.). The wife of one board member has given an additional $31,000 to Republicans and $4,600 to Democrats.
From 2006 to 2010, current board members also contributed $765,000 to a political action committee run by former Virginia Gov. Tim Kaine (D), called Moving Virginia Forward, according to data from the Virginia Public Access Project. Over the past three years, sitting board members have donated $522,250 to Republican Gov. Bob McDonnell's PAC, Opportunity Virginia, according to Virginia Public Access Project. Companies owned by board members or that employ board members have given still more.

Only one member of the board, non-voting student representative Hillary Hurd, has not given money to political campaigns. The board's second-ranking official, Mark Kington, resigned this week amid the outrcry from faculty, students and alumni.
"More and more boards come from non-academic backgrounds, and one consequence of that is a lack of appreciation for and understanding of the academic enterprise," said Robert Kreiser, Senior Program Officer at the American Association of University Professors, who told HuffPost the UVA debacle is only the most extreme example of an ongoing phenomenon in which those "who don't appreciate what higher education is about and who are more concerned about corporate interests and corporate considerations" come to govern academia.
The UVA Board of Visitors includes a real estate developer, a coal company magnate, a Wall Street professional, a top lawyer for General Electric, a nursing home executive, a beer distribution entrepreneur and other business elites. Only four have professional experience in higher education. Robert Hardie was an adjunct member UVA's Darden Business School faculty from 1999 to 2007 while working in finance. Stephen Long is on the faculty of the medical school at Virginia Commonwealth University and runs a private practice specializing in pain. Allison DiNardo, a wireless executive for over a decade, served as managing director of UVA's capital athletics campaign during the 1990s, after working as a staffer for President George H.W. Bush. A. MacDonald Caputo has served on the board of Pace University, and also on the board of a preschool and a prep school.
Gov. McDonnell, who appointed half of the board's members, offered a cautious defense in a statement this week. He celebrated board members' financial wherewithal, but did not once mention any professional qualifications or educational expertise.
"The members of the Board of Visitors are almost all alumni," McDonnell said. "They are people who are highly successful and deeply committed and have great love for the University of Virginia. Many have given sacrificially of their money and their time over the years."
Former Gov. Kaine said in Charlottesville this week he was "stunned" by Sullivan's ouster, which he said was "mishandled" by the board. Kaine emphasized that he supported the nomination of Sullivan in 2010, when the board was composed entirely of his appointees, and has heard no criticism of her performance as president.
McDonnell has suggested that the university community accept the board's edict and move on. But the faculty remains openly defiant. The faculty senate continues to demand Sullivan's reinstatement and Dragas' resignation.
On Wednesday, faculty members hosted a vigil for Sullivan on the school's Lawn -- an iconic gathering place where graduation ceremonies and other formal occasions are hosted. The vigil followed a massive protest against the board on Monday night. Another demonstration is scheduled for Sunday.
Monday's protest coincided with a closed-door meeting of the board in which undergraduate business school dean Carl Zeithaml was nominated as interim president. Faculty plan to challenge both Zeithaml's interim presidency and Sullivan's ouster as legally illegitimate because the moves failed to consider faculty input. In a press conference Wednesday, Zeithaml said he did not support Sullivan's removal, but said he is now "trying to get back to the tasks at hand," according to The Cavalier Daily, the school's newspaper.
Emails between Dragas and Kington released by UVA on Wednesday indicate that much of their motivation to remove Sullivan stemmed from three media articles, rather than professional or academic literature. One, a New York Times column by David Brooks, lauded online courses, as did a Wall Street Journal editorial, and an article in the Chronicle of Higher Education. The emails were released after The Cavalier Daily, submitted a Freedom of Information Act request.
Dragas, a developer from Virginia Beach, declined to comment for this story. After hiring a professional public relations firm, she issued a statement during Monday's protest apologizing for the process for Sullivan's removal, while insisting the ouster was the right thing to do. Dragas has yet to present any public explanation of differences between Sullivan and board members.
Sullivan's ouster has been met with derision from typically mild-mannered national educational organizations.
"The performance of the UVA board was less than what we need from governing boards in American higher education," said Richard Legon, president of the Association of Governing Boards of Universities and Colleges. "The UVA board missed a sensitivity to the broader community and engaged in what I call top-down management -- which they have the authority to do, but which is not consistent with an inclusive approach valued in higher education."
This story has been updated to include comments from John Casteen III and information on A. MacDonald Caputo's professional backround.
Related
Before You Go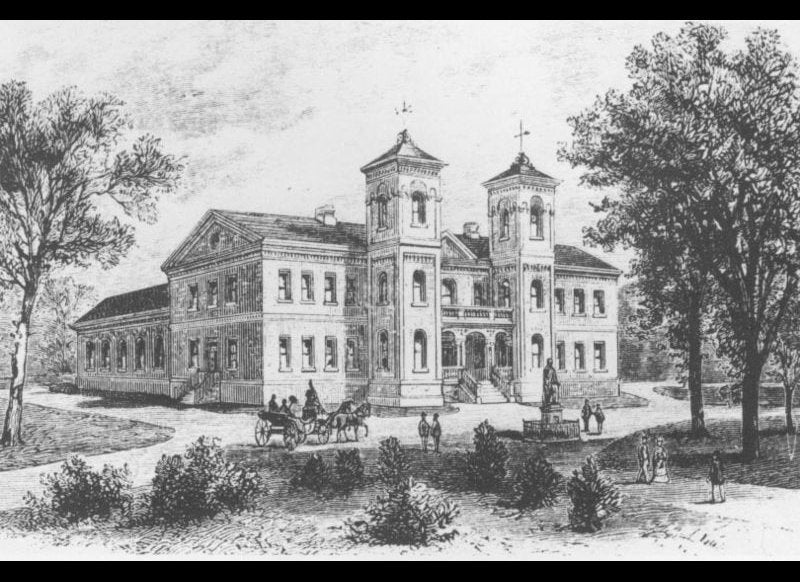 The Evolution Of The Dorm Room
Popular in the Community