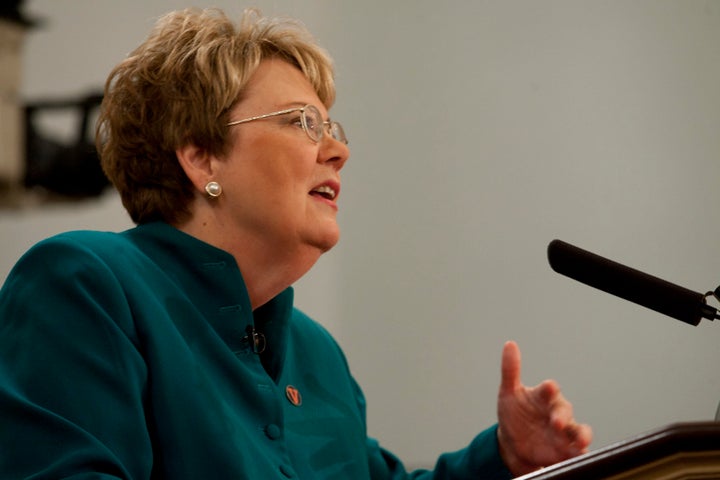 Faculty members at the University of Virginia have written an open letter demanding clarification for the sudden and unexplained dismissal of president Teresa Sullivan, urging the panel to reopen the discussion.
The letter, written on Tuesday and addressed to Rector Dragas and the Board of Visitors, is signed by 33 faculty department heads and programs directors of the College and Graduate School of Arts and Sciences. In the letter they state that they found president Sullivan to be very strong in her administrative duties, and that the announcement this past Sunday came as a complete shock.
"Our surprise and concern arise directly from the fact that we have been very pleased with the direction in which President Sullivan and her administrative team have been leading UVA and with her accomplishments thus far," the letter states.
They write that the vague explanation given by the board -- that there were "philosophical differences" -- is an insufficient means to explain to the university community such an sudden and surprising departure. The letter states that, "We believe that this abrupt and, from our point of view, opaque decision will deeply threaten the way UVA is perceived by prospective as well as current faculty, students, and donors. We strongly urge the Board of Visitors to reopen discussion with President Sullivan and the faculty."
State and university officials have called for a special meeting to discuss candidates for the interim presidents. The meeting will be held in a closed session next Monday.
Faculty members are not the only ones questioning Sullivan's ousting. Robert O'Neil, who served as U-Va''s president from 1985 to 1990, said that he agreed with the sentiments expressed in the faculty members' letter, according to WTOP.
"Unless we are given much fuller and clearer explanations than we have received thus far, I would say this seems to be a miscarriage of justice," O'Neil said.
Sullivan assumed office only two years ago in August 2010. She was the first female president and eighth overall. She is set to resign now on August 15, making her the shortest serving president in the university's history.
REAL LIFE. REAL NEWS. REAL VOICES.
Help us tell more of the stories that matter from voices that too often remain unheard.