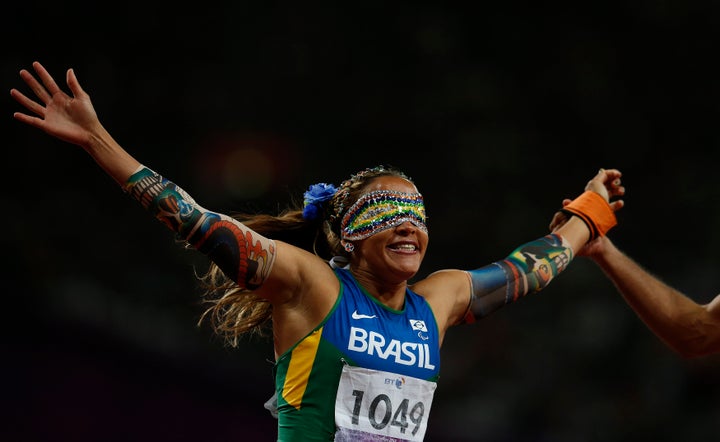 Terezinha Guilhermina's vision loss is slowly advancing. The Brazilian sprinter was born with retinitis pigmentosa, a degenerative disease that causes gradual vision impairment. When she first thought about pursuing her dream of competitive running some 20 years ago, her vision was already diminishing, but it was the lack of money -- a problem with which many Brazilians are familiar -- that caused her the most trouble.
In order to compete in athletic events, proper running shoes were necessary, a luxury that from the 1990s to the early 2000s Guilhermina couldn't afford. She started swimming -- it wasn't her first choice, but, she reasoned, she already had a bathing suit. It was Guilhermina's sister who, for the good of Brazilian sports and the history of the Paralympics, was able to find shoes for the fleet-footed sprinter.
Heading into this summer's games, Guilhermina is without a doubt one of the biggest favorites to capture the hearts and minds of a beleaguered Brazilian public. After breaking the world record for the 100-meter race on her way to earning two gold medals in the 2012 London Paralympics, Guilhermina entered the Guinness Book of World Records as the fastest blind woman in the world.
And she has no intention of resting on her laurels.
"I believe I'll make it to the next Paralympic round," she tells HuffPost Brazil.
"I never accepted the little I had. I knew that if I were the best in the world, my reality could change."
Guilhermina swears that she will carry on to the 2020 Games with a winning spirit, even at a relatively advanced age for her competition (she'll be 42 by the time the Tokyo Paralympics take place).
Like any great athlete, the 37-year-old draws strength from overcoming the obstacles that stand in her way. "I understand that a lot of people that don't have anything can make it," she says. "And I have never accepted how little I had."
HuffPost Brazil sat down with Guilhermina to discuss the upcoming games in Rio, what first inspired her and what we can expect from the Olympian in the future.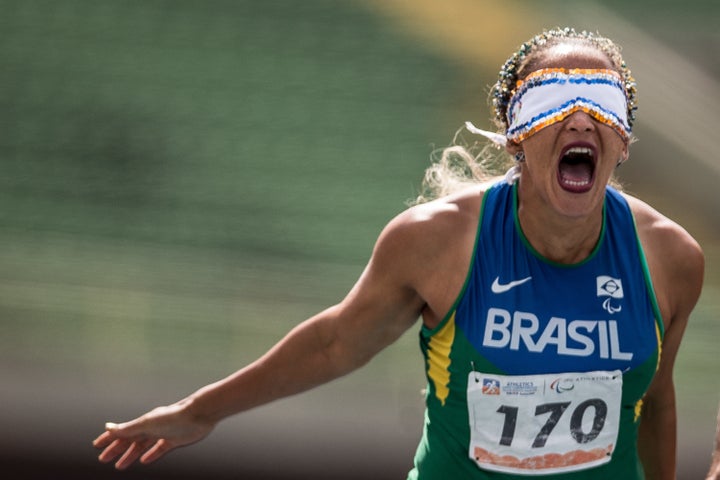 How did track and field enter your life?
After finishing vocational school in administration, I couldn't get a job in that field, so I thought I would try to register for swimming [for disabled athletes] because I had the bathing suit. But I already wanted to run. At the time, I had a race in Betim [in the metropolitan region of Belo Horizonte] for disabled athletes. So I asked my sister to get me sneakers and I started to run. And the sneakers weren't even right for the races. They were normal sneakers.
After starting, I was able to finish the challenge of running a 5km. Right after, I finished the Pampulha Round [a traditional race with an 18km route] in an hour and a half, a very good time. And later on, I already was running 21km pretty well [the distance of an international half-marathon].
What was the preparation for the Olympics like?
Now I am training in São Caetano [in Grande São Paulo]. Our training sessions last from 3 until 6 every day. All my time has basically been spent eating, training and sleeping. I don't have time for anything else during the day.
"If I had to live my life over again, I would live it exactly the same way."
As a high-profile athlete, how do you psychologically prepare for the games? How is the mind important for a sprinter?
The technical committee counts on our psychologist, Maria Cristina Nunes Miguel. I've done specific work to take care of anxiety. I believe that the psychological side can work for you just as it can against you. The better your command is over the psychological aspect, the better your physical performance. There's no other way.
I know myself really well and I have managed to evolve quite a bit. My current times are the best of my entire career. I think that I will make it to the next Paralympic round. I'll be 37 in Rio and will be 42 for the next Paralympics. But I would never enter a race with the parking brake on. And right now, I don't plan to stop. What I want is to get to the Paralympics at full speed! (laughs)
Your story about overcoming obstacles starts from a very early age -- first with the loss of your mother and your father leaving home, then your total loss of vision. What brought you to the top of the sports world?
I understand that a lot of people that don't have anything can make it. And I never accepted the little I had. I knew that if I were the best in the world, my reality could change. I was always the person who didn't conform to the idea of "halfway."
Are there any decisions you made during your career that you regret?
If I had to live my life over again, I would live it exactly the same way. I would do everything in the same way. I don't regret anything.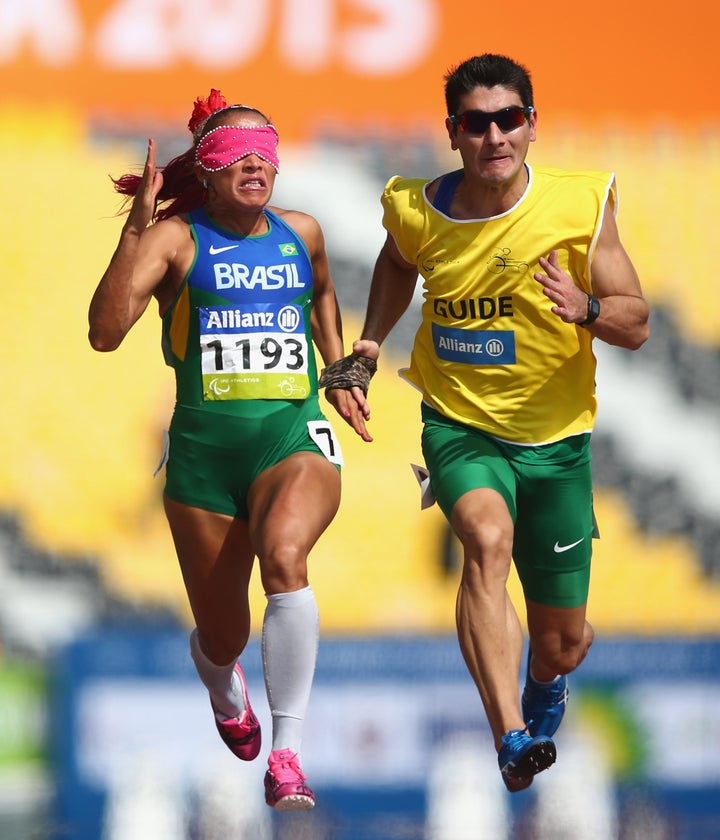 What's the relationship like between an athlete and her guide? I imagine that it must be a very close relationship.
It is indeed. As I understand it, our work is like what happens with Formula 1. You need to have an excellent pilot for an excellent car for everything to work out. It's a collaborative effort, and what should guide the relationship is respect. I worked with two guides last year, Rafael Lazzarini and Rodrigo Chieriadatto. With them, I understood that I could get even better. For example, for this Paralympic, I needed to improve the technical and tactical part. And this is always my focus -- to always improve.
How do you understand the evolution of the Paralympic sports' infrastructure? Can Brazil be proud to be among the elite of Paralympic athletics?
Without a doubt, the infrastructure offered by the Paralympic Committee surpassed all the expectations for our training from 2012 until today. The professional training, the equipment, the training sessions, the coaches... practically everything improved. The federal government ensured athletic scholarships to guarantee professional development. I can say that I've been an athlete for the last 16 years and we have never been so ready to compete.
And what do you think the next generations will be like? Will we be able to keep up the same competitive level moving forward?
Today we have the Paralympic Student Leagues, with more than 1,000 athletes from the ages of 13 to 18. It's one of the best and largest competitions of this type the world over. It has swimming, track and field, soccer, basketball, etc. It's very comprehensive. Paralympic sports, in all the categories and modalities, starts from the beginning here in Brazil. This is the way to produce good outcomes. We think we are on the right path.
This article first appeared on HuffPost Brazil. It has been translated into English and edited for clarity.
For more Olympic coverage: