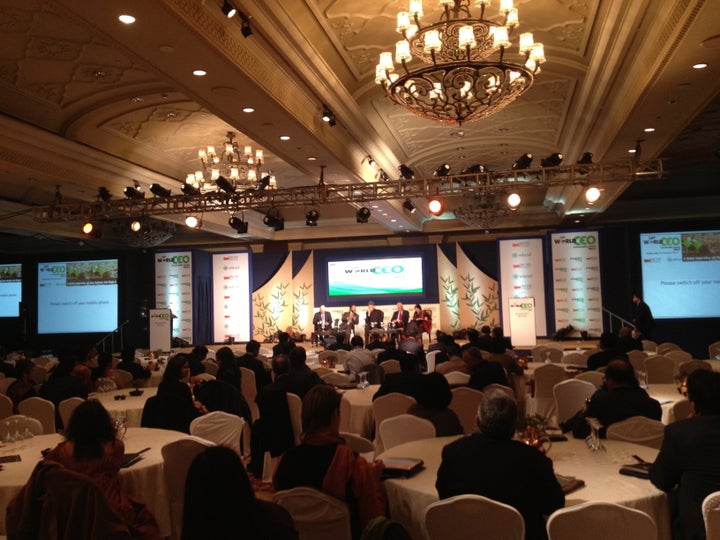 NEW DELHI, INDIA -- Inside India's Hotel Taj Palace, beyond the armed guards at the gate, through the security checkpoint, up the sweeping marble staircase and then down the two sets of escalators, a group of world leaders are gathering under rows of chandeliers to discuss resource efficiency.
As Forum For The Future founder Jonathon Porritt explained to a small group of journalists on Wednesday, resource efficiency means improving how the planet's materials are used. The world faces "an extraordinary challenge," he said, as the population is projected to hit about 9 billion people by 2050. He suggested that a key goal must be to produce more while using fewer raw materials, focusing on a mantra of "less in, more out."
According to Porritt, resource efficiency is good business. "Using less to get more is good for your bottom line," he said.
TERI Director-General R.K. Pachauri declared in the CEO summit's inaugural session on Wednesday, "clearly the business sector has to look at water as the next major resource challenge."
Water was a key concern among attendees. Separate sessions addressed the increasingly scarce resource, and business leaders discussed issues ranging from agricultural practices and audits to subsidies and climate change.
Multiple speakers referenced the Club of Rome's 1972 report, "The Limits to Growth," to demonstrate that knowledge of finite resources has existed for decades. The difference is that now, World Business Council For Sustainable Development President Peter Bakker argued, there is a newfound sense of urgency. According to Bakker, this means that "we're going to have to change the rules of the game."
Large challenges stand in the way, however. "It isn't a lack of economic understanding that stops change … it's the power of vested interests," Porritt suggested.
How best to achieve resource efficiency will continue to be debated on Thursday, when Indian Prime Minister Manmohan Singh inaugurates the Delhi Sustainable Development Summit. Other expected attendees include former Finnish President Tarja Halonen, Seychelles President James Michel, former British Deputy Prime Minister Lord John Prescott, Florida's former Gov. Charlie Crist (D), Nobel Prize-winning physicist Carlo Rubbia and other leaders from over 35 countries.
Popular in the Community