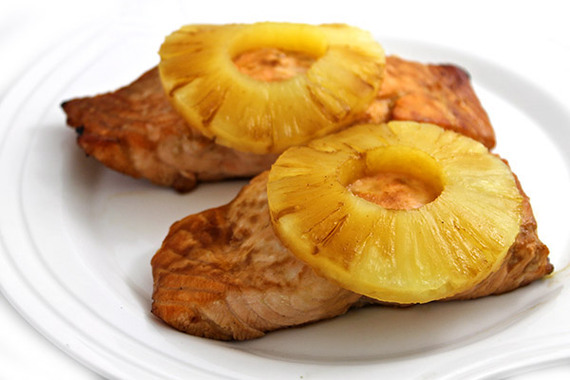 Such a delicious way to eat salmon. The flavors of teriyaki, pineapple juice and lemon work really well together and create an easy marinade and glaze for this recipe. You could make extra and pan fry sliced Brussels sprouts, broccoli or greens beans to serve with this salmon. Or drizzle some glaze over brown rice. Each serving has 260 calories, 9 grams of fat and 6 Weight Watchers POINTS PLUS.
Prep Time: 10 minutes
Chill Time: 30 minutes
Cook Time: 10 minutes
3 tablespoons teriyaki marinade, I used Kikkoman brand, less-sodium or use your favorite
1 can pineapple slices (in 100% pineapple juice) you'll use 2 slices for this recipe plus 2 tablespoons pineapple juice
2 salmon filets (5 ounces each)
1. In a small bowl, combine teriyaki sauce, pineapple juice from can of pineapple slices and lemon juice. Add salmon to a bowl or deep dish and pour 2 tablespoons marinade over it. Save the rest for glaze. Place salmon in refrigerator for at least 30 minutes. Can refrigerate up to several hours.
2. Preheat broiler. Line a baking pan with foil and coat with cooking spray. Place salmon on baking pan. Discard marinade. Pour 1 tablespoon fresh teriyaki marinade on top of salmon.
3. Broil for about 4 to 5 minutes. Turn over, top each with 1 slice of pineapple. Pour remaining marinade over each piece and broil for about 4 to 5 minutes more. Check to make sure salmon is cooked through.
Shopping Tip
At the supermarket, ask the fish counter to cut 2 pieces of salmon, about 5 ounces each.
Weight Watchers (old points) 6
Weight Watchers POINTS PLUS 6
SKINNY FACTS: for 1 serving (5 oz)
260 calories, 9g fat, 78mg chol, 29g prot, 14g carbs, 547mg sodium, 12g sugar