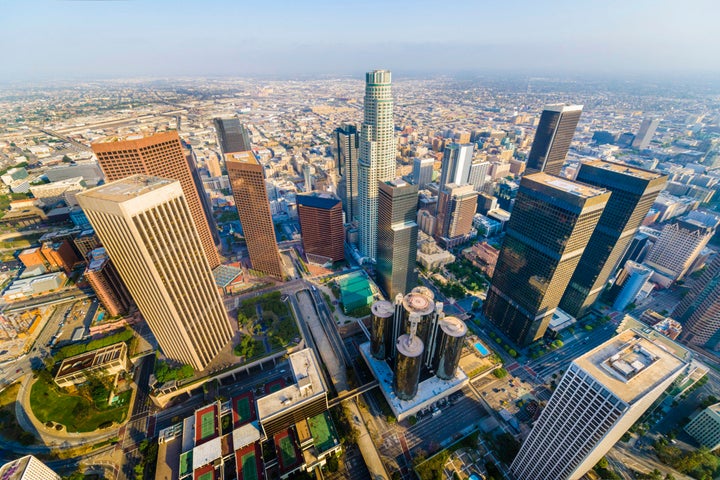 "If a place doesn't exist, it's hard to tell the story," says Adrian Scott Fine, director of Advocacy for the Los Angeles Conservancy, as we toured Terminal Island.
In the late 1800s, the island was an artists' colony known as Brighton Beach, but starting at the turn of the 20th century, the island took on great importance as a port. This new status as a transportation hub has led to the fact that Terminal Island now has three separate and very different stories that can best be told by a short trip to the island via one of the four bridges that connects it to the mainland:
1. Long before filmmaking was even being done for commercial purposes, Los Angeles was already becoming an important town because it had a port with a growing number of land transportation options that were vital for the movement of people and goods.
In the early 1900s when the California Fish Company created a way to cook, preserve, and pack tuna, they gave birth to an entire industry -- there was no canning of tuna before this. They not only created this food-packing system but they successfully promoted it as an alternative to chicken. This innovation took the port from "useful" to "Big Industry," and in so doing greatly contributed to the development of Los Angeles as a vital American business center. By the 1920s, Chicken of the Sea, Starkist, and nine other canneries were located here. So vital was tuna to L.A. that the fish appears on the official seal of Los Angeles County.
2. An entire Japanese fishing village grew up on Terminal Island to support this very important American industry. The Japanese men knew fishing, and their wives soon joined them to live on the island and work in the canneries. Soon Terminal Island was a "company town" with a school, local businesses, and places of worship for its community of first and second-generation Japanese Americans.
All that changed after December 1941 and the bombing of Pearl Harbor. A decision was made to immediately round up the Japanese (many of whom were second-generation citizens) on Terminal Island. By February 1942, President Roosevelt signed Executive Order 9066 that provided for the removal of all Japanese-American and Japanese nationals in the western part of the country and to place them in guarded camps where they were held for two years. The Terminal Island residents were removed long before this Congressional action.
All those sent off to these camps had everything taken from them -- their livelihoods, their homes, and their possessions. The government razed the homes on Terminal Island.
3. Starting in World War I, Terminal Island had become important as a ship-building center. In World War II, destroyers were being built there in great numbers. This use of Terminal Island was one of the prime reasons that Terminal Island residents were the first to be taken from their homes.
So many people were hired for the war effort at the port that jobs opened for African-Americans, providing new opportunities. Discrimination was still widespread but the NAACP stepped in to fight for work rights for these Americans -- another important aspect of this story.
While no government facilities currently build ships on Terminal Island, boat-building does continue, most notably the 110-year-old yards of the Al Larson Boat Shop.
Today Terminal Island's story is at risk of being wiped out. The property is owned by the Port of Los Angeles, and a new land use proposal is nearing the final stages of approval. The plan has no provision for adaptive reuse of the older buildings and foresees razing and starting new in most areas. (Even some of Al Larson's boat-building property is at risk with the re-design.) It is part of the larger Port Master Plan Update.
Based on the status of the report, Terminal Island has been placed on the Most Endangered Historic Places list (one of 11 spots currently being watched carefully) by the National Trust for Historic Preservation. Both the National Trust and the L.A. Conservancy would like to have an impact on the proposal; they do not want to halt progress but would welcome adaptive reuse of some of the historic buildings.
An Effort to Be Remembered
In 2002, family members of former Terminal Island residents placed a Japanese Memorial at Fish Harbor, but this sculpted fishing scene -- beautiful as it is as a reminder of the original lifestyle here -- does not begin to tell the story Terminal Island has to tell about a company town, its people, and the vital importance of the ship building and the fishing and canning industries that thrived here.
National Trust president Stephanie Meeks issued a statement noting that "We look forward to working with our partners to ensure that Terminal Island continues to thrive as a center of commerce in Los Angeles, and that its role in American history is preserved for future generations."
Today -- in a perfect blend of old L.A. with more recent L.A. -- Terminal Island is frequently used in filming. It has been a location in CSI, Dexter, and 24 along with films such as Spider-Man, Charlie's Angels and Mr. and Mrs. Smith and many others.
Calling all HuffPost superfans!
Sign up for membership to become a founding member and help shape HuffPost's next chapter