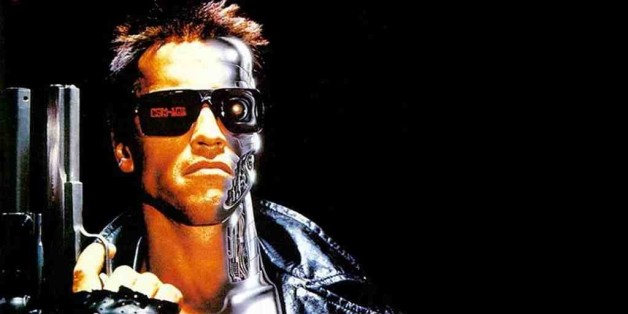 On Wednesday, Arnold Schwarzenegger posted a photo to Instagram revealing the official title of the next "Terminator" movie. It is called "Terminator: Genisys."
Schwarzenegger's social media blast was accompanied by this caption:
Hasta la vista, baby. I want to thank the cast and crew of @TerminatorGenisys for a fantastic shoot. It was challenging, it was fun, and it was rewarding. From our director to the producers, from the camera team to catering, from visual effects to hair and makeup - we couldn't have done it without you. I can't wait to see our finished project and I know we'll remind the fans why they fell in love with the Terminator. On July 1, 2015, I'll be back.
Following the reveal of the title, there were a lot of jokes.
So Terminator Genesis is actually spelled Terminator Genisys. Chryst on a byke.

— Chris Hewitt (@ChrisHewitt) August 6, 2014
Terminator Genisys? I think I speak for the English language when I say NO. STOP IT.

— Lucy James (@lucyjamesgames) August 6, 2014
TERMINATOR: GENISYS is a grim vision of the future where robots and humans live in total harmony in a crusade to kill the English language.

— Peter S. Hall (@PeterSHall) August 6, 2014
Very excited to see "Terminator: Jenny's sis!"

— Duncan Jones (@ManMadeMoon) August 6, 2014
I'd watch "Terminator GeniSASS," where the terminator is played by Jackee Harry.

— Joe Reid (@joereid) August 6, 2014
I hate this. MT @slashfilm: 'Terminator Genisys' Official Title of Terminator 5 http://t.co/jZt78Wne4v pic.twitter.com/0zF1PZZFvM

— Angie J. Han (@ajhan) August 6, 2014
"Our title resulted from too much Michelob Light and an iPhone autocorrect mistake." [Excerpt from the TERMINATOR: GENISYS oral history]

— Mike Ryan (@mikeryan) August 6, 2014
Man those people behind the Terminator reboot are real genisyses.

— 7oanna Robinson (@jowrotethis) August 6, 2014
The Terminator name change is so you won't confuse the movie with the BAND Genesis. Now you won't, duh.

— Meredith Woerner (@MdellW) August 6, 2014
in the u.s. it'll be TERMINATOR: GENYSIS but in japan it'll be TERMINATOR: MEGA DRYVE

— john lichman (@jlichman) August 6, 2014
I'm assuming Genisys is the latest corporation in the Terminator franchise to bring on the apocalypse. Or apockalipse. Or apokellipses...

— Jeremy Kirk (@JeremyKKirk) August 6, 2014
Terminator: Genisys is actually the story of the birth of the Genesis video game System.

— Adam Frazier (@AdamFrazier) August 6, 2014
New "Terminator" titled "Terminator: Genisys" per to Schwarzenegger, who KNOWS about spelling http://t.co/vsgcbB9T0r pic.twitter.com/L35OLbcE4E

— Jarett Wieselman (@JarettSays) August 6, 2014
"Terminator: Genisys" is out on July 1, 2015.
REAL LIFE. REAL NEWS. REAL VOICES.
Help us tell more of the stories that matter from voices that too often remain unheard.
BEFORE YOU GO
PHOTO GALLERY
Celebrity News & Photos