At a Thursday rally for his dead son, Kevin Kellom briefly stepped out of his grief-stricken silence to squash a claim that his family is attempting to cash in on their tragedy -- as said the lawyer representing the federal agent who shot Kellom's son.
U.S. Immigration and Customs Enforcement Officer Mitchell Quinn, one of the fugitive apprehension team members, shot Kellom to death. Quinn is black, as was Kellom.
Kevin Kellom said Quinn "assassinated" his unarmed son as he watched. The Kelloms have called for Quinn to be criminally charged.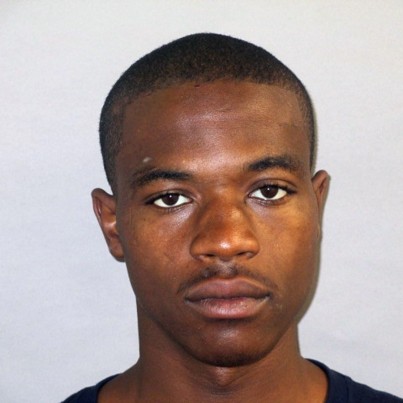 July 2013 booking photo of Terrance Kellom. Michigan Department of Corrections via AP.
But Quinn's attorney said his client acted "by the book" and dismissed claims of wrongdoing. The attorney, David Griem, thinks the family's lawyer is angling for a payout, he told Detroit ABC affiliate WXYZ. The Kelloms have not said they plan to file a civil suit, but Griem suggested that was their ultimate goal.
"He sees five defendants for a civil lawsuit and they're trying to hit the lottery without buying a ticket," Griem told the news station.
After Thursday's rally at a church near the Kelloms' home, Kevin Kellom responded.
"What kind of lottery can you get for someone killing your son in your presence? What kind of lottery is that?" he asked reporters. "No, I'm looking for justice. That's what I'm looking for. Justice. To hell with a lottery ticket... Money don't mean nothing to me. My son is what matters to me."
In a follow-up with The Huffington Post, Griem clarified that he was speaking of the Kelloms' lawyer and his clients in general terms and not targeting Kevin Kellom specifically.
"This is a plaintiff lawyer's dream," Griem said. With multiple agencies involved in the task force, he explained, there are more potential agencies to "target" in the suit. "It's the legal lawsuit lottery." He said the Kelloms' case doesn't have merit.
Griem may see the multi-jurisdictional task force as a boon to the Kelloms' legal strategy, but community members and activists are deeply critical of such task forces. Others have questioned why ICE would be involved in a domestic citizen arrest and whether their agents are properly trained for police work.
Activists have also been frustrated with the lack of transparency in the case, particularly with Wayne County Prosecutor Kym Worthy's refusal to release the results of Kellom's autopsy to the public. Her office said it was withholding the document to avoid compromising the investigation.
The Wayne County prosecutor's office has been investigating Kellom's death for about five weeks. Its findings will determine whether Quinn, a former Detroit police officer who has a shaky track record and was suspended in 2008, will be charged with a crime.
"At this point most of the work has been done, but we are waiting for a couple of important items before the review process is completed," Maria Miller, a spokeswoman for the prosecutor's office, said in an email Thursday.
The events directly leading up to the shooting are in dispute. Griem claims Quinn shot because Kellom came at him with a hammer. In Griem's telling, Quinn fired multiple times after Kellom ignored requests to stop. Detroit's police chief backed up Quinn's story.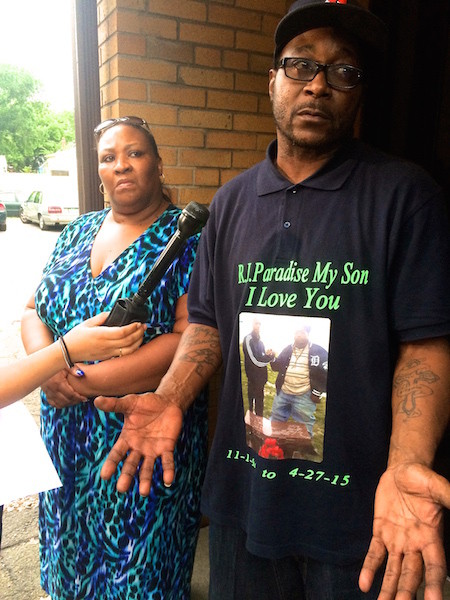 Nelda and Kevin Kellom, Terrance Kellom's parents.
At Thursday's rally, several speakers linked Kellom's death to the killing of nine African-American worshipers who were shot to death in a historic black church in Charleston, South Carolina, Wednesday. Dylann Roof, the suspected gunman, confessed after being arrested Thursday.
Ron Scott, the founder of the Detroit Coalition Against Police Brutality, led a moment of silence for Kellom and the Charleston victims. He hoped that for once, black victims would get swift justice, he said.
"The federal government, will they do more than they're doing in the case of Terrance Kellom?" he asked. "Or will they do the same thing?"
Terrance leaves behind two children, a newborn girl and a son who is a toddler. "His son [asks] for him," Kevin Kellom said Thursday.
Earlier in the evening, he left the podium after addressing the crowd for less than a minute. Afterwards he told reporters he got choked up thinking about "seeing my son call my name, seeing my son kick on the floor."
"All we can have is patience," said Nelda Kellom, Terrance's mother. "I pray every day, all day, all night… that we do see justice."
REAL LIFE. REAL NEWS. REAL VOICES.
Help us tell more of the stories that matter from voices that too often remain unheard.
BEFORE YOU GO
PHOTO GALLERY
Protest For Terrance Kellom