Terrence Stevens is on a mission to save children whose parents are incarcerated.
He knows too well the stories that these kids represent. He is the founder and CEO of a Harlem-based nonprofit organization that assists children affected by parental incarceration and impacted by the criminal justice system.
Gates says, "This is one of the greatest travesties of justice I have ever seen. Mr. Stevens' case embodies the many rivers African Americans still must cross."
The portrait of Stevens also features his work with In Arms Reach, Inc., the community-based organization he founded after his release. IAR is dedicated to breaking the cycle of inter-generational inequality for low-income children and families of NYC, primarily children impacted by the criminal justice system, and neighborhoods devastated by mass incarceration. IAR's ultimate goal is to bring high-quality Science, Technology, Engineering and Mathematics educational opportunities to underserved children through its partnership with City College University of New York, its science and engineering departments, and the Sophie Davis medical school. IAR provides one-on-one mentoring, visitation, youth development and other support services. Stevens and the IAR program are working to encourage today's children of incarcerated parents into tomorrow's scientists, doctors, innovators and teachers.
I know Terrence very well from his days as an activist who joined me in fighting to reform the draconian Rockefeller Drug Laws of New York State. We worked side by side bringing the issue to the forefront generating hundreds of human interest stories used to put a human face on the war on drugs.
Stevens was sentenced to 15-years-to-life for a nonviolent drug offense and served 10 years before getting clemency from former New York Gov. George Pataki in 2001. The remarkable thing about Terrence is that he suffers from muscular dystrophy and is paralyzed and fully reliant on a power wheelchair to move about. His spine is bent, and his breathing is labored and painful. Muscular dystrophy slowly makes its way through his body, shutting down muscle after muscle.
Terrence Steven's story personifies the cruelty of the United States' failed trillion-dollar war on drugs. The much-debated drug statutes enacted beginning in the 1980s call for sentences that are among the toughest in the world. For Terrence, the unjust sentence he received was the equivalent of two prison terms. One was a life sentence by statue, and the other might as well be.
"To incarcerate someone in my condition, who poses absolutely no physical threat to society and is unable even to wipe his own behind, shows the complete and utter failure of the criminal justice system," Terrence said.
The effects of mass incarceration do not end at the prison walls and it's heartbreaking that 2.7 million U.S. children have a parent behind bars - including 1 in 9 African-American children. That's why Terrence's profound work keeping families connected and breaking the cycle of incarceration is so necessary.
For more information or to make a donation to In Arms Reach, visit www.inarmsreach.net or call IAR at 212.650.5894.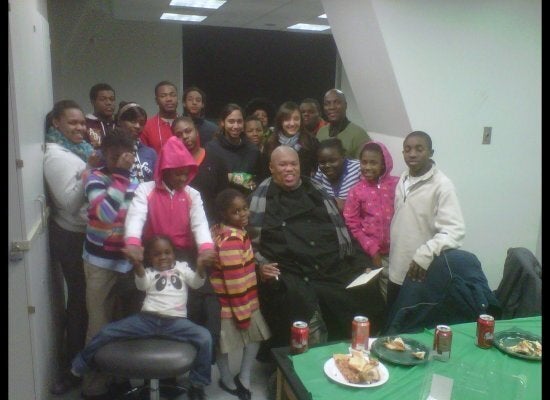 Saving Children of Incarcerated Parents: The Terrance Stevens Story Featured on PBS
Related
Popular in the Community