The capstone of the TerraVita Food and Drink Festival in Chapel Hill, N.C. was called the Carolina Table--East Meets West. As apropos as that sounds, it could easily have been called South Meets the World. There is no doubt that pork is still king in the South, but pheasant, bison, lamb and duck are reaching for the crown. Same goes with barbeque sauce--that legacy souse of the South that differs from region to region. Twists of curries, coconut milk gravies and eye-catching espuma foams are covering everything in the South--including the pork.
More than forty chefs from North Carolina recently collaborated in a three-day festival of sustainable food and drink held in several locations throughout Chapel Hill over October 9-11, 2014. Now in its fifth year, TerraVita is the realized dream of organizer Colleen Minton, who wanted to create a festival where everything that passed the lips was sustainably raised and locally sourced whenever possible.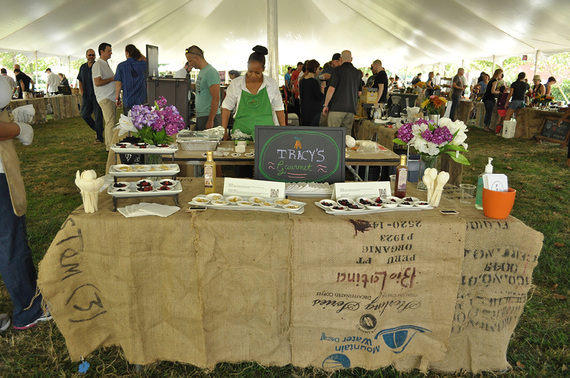 TerraVita Food and Drink Festival in Chapel Hill, N.C. brought people from throughout the South to experience farm-to-fork goodness.
Food festivals are not new. Every region has them--each one bears a thumbprint of the foods and flavors of its locality. Most of them bring together fabulous food for discriminating palates and offer info, demos and cooking classes. TerraVita takes this a step further with its sustainable classroom series that features a day of informal lectures, food preparation sessions and educational tastings--all with an emphasis on fair trade and sustainable practices. Another caveat TerraVita boasts is its partnership with Southern Season, the enormous specialty food and entertaining store and cooking school that opened in Chapel Hill in 1975 and has since spread to Richmond and Charleston, with new stores opening soon in Raleigh and Charlotte.
Many food and drink festivals are huge gatherings held in stadium-sized event spaces, where crowds move like flotsam on a waterway, seating is scarce and tasting lines are as long as the ropes that separate the masses. As much as TerraVita has grown from a one-day event to this three-day multi-session extravaganza, it's never lost its sense of intimacy. Chefs are present at the food events, and sure they're busy chopping, frying, roasting or garnishing, but they're always available to answer questions from attendees. It's not so packed that you never see the same friendly faces from event to event. On the contrary, you recognize other guests and they recognize you and soon you're trading insights on what to taste next, or sharing personal favorites and discussing a surprising twist on a traditional recipe.
Attendees of TerraVita can purchase single event tickets (the sustainable classroom includes three class choices for a single event price) or an all-event pass called the Whole Shebang. The Whole Shebang chocks up two full dinners, a cocktail party with heavy hors d'oeuvres, a feast of a tasting event, an exclusive bread-making class and the sustainable classroom series. Foodies who want to learn, eat and reduce their carbon footprint shell out $495 for a Whole Shebang ticket with no regrets.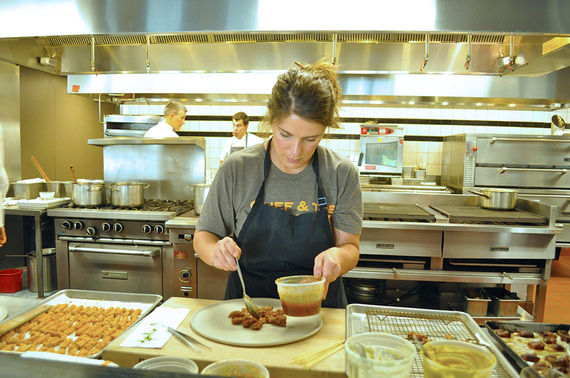 Television personality and chef Vivian Howard of the PBS series A Chef's Life, prepares fried green tomato sticks during TerraVita's opening cocktail party.
Let's take a look at some of these offerings, beginning with the Southern Hospitality and Cocktail party held at One Restaurant on October 9. The intimate gathering started just before happy hour and stretched until 6 p.m. Four award-winning chefs from three critically acclaimed restaurants created a hors d'oeuvres tasting with paired cocktails, brews and wine. Hosting the event were One Restaurant chefs, the husband and wife team of Kim Floresca and Daniel Ryan. Vivian Howard, the North Carolina darling from the PBS food show A Chef's Life, came from Kinston, N.C. where she and her husband Ben Knight operate Chef and the Farmer (and their new Boiler Room and Oyster Bar). Scott Crawford, former food and beverage director of the Umstead Hotel and executive chef of its Heron's restaurant, premiered food from his yet-to-open Standard Foods in Raleigh.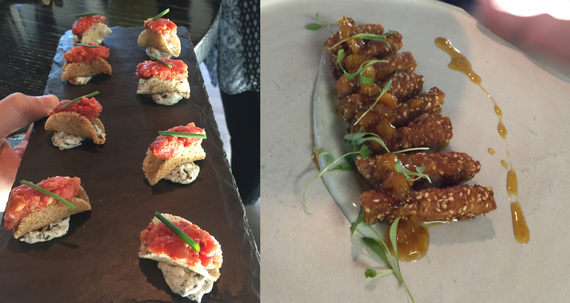 Left to right, tartacos from One restaurant chefs Kim Floresca and Daniel Ryan, plus fried green tomato sticks from Vivian Howard of Chef and the Farmer restaurant.
Platters of small-bite delights were tray-served and what wasn't nabbed from a server was placed on a food table. Howard and her team sent out pork cracklings topped with oysters, tomato tartar and pickled jalapeno; watermelon rind pickles wrapped in jowl bacon with a mustard puree, and fingers of fried green tomatoes with curried peach preserves, whipped Maytag bleu cheese and sesame seeds. Crawford put together three sumptuous offerings, including chicken butter on oyster mushroom cookies; sweet potato cakes topped with crab, yogurt, line and pistachio; and a brioche toast set with a paste of boiled peanuts and bacon-apple jam. Venue hosts Floresca and Ryan produced a half-dozen tantalizing tidbits, of which the tartacos stood out with their fermented chili, seaweed crema and tomato tartar, as well as the pimento cheese-stuffed "gougers" (think cream puffs stuffed with melty pimento cheese); and whipped, aged butter dolloped upon a crunchy barley chip and garnished with a sliver of radish.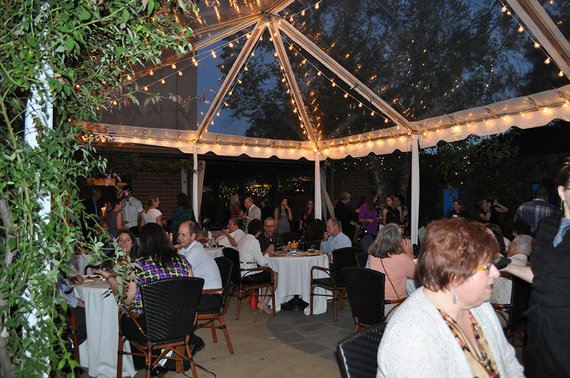 Under the twinkling lights and Carolina blue skies of TerraVita's Southern Harvest dinner at the Weathervane restaurant at Southern Season.
At 7 p.m. that same day around 200 people gathered for the Southern Harvest dinner held on the outdoor patio of the Weathervane restaurant at Southern Season. At the check-in table guests were given earth-friendly, disposable wooden plates and eating utensils on which they would sample generous helpings from six food stations set around the patio area. Each of the stations had wine and/or brew pairings to complement each small plate.
Elisabeth Wall of Atlantic Caviar and Sturgeon Company greeted guests with Vilmart Grand Cellier champagne and caviar, along with a succulent slice of smoked sturgeon, surprisingly grown and harvested in Happy Valley, N.C. (The sturgeon is the only fish that produces caviar--all other fish eggs are called roe.) The Weathervane provided a plentiful cheese selections from Goat Lady Dairy, Prodigal Dairy and Chapel Hill Creamery, including a buttery new semi-soft goat cheese not-yet-named from Prodigal Dairy. Jason Alley of Richmond's Comfort and Pasture restaurants wowed guests with his ham-cured pork ribs with Alabama white sauce and braised pole beans with homemade tomato juice. The Weathervane's Spencer Carter put a new spin on shrimp and grits with his house-cured jowl bacon and Goat Lady cheesy grits. Charleston's Kevin Johnson of The Grocery cooked up low-country seafood pilau with Charleston Gold rice. Craig Rudewicz of Crude showcased his small-batch bitters with sodas and cocktails. The big surprise of the evening wasn't Craig Rogers' saucy lamb ribs and kabobs, it was his sweet and savory lambcetta cooked over his "cowboy cauldron" grill.
Those who splurged on the Whole Shebang ticket got the VIP treatment Thursday night at an after-party and premiere of season two of Vivian Howard's A Chef's Life. Howard and her husband Ben Knight were on hand to answer questions about the show and talk about the couple's new restaurant The Boiler Room Oyster Bar in Kinston. Held at the Great Room, TOPO restaurant's private event space, the party featured blueberry cocktails to play off the episode's blueberry theme, along with oyster shooters from Shooting Point Oyster Company and a dessert temptation from Sweet Arielle Bakery in Cary, NC.
Early the next morning the Sustainable Classroom began. Classes were held in three locations: the North Carolina Botanical Gardens, TOPO Distillery, and the classroom at Southern Season. Participants could choose from hands-on demonstrations and tastings such as "Exploring the South's 'Taste of Place' Through Food and Beer" led by The Grocery's chef Kevin Johnson and Full Steam Brewery's Sean Lilly Wilson; "Fermenting and Food Preservation: Making Krauts, Kombucha and Kimchees in Your Own Kitchen" presented by Donna Bauman, Kim Floresca, Nate Garyantes, Breana Lai and Daniel Ryan; and "The Wholesome Food Movement and Accessibility in the South," with Jane Black, Dana Bowen, Sheri Castle, Vivian Howarad and Kate Medley. The politics of coffee and chocolate made for fascinating discussion with Scott Conary from Carrboro Coffee Company, Sam Ratto of Raleigh's Videri Chocolate Factory and Dan and Jael Rattigan of French Broad Chocolates in Asheville. Five additional classes featured discussion of farm to table food distribution, wine tasting and pairing, ocean-to-platter discoveries, and pairing bourbon with fall foods.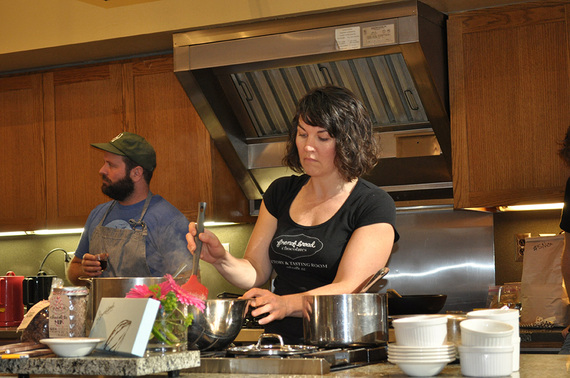 Jael Rattigan of French Broad Chocolates in Asheville, N.C. stirs a pot of liquid truffle--a radically thick hot cocoa that goes down as smooth as it sounds.
Friday night's dinner met under the twinkling lights of the North Carolina Botanical Garden's Reeves Auditorium. Here we enjoyed the dinner branded as The Carolina Table--East Meets West, or as previously suggested, South Meets the World. Imagine a menu boasting such creative culinary combinations as warm beet salad with yogurt labneh; farro with kale, pickled muscadines, fermented carrots, spiced pecans and sweet potato vinaigrette, and Malabar shrimp and grits in warm curry.
Eight North Carolina chefs came together to create the sit-down, family style dinner, including Ben Adams from Piedmont in Durham, Daniel Benjamin from Lucettegrace in Raleigh, Scott Crawford from Standard Foods in Raleigh, Matthew Dawes from Asheville's the Bull and Beggar, Meherwan Irani from Chi Pani in Asheville, Cheetie Kumar from Raleigh's Garland, Katie Meddis from Rose's Meat Market and Sweet Shop in Durham, and breads by master baker, Lionel Vatinet of La Farm Bakery in Cary.
An additional perk to those who purchased the Whole Shebang ticket included an exclusive Saturday morning bread-making class at Southern Season with master baker Lionel Vatinet of the renowned La Farm Bakery in Cary. Vatinet enforced the four essential ingredients to bread: flour, water, yeast and salt. The magic of this--or as some say, the chemistry of baking--occurs with the amounts and preparation. After demonstrating the essential mixing, kneading and shaping techniques, he passed out the ingredients then went about reinforcing the techniques until each student had a loaf to work themselves. A final stuffing of Chapel Hill Creamery cow's milk feta and Craig Rogers' savory chopped lamb, a wrap and the loaves were ready to bake.
On Saturday afternoon the tent was up in the square at Chapel Hill's Southern Village and the Grand Tasting on the Green was on. More than 40 local restaurants, breweries, distilleries and beverage merchants prepared food and drinks for a contained group of foodies. By contained, I mean there were many people attending, but not so crowded the lines took longer than one or two people. I made a delightful discovery of sheep's milk ricotta gnocchi with pumpkin and hazel nut from Oakleaf in Pittsboro, N.C., as well as the pork terrine with okra and mustard from the Little Hen in Holly Springs.
Those fortunate enough to get one of the limited Whole Shebang tickets were treated to an after-festival celebration at the Black House at Straw Valley in Chapel Hill, where all of the chefs and food talent gathered to eat, drink and dream of next year's Terravita.
All photos © 2014 by Carolyn Burns Bass.