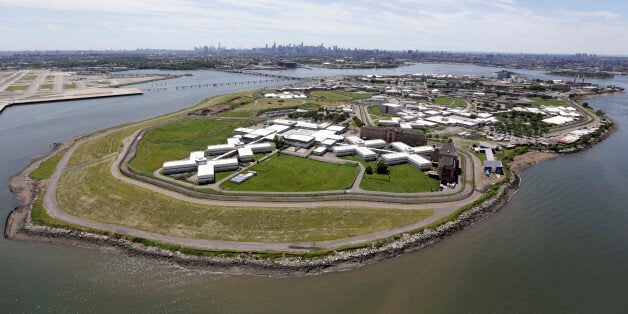 (Adds comment on potential settlement of Rikers civil lawsuit from Manhattan U.S. attorney)
NEW YORK, June 18 (Reuters) - A former supervising guard at the Rikers Island jail complex in New York City was sentenced to five years in federal prison on Thursday for refusing to help a mentally ill inmate who died in 2012 after swallowing powdered detergent.
Terrence Pendergrass, 51, was sentenced by U.S. District Judge Ronnie Abrams in New York, six months after a jury found him guilty of one federal civil rights count.
"A man died here, a 25-year-old man, because of your indifference and callousness," Abrams said.
Widespread problems at Rikers, including accusations of brutality against inmates, have prompted calls for reform from politicians and civil rights advocates.
Pendergrass was supervising a jail unit on Aug. 18, 2012, when two officers informed him that an inmate, Jason Echevarria, was ill and said he had ingested a "soap ball," a toxic disinfectant detergent used to clean cells, prosecutors said.
According to trial testimony, Pendergrass told one of the officers not to bother him unless they needed help getting an inmate out of his cell or had a "dead body" on their hands.
Later that day, after a pharmacy technician saw Echevarria and expressed concern he might die, Pendergrass again refused to summon assistance and ordered an officer who had picked up a phone in order to call for help to hang up, prosecutors said.
Echevarria was discovered dead the following morning.
At his sentencing, Pendergrass apologized for the "tragedy" but claimed he did not know that Echevarria was sick at the time.
Following the hearing, Pendergrass walked over to Echevarria's father, Ramon, and said he was sorry.
Echevarria told reporters he did not believe Pendergrass was sincere.
"He's not a human being, this man," he said. "He let my son die."
Jason Echevarria's family has filed a civil lawsuit against the city over his death.
Last week, Manhattan U.S. Attorney Preet Bharara announced criminal charges against three other Rikers guards in connection with the 2012 fatal beating of inmate Ronald Spear.
Bharara's office has also joined a lawsuit against the city claiming systemic civil rights violations against teenage inmates at Rikers.
At a public event on Thursday, Bharara said he expects to have a settlement in principle in that case by Monday.
"I can tell you that I'm very, very confident because we've been pushing very, very hard."
Lawyers for the city have also said they anticipate a deal by next week. (Additional reporting by Nate Raymond in New York; Editing by Jeffrey Benkoe and Matthew Lewis)
Calling all HuffPost superfans!
Sign up for membership to become a founding member and help shape HuffPost's next chapter