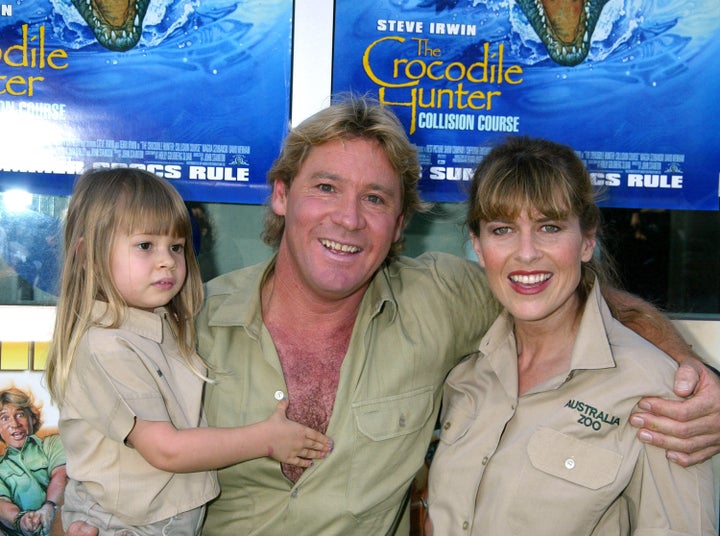 Terri Irwin says that her late husband, Steve Irwin of "The Crocodile Hunter" fame, predicted he would likely die young.  
"He never thought he'd have a long life," Terri said in an interview on the Australian television show "Anh's Brush With Fame," which aired earlier this week. "He always kind of had this sense his life would be cut short." 
The conservationist and TV star was killed by a stingray while shooting a documentary in 2006. He was 44. 
On the show, Terri, a conservationist and zookeeper herself, also spoke about the last time she saw her husband.  
"I remember him at the airstrip waving goodbye. That was the last time we saw him," Terri said, before revealing how she learned that Steve was dead and how she told their two young children, Bindi and Robert.
"Those were the days when communication wasn't as good. There wasn't much in range in Tasmania. I got to our destination for the night and they said, 'You need to call your zoo manager,'" she recalled. 
"So they took me into a backroom and I got the news that Steve had been in this accident and had died," Terri said. "I just remember this incredible sense of responsibility, this feeling of overwhelming grief but 'What do I do next?' I kind of collected my thoughts and then had to go out to the car and tell Bindi and Robert ... which was really hard." 
"I haven't dated anyone in the ten years since we lost Steve just because I feel a connection still with Steve. You know when you take those vows and say, 'We'll be together as long as we both shall live' ― I really don't think I would've married if I hadn't met Steve," Terri said last year.
"And he's very special to me and continues to be. And I've got beautiful kids and a lot of wonderful conservation work, so I'm lonely for Steve but I'm not a lonely person," she added. 
REAL LIFE. REAL NEWS. REAL VOICES.
Help us tell more of the stories that matter from voices that too often remain unheard.
BEFORE YOU GO