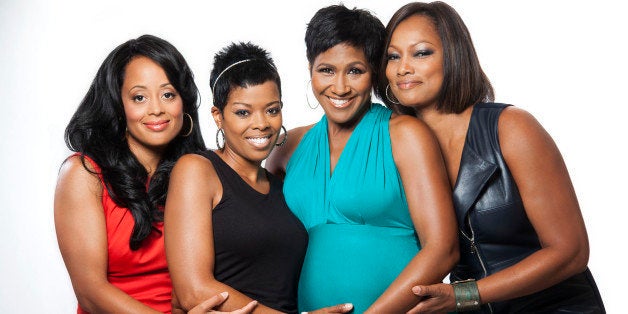 This weekend will mark TV One's network premiere of their original film, "Girlfriends' Getaway." Starring Garcelle Beauvais, Terri J. Vaughn, Malinda Williams, and Essence Atkins the two-hour comedy takes place in Trinidad as four longtime girlfriends descend on the Caribbean island for a birthday getaway, only to be confronted with a number of life changing events.
In addition to starring alongside three of her closest friends, Vaughn also serves as the movie's producer. She said she found filming to be a healing experience.
"To be able to work with your girlfriends in such an intimate setting like that, after from the hustle and bustle of the city of Atlanta and Los Angeles, and being out in Trinidad, it just made something magical happen," she said told The Huffington Post. "Just the sharing that we were able to do, on and off the screen, it just added to the experience."
"I had to bump my head and I had to bump on these doors because I just feel like when you're trying to make that transition from being in front of the camera to being behind, people don't really take you seriously at first," she said. "So it took a couple of years for people to see that we were really serious and we have viable projects that can make money and that people want to see.
"So I would say in the past couple of years it started to get so much better. People are really starting to answer the call for the producing side of Terri and Cas. So we're really just trying to brand and get our company name, Nina Holiday Entertainment, out there. Because as we're growing and want to do bigger projects the people will be very familiar with the success of our projects."
TV One's "Girlfriends' Getaway" premieres on Saturday, Aug. 30 at 8pm/et with an encore at 11pm/et and at 11am/et on Sunday, Aug. 31st.