DETROIT -- Michigan's U.S. Senate race is quickly becoming one of 2014's most critical contests, and the Koch brothers' dark money group, Americans for Prosperity, is wading in.
Americans for Prosperity debuted a new ad Tuesday tying Rep. Gary Peters (D) to Obamacare and slamming the health care law as "hurting Michigan families." Peters is running against Terri Lynn Land, who rose from unlikely GOP contender to a serious threat for the seat held by departing veteran Sen. Carl Levin (D-Mich). The multimedia ad buy costs $1 million and will run for three weeks, AFP said in a release.
In August, The Huffington Post first published a video that appeared to show GOP Senate candidate Terri Lynn Land telling supporters that super PAC money would be welcomed by her campaign.
"So, my husband and I, like I said, are committed to this. We're out on the road, we're raising money, it's going to take a lot of resources to do this," Land said. "It's probably a $20 million campaign. But the reality is, we've got new folks out there who are raising money. That's the super PACs."
Super PACs and dark money groups are political fundraising mechanisms that came out of the Citizens United ruling in the U.S. Supreme Court, allowing corporations, unions, individuals and groups the ability to raise unlimited funds to spend on political communications. It's illegal for political candidates to collaborate their campaign strategies with super PACs or spend the money directly on candidates, but they can run ads on issues. Unlike super PACs, however, 501(c)(4) social welfare groups -- such as Americans For Prosperity -- don't have to say who their donors are, as The Huffington Post's Paul Blumenthal explained:
To maintain this donor anonymity, the nonprofits must spend more than half of their time and budget each year on nonpolitical efforts in pursuit of their declared tax-exempt purpose. Issue ads in which a candidate is named -- but the public is not explicitly urged to vote for or against said candidate -- are often used by these groups to achieve their official purpose. The very same candidates are often targeted with more direct electoral appeals closer to the election.
"Terri Land needs to immediately come clean and admit which outside special interest groups her campaign has been communicating with, because these groups cannot run ads in the Michigan Senate race without breaking the law," Johnson said. "It is deeply troubling that a former Secretary of State and RNC member would be welcoming dark money into Michigan to help her buy the U.S. Senate seat and sell out Michigan's middle class families."
When asked whether he knew that Land's campaign received a financial commitment from Americans For Prosperity, Johnson said that he did not, but noted that it was possible. Johnson also said he was considering filing a complaint about Land with the Federal Election Commission.
"We want to give her the chance to answer first," he said.
John Yob, senior adviser to Land's Senate campaign, told The Huffington Post in an email, "this is nothing more than a desperate attempt to shift attention away from the fact that their candidates for statewide office are failing in the polls after being dishonest with voters and claiming Michiganders could keep their insurance if they liked it."
A Republican strategist who requested anonymity because he was not authorized to speak to the media scoffed at the claims, telling The Huffington Post that Land had referred to donors in her comments, not representatives of any organization, and that she had not broken any FEC guidelines.
Land hasn't had problems raising cash on her own for the campaign. She brought in almost $1.7 million just in the fourth quarter of 2013, including giving herself a $600,000 donation. And the multi-million dollar ad buy targeting her opponent certainly doesn't hurt her chances to win in November.
Support HuffPost
The Stakes Have Never Been Higher
Before You Go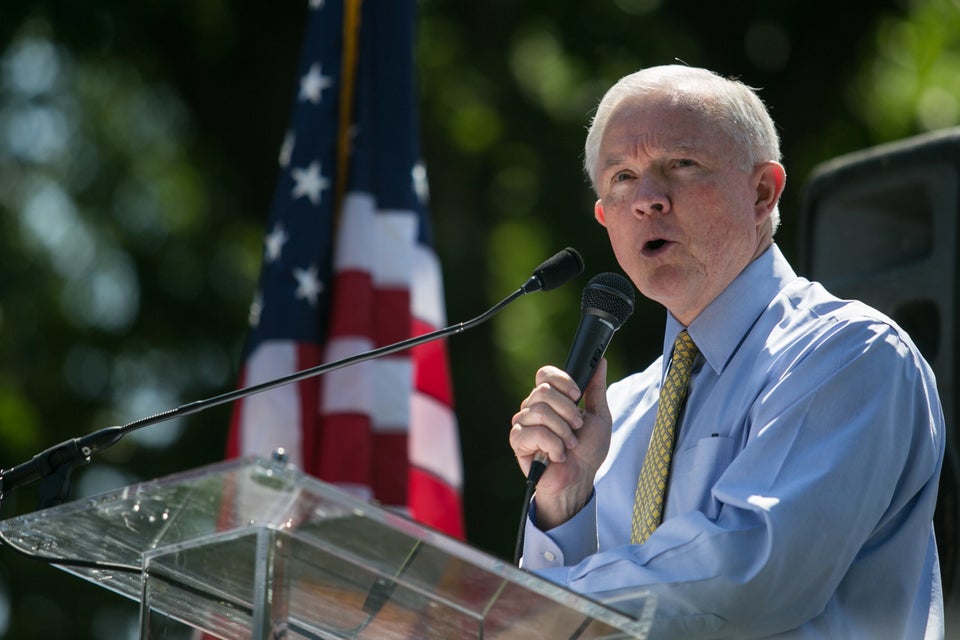 Senate Seats Up For Grabs In 2014
Popular in the Community