WASHINGTON -- Throughout her run for the Senate, Michigan Republican candidate Terri Lynn Land has been forced to fend off criticism of her family's real estate business. Now, it appears, her defense may end up producing its own set of troubles for her political aspirations.
Land & Co., founded by Land's father, Paul Land, has grown into a small empire of rental apartments and mobile home parks spread across western Michigan. Land listed herself as an employee for 20 years, until she began her campaign to replace retiring Sen. Carl Levin (D). Today, the company employs Land's husband, Dan Hibma, and her brother-in-law, Roger Lucas.
The company's success has made a millionaire of Land, a former Michigan secretary of state who disclosed a combined household net worth this year of more than $32 million. But a political system that increasingly portrays millionaires as out-of-touch plutocrats exposes Land to attacks for the fortune that she and her husband reaped from Land & Co. The state Democratic Party has accused her of trying to hide her connection to the family business and of harboring an "anti-middle class agenda."
One way Land seeks to deflect attention from her wealth is by touting her family's charity work on her campaign website. "The Land family has always been dedicated to giving back to the community that gave them so much," the site reads. "Whether it was planting trees … or collecting donations to clothe and educate people around the world, the Land family has a deep commitment of service to the community."
Among all the family's good works, World Mission Inc., a nonprofit founded in 1994, stands out. Like the Land family real estate company, World Mission is controlled by Land family members, including Land's husband, who signs the group's tax returns, her father and her brother-in-law.
World Mission is an evangelical Christian missionary project that aims to spread the religion to what it calls "unreached people groups" or UPGs, by distributing audio players loaded with a recording of the Bible. The gold-colored players are about the size of an iPhone, and come with the New Testament recorded in the language of people the group is targeting. World Mission refers to the solar-powered talking Bibles as "treasures."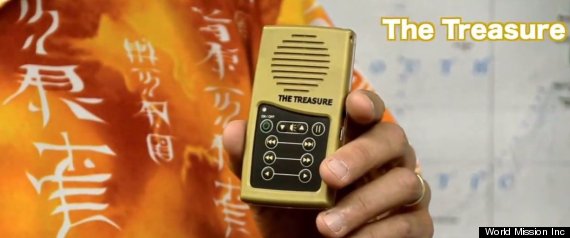 As recently as 2008, World Mission was located at the same address as the headquarters of Terri Lynn Land for Secretary of State, Land's former campaign office. This address also housed the family company, Land & Co., as well as other Land family holdings.
Land herself does not serve on the board of World Mission, where her father, husband and brother-in-law have been members since the charity's founding. Dave Dishaw, the former finance chair of her campaigns for secretary of state, is a board member, as is the Land family's longtime pastor, the Rev. Kevin Harney. Business associates of Land & Co. fill out much of the board. Land's sister, Kathy Desser, and another brother-in-law, John Desser, both work at the for-profit affiliate of World Mission, called World Mission Clothing.
Since its founding, World Mission has received millions in contributions from real estate companies controlled by the Land family, and millions more from Land family members, according to IRS returns reviewed by The Huffington Post. To supplement the donations, World Mission operates thrift stores in western Michigan, alongside the for-profit venture, which buys unsold clothes from thrift shops and sells them in bulk.
Proceeds from the stores are intended to buy "treasures" to give to "unreached people groups." For the year ending in June 2012, World Mission listed assets of more than $3.9 million and reported $2 million in annual revenue.

Online donors to World Mission may contribute $50 to fund one of the talking Bibles. According to World Mission, each of the devices "reaches approximately 144 people with the life-changing power of the gospel." World Mission says it distributed 17,000 "treasures," reaching 2.39 million people, in 2013.
"Unbelievably, there are over 2 billion people who have yet to hear the gospel for the first time," says the narrator of a World Mission video called "Intro to UPG (Unreached People Groups)." "If you were to place them side by side, they would surround the globe 25 times."
In the same video, World Mission lists what it calls "the obstacles" to its goal: Islam, Buddhism and Hinduism.
For many Michigan residents, the religions World Mission calls obstacles are a source of pride. Michigan has a long and vibrant tradition of religious pluralism. The University of Michigan at Dearborn says the the state is home to some of the "most ethnically and religiously diverse regions in the nation."
In her campaign for Senate, Land has avoided questions about her faith, in large part by giving few interviews and refusing invitations to debate her opponent, Democrat Gary Peters. The Huffington Post asked the Land campaign whether Land has contributed money to World Mission, and how she views the missionary work her family so generously supports. Spokeswoman Heather Swift declined to answer, except to say, "Terri Lynn Land has no role with World Mission."
But World Mission does play a role in Land's Senate campaign. According to donor records, employees of World Mission Clothing have donated $10,400 to Land's campaign. The money likely comes from Land's sister and brother-in-law, who campaign records show have donated $5,200 each to Land's Senate bid.
Land herself has donated nearly $3 million to her own campaign, making her by far the biggest individual contributor. But her donation ultimately may do her more harm than good. As part of a plan to deflect questions about her wealth, Land transferred many of her Land & Co. holdings to her husband, leaving her on paper with a salary and a small startup real estate company operated with her son.
Land filed her last two federal tax returns independently and reported personal income of $44,726 in 2012 and $89,729 in 2013, mostly from her property management company Green Light LLC, according to the returns she has voluntarily shared with MLive and other media organizations. She reported $17,709 in charitable giving for 2012, including a $12,000 donation to Corinth Reformed Church, which she and her husband attend in Byron Center. For 2013, she reported $44,865 in charitable giving, with $44,612 going to her church.
Reporters noticed in June that no bank accounts Land claimed to control had a balance anywhere near big enough to fund the $3 million contribution to her campaign. In response, Land's campaign claimed the candidate had forgotten about a joint bank account with her husband. Pundits said the flap didn't give voters the impression that Land was forgetful. It suggested a candidate so rich that she forgot about $3 million.
Though Land & Co. may cause headaches for Land's Senate campaign, it's the opposite for World Mission. According to federal records, the real estate company has provided World Mission with money, free office space, machinery, low-interest loans, supplies and carpeting. Not even the Land & Co. spokesman seemed to know about the ties.
The spokesman, John Truscott, initially told The Huffington Post that the company had "absolutely no relationship" with World Mission. He added that it was Land's husband, Dan Hibma, who was the charity's major supporter -- not the real estate company.
But it can be difficult to see where Land & Co. ends, and the Land family's charitable work begins. For its first 15 years, there were only four key figures at World Mission -- all senior executives at Land & Co. Paul Land, Dan Hibma, Roger Lucas and Roger Zylstra gave World Mission millions in cash. Individual directors also made major loans to World Mission -- in some cases extending the charity more than $1 million.
Land & Co., also loaned World Mission millions. When asked about the loans, Truscott said he was unaware of them. But after a conversation with Land & Co. executives, Truscott told HuffPost that World Mission borrowed the money from Land & Co. in order to make improvements on buildings and purchase equipment for processing used clothes.
World Mission never repaid the loans. At some point, Truscott said, the loans were written off, and the outstanding balances were donated to World Mission. As of 2012, the charity had no outstanding debts to Land & Co.
An employee at World Mission referred HuffPost's questions about finances to the charity's accountant, Mark Bardolph, who did not respond to a voicemail message from HuffPost. Bardolph, a longtime accountant for the charity, also is a consultant to Terri Lynn Land's Senate campaign. According to campaign filings, Bardolph has collected $2,500 in fees from the campaign since May.
MAPPING 'UNREACHED PEOPLE'
World Mission targets people living in an area known to Christian missionaries as "the 10/40 window," a band stretching across the Eastern Hemisphere from 10 degrees to 40 degrees north of the Equator. The area encompasses North Africa, the Middle East and much of Asia, including China, India and Japan -- countries with traditionally small Christian communities. That makes it an ideal target for groups like World Mission.
The drive to spread the gospel is hardly new. Christian missionaries have been evangelizing for centuries. But World Mission's methods are decidedly modern.
During the mid-1950s, Christian missionaries began looking to social science. They studied how to integrate Christianity into non-Christian cultures, and how to target parts of the world least likely to meet evangelical Christians. The idea of mapping and targeting unreached people groups grew out of this research.
The practice of counting and tracking the world's non-Christians, known as spiritual mapping, is central to what groups like World Mission are trying to do and allows them to measure their impact. Research initiatives like the The Joshua Project and the Issachar Initiave help track unreached people groups.
Some of their conclusions are surprising. For instance, the Joshua Project lists Jews among unreached people groups, and the group produces a chart showing that evangelicals have made little "progress" in evangelizing Jews in America.
The Issachar Initiative takes the idea further, with its Count For Zero campaign. Its goal is to "establish a strong and viable church within each of the Unreached People Groups (UPGs), so that the number of UPGs is reduced to ZERO."
World Mission is a member organization of the Count for Zero campaign. In the video below, World Mission executive director Greg Kelley explains why.
Not everyone is happy with the idea of mapping and targeting non-Christians. For Rabbi David Sandmel, director of interfaith affairs at the Anti-Defamation League, this type of tracking raises serious questions.

"It is understandable that Christians who take the Great Commission seriously would look for effective methods for their missionary work," Sandmel told HuffPost in an email. "However, [the Joshua Project] seems to be promoting targeted missionary activity to Jews (that is, targeting Jews because they are Jews). Given the history of forced conversion and other efforts to coerce Jews to abandon our tradition, we find this particularly offensive." Sandmel added, "many Christians leaders and denominations (among them Pope Benedict XVI) have explicitly repudiated targeted missionary activity."
Muslims, too, have concerns about targeted missionary work. Dawoud Wahlid, executive director of the Michigan chapter of Coalition for American Islamic Relations, compared the goals of Count for Zero to radical extremism, because both groups "are working from the false framework that they can bring about the end of other religious groups."
As for how the ties between Terri Lynn Land and World Mission might be viewed by Michigan voters, Walid said, "Michigan is the heartland of the diverse and vibrant American Muslim community, so Land's affiliations would be a concern for Muslim voters in Michigan." He added that groups like World Mission "represent a worldview that could influence [Land's] voting record in the Senate, not just on domestic issues but on issues that influence Muslims across the globe."
In the coming weeks, Land will seek to win over Michigan's undecided voters. Political conventional wisdom says a candidate would benefit by allowing voters to see a personal side, including faith. For Land, however, that conversation may be a bridge too far.
Before You Go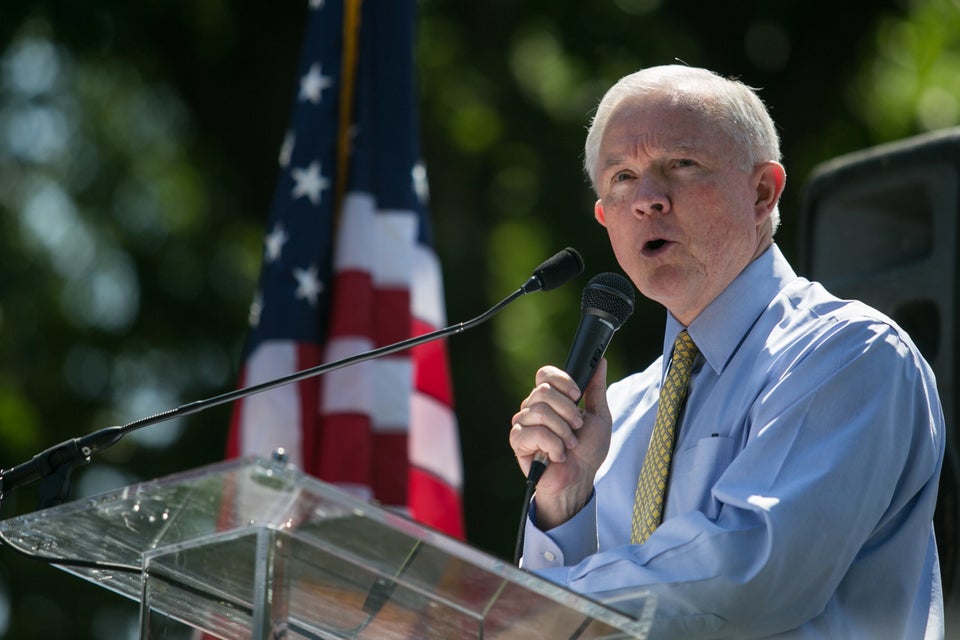 Senate Seats Up For Grabs In 2014
Popular in the Community