 A Republican has finally stepped forward in the race for the seat of departing U.S. Sen. Carl Levin (D-Mich). Terri Lynn Land, a former Michigan Secretary of State, announced her intention to pursue the GOP's nomination for the office on Monday.
Land is currently a member of the Republican National Committee and served as Michigan's Secretary of State from 2003 until 2010. She also ran as Oakland County Sheriff Mike Bouchard's running mate in an unsuccessful bid for governor in 2010.
John Truscott, who served as a communication official for former Michigan Gov. John Engler (R), told MLive that Land was a "credible candidate" with statewide name recognition and a proven ability to raise campaign funds.
Michigan Democratic Party Chair Lon Johnson was critical of Land's candidacy.
"Republican National Committeewoman Terri Lynn Land supports a national partisan plan that would rip the rug out from under Michigan seniors and the middle class," he said in a statement. "Michigan families will lose under Land's out of touch agenda to privatize Medicare and Social Security, making it tougher for seniors to retire with dignity and undermining our chances of a full economic recovery."
Although she is the first Republican to officially jump in the race, she still faces a number of other possible contenders from her party, including U.S. Rep. Mike Rogers (R-Howell), Chairman of the House Intelligence Committee, and his colleague, U.S. Rep Justin Amash (R-Cascade Township).
If nominated, Land could end up battling U.S. Rep. Gary Peters (D-Bloomfield Hills) for Levin's seat in the 2014 race. He's considered the favored Democratic nominee, having garnered endorsements from both Levin, who is retiring, and U.S. Sen. Debbie Stabenow (D-Mich).
Before You Go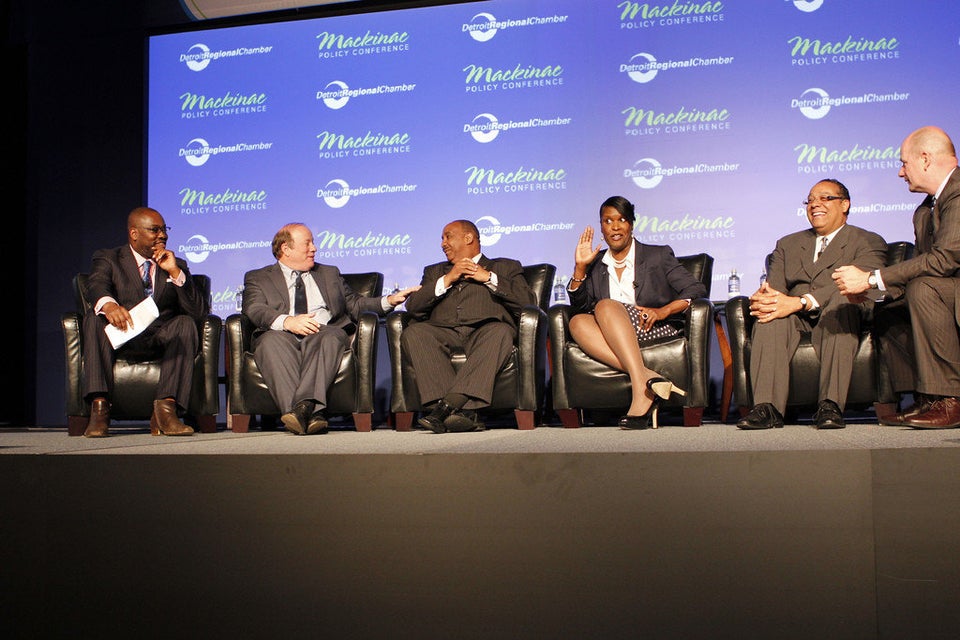 Detroit Mayoral Candidates Spar At Mackinac Conference
Popular in the Community