GOP candidate Terri Lynn Land is welcoming controversial super PAC money into her race to win Michigan's open Senate seat.
Land, who served as Michigan's secretary of state from 2003 to 2010, is expected to be the Republican front-runner for the vacant seat of retiring veteran Sen. Carl Levin, a Democrat. Land and her most likely opponent, U.S. Rep. Gary Peters (D-Bloomfield Township), are currently tied for the open Senate seat, according to a recent poll.
"So, my husband and I, like I said, are committed to this. We're out on the road, we're raising money, it's going to take a lot of resources to do this," Lind says in the video, provided to The Huffington Post by a reader who attended the August party. "It's probably a $20 million campaign. But the reality is, we've got new folks out there who are raising money. That's the super PACs."
Created in the wake of the landmark Citizens United Supreme Court ruling, super PACs can raise unlimited funds from corporations, unions, associations and individuals to advocate for or against candidates. But unlike a traditional political action committee, a super PAC can't donate money to a campaign, and it's illegal for political candidates to collaborate their campaign strategies with super PACs. Instead, super PAC money must be spent on independent political activity -- often in the form of political communications like commercials or mailings that specifically call for a candidate to be elected or defeated.
"Now this is a whole new world and after, some of you remember, the Citizens United lawsuit that happened, which actually started here in Michigan," Land said in the video. "I don't know if some of you know that it started here in Michigan. And that changed the dynamics of politics, restricted the parties, but it let individuals and others raise resources to do that."
"Now, our campaign has talked to a lot of those folks," she added. "They're committed to Michigan."
Land said in the speech that her win could lead to a Republican majority in the Senate. For that reason, she said, Michigan's Senate race is attracting national notice from super PACs.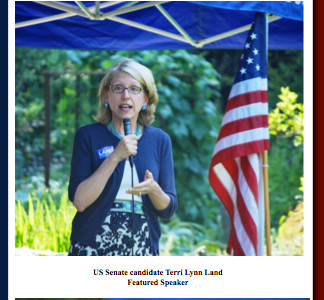 "So I want you to understand this is not just about Michigan, the whole country is watching," she said in the video. "They really want to support us here in Michigan. And again, if we can do this in Michigan, that means they win in the other states."
Land's speech raises questions over whether her campaign may have collaborated with super PACs.
John Yob, a senior advisor to Land's Senate campaign, suggested in a statement to The Huffington Post that such an allegation was a "false attack."
"Democrats awoke this fall to find themselves behind in Michigan, which is why they will no doubt conduct a dishonest, nasty campaign," he wrote. "No amount of false attacks can change the fact that people don't know Gary Peters or they don't like him because he's been part of the problem in Washington instead of part of the solution in Michigan."
But a GOP consultant close to the campaign told The Huffington Post on background that the campaign hasn't broken any Federal Election Commission regulations, and that the candidate had simply noted in her speech that donors have expressed enthusiasm for her campaign.
Yet, several sources involved in the race told The Huffington Post after being made aware of the video's contents that Democrats in Michigan may file a complaint with the FEC over possible improper coordination between Land and super PACs.
Michigan Democrats Communication Director Joshua Pugh wouldn't confirm whether such action was being taken, but he told The Huffington Post in an email that the party would support asking the FEC to open an investigation.
"Michigan families deserve to know which super PAC folks Ms. Land got a commitment from, to dump dark money into the race and help her buy our U.S. Senate seat," he said.
Voters aren't entirely in the dark about which donors are contributing money to super PACs, which then may spend resources to influence a race such as Land's in Michigan: Super PACs are required to report their donors to the Federal Election Commission on a regular basis.
Proving that a political campaign improperly coordinated with super PACs would likely be an uphill battle. Roll Call noted in 2012 that the rules defining improper coordination are so narrow, "political players would have to step far over the line to violate them."
"The real scandal of 2012 is how much potentially corrupting activity is perfectly legal," Paul Ryan, associate legal counsel at the nonpartisan Campaign Legal Center, told Roll Call.
In 2004, as Michigan's secretary of state, Land issued a ruling allowing "dark money" -- that is, secret political contributions that remain anonymous -- to purchase campaign attack ads in judicial races. A recent Bridge Magazine report says the State Bar of Michigan is advocating for the current secretary of state, Republican Ruth Johnson, to reverse Land's decision.
Land has already weathered a fundraising controversy in her campaign for Senate. Earlier this month, critics called on Land to apologize for sending an email that used the military crisis in Syria as a fundraising opportunity for her campaign.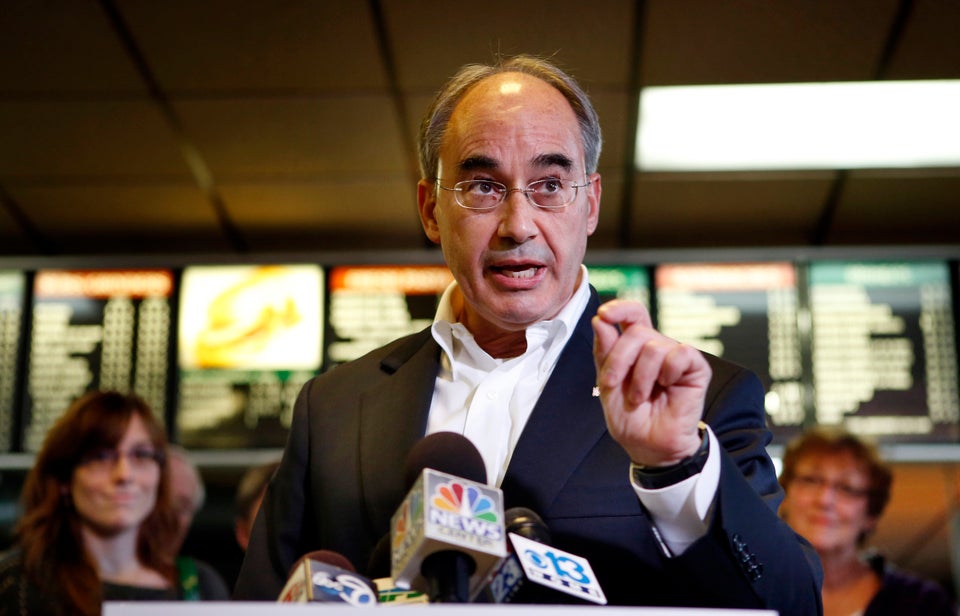 Great Political Names
Popular in the Community