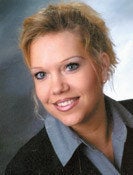 A Republican lawmaker in Arizona said Tuesday that she thinks abortion providers are dishonest with women about the procedure and that is why she emailed a constituent that she would like to require women to watch an abortion before having one.
State Rep. Terri Proud (R-Tucson) said in a statement Tuesday that "the abortion industry" has been "selling abortions" and that she would like to look at the health and safety of women. The statement responds to an email Proud sent to a constituent, saying that women should be required to watch an abortion before they receive the procedure.
"For too long, Planned Parenthood and the abortion industry have placed selling abortions above the health and safety of women," Proud said in the statement, sent by her office from her state email account. "My message to a constituent last week emphasized my concerns with how abortion providers have not been honest with women about the realities of abortion, and the short and long-term risks of this dangerous surgical procedure."
Proud -- who described herself as a "pro-life legislator" -- reiterated her support for several bills that have passed in Arizona, including a 24-hour waiting period before receiving an abortion and requiring a woman to receive an ultrasound before receiving an abortion. She said both laws are "steps in the right direction for our state."
"I'm thankful to be a part of a state legislature that has taken bold action in recent years to protect women and preborn children," Proud said in the statement.
Proud did not directly address the abortion-watching email, or the bill that provoked the email, which would make abortions after the 20th week of pregnancy illegal in Arizona.
"Personally I'd like to make a law that mandates a woman watch an abortion being performed prior to having a "surgical procedure". If it's not a life it shouldn't matter, if it doesn't harm a woman then she shouldn't care, and don't we want more transparency and education in the medical profession anyway? We demand it everywhere else.

Until the dead child can tell me that she/he does not feel any pain -- I have no intentions of clearing the conscience of the living - I will be voting YES."
The email immediately touched off a firestorm from Arizona Democrats, with Rep. Matt Heinz (D-Tucson) describing the email as a "hodgepodge of crazy." Heinz, a physician, said the email showed that Proud did not realize that there are laws to prevent audiences at surgical procedures.
House Minority Leader Chad Campbell (D-Phoenix), who had described the email "going off the deep end," said it could be Proud -- one of Arizona's more conservative legislators -- showing a liberal side.
"Talk about big government, that's the epitome of big government," Campbell said Tuesday to HuffPost. "This is getting out of hand."
Popular in the Community