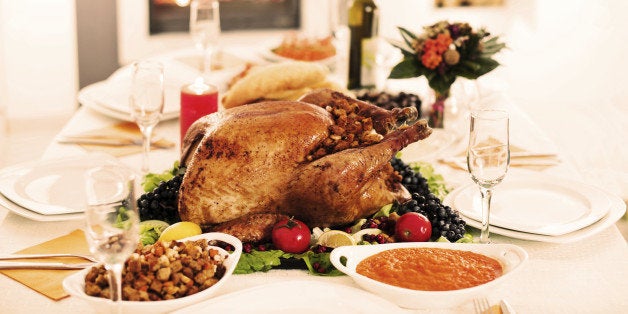 In my home Thanksgiving dinner is one of the most anticipated meals of the year, as we gather around the table with food and family. But if you're hosting Thanksgiving, this festive, fun-filled day can also you leave you stressed and anxious. Although the day can be busy, with lots of dishes to prepare, I've learned to mitigate the stress by simplifying the meal, staying organized, and planning ahead. Here are my tips for keeping Thanksgiving healthy and stress-free this year:
Take advantage of your stovetop.
Does lack of oven space leave you anxious about what to prepare for the big day? Stovetop cooking is a simple solution when your oven use is on overload. There are plenty of delicious and healthy ingredient options that free up the oven, using just the stovetop. Wild and brown rice are nutritious stovetop options giving you a boost of fiber, as well. By choosing brown rice over the white variety, you will get over 2 more grams of heart healthy fiber per cup. Adding festive ingredients such as dried cranberries and pecans or green and red pepper really perk up the holiday dish -- not to mention boost nutrition, too.
Load up on veggies.
Stir-fried veggies, such as Brussels sprouts, are great prepared on the stove. Don't underestimate the delicious buttery flavor of the nutritional quick and easy stir-fry, a perfect side to any meal. Sautéed in a little olive oil, onion, salt, and pepper, they will simply melt in your mouth! Although they look like baby cabbages, Brussels sprouts are a different cruciferous vegetable, but in the same family. And your mom was right; they are very nutritious -- low in fat, calories, and cholesterol, very low in sodium, and a good source of dietary fiber, vitamin C, and folate.
Try standout sweet potatoes.
Some traditional dishes are packed with more vitamins and nutrients than you think. The seasonal standout, sweet potatoes, or yams as they are known in the southern states, is the sweetest of the sweet potatoes, boasting rich nutrition such as fiber, vitamin A and C. This nutritional vegetable packed with antioxidants and fiber adds a natural sweetness to any recipe from soups to breads. There are a few tips that make working with sweet potatoes a breeze: they should not be refrigerated unless cooked, and if a recipe calls for canned sweet potatoes, fresh cooked sweet potatoes may be used. One (15-ounce) can of sweet potatoes drained and mashed equals 1 cup prepared, and 1 medium sweet potato, cooked, equals 1 cup mashed.
If you're in a time crunch, simply peel, chop, and roast in the oven at 400° F. for 30 minutes. Sprinkle with a few pantry-friendly staples such as brown sugar, butter, pecans, and cayenne for a kick! Return to the oven for 10 more minutes until caramelized for an outstanding side dish that can't be beat.

Remember to freeze.
A great way to save time is to make recipes ahead and freeze. Some dishes freeze better than others, but most of your classic casseroles are great options. From sweet potato casserole to your cornbread dressing, making these dishes ahead of time on your own schedule and freezing them will help to minimize your cooking on Thanksgiving Day. Ice cream desserts are a great option to make ahead and freeze for a sweet treat after the meal. For successful frozen meals, be sure that food is at room temperature before freezing. Be sure to always allow a frozen dish to come up to room temperature before putting it in the oven -- a cold glass dish in a hot oven may possibly break.
Use the correct containers.
It is important to freeze your foods in the proper container to prolong their shelf life and avoid freezer burn. Air and moisture are the two major culprits in causing freezer burn. Choose moisture-proof and airtight food containers, including plastic freezer containers or freezer plastic zip-top bags. Don't fill to the top as food will expand as it freezes.
Turn store-bought dishes into homemade.
If you are looking to pump up your store-bought pie, adding my trim and terrific Honey Crunch Topping (recipe below) will do the trick. A super time-saver is to buy a premade pie and add the homemade touch with this superquick delectable topping that takes only minutes to prepare. The Honey Crunch Topping can also be made to top any of your favorite pies -- from sweet potato to pumpkin.
Honey Crunch Topping
1/3 cup light brown sugar
3 tablespoons butter
3 tablespoons honey
1 1/2 cup pecan halves
1. In medium pot, combine brown sugar, butter, and honey.
2. Cook over low heat until sugar dissolves, stirring constantly. Add pecans, stir well.
3. During the last 5 minutes of baking, remove pie from oven, spread topping evenly over top. Return to oven, and broil until topping is bubbly and golden brown, watching carefully.
Nutritional information per serving: Calories 189, Calories from fat (%) 68, Fat (g) 15, Saturated Fat (g) 2, Cholesterol (mg) 0, Sodium (mg) 43, Carbohydrate (g) 15, Dietary Fiber (g) 2, Protein (g) 2, Diabetic Exchanges: 1 other carbohydrate, 3 fat
With over 1 million cookbooks sold, Holly Clegg has become a culinary expert on practical easy, healthy recipes through her best-selling trim&TERRIFIC® cookbook series, including the more health-focused cookbooks, Kitchen 101, Diabetic Cooking with the ADA, Eating Well Through Cancer, and Eating Well to Fight Arthritis. Clegg has appeared on Fox & Friends, NBC Weekend Today, The 700 Club, USA Today, Web MD, and The Huffington Post. Visit www.hollyclegg.com to learn more about Holly's food tips and visit her author blog on Red Room.
Popular in the Community