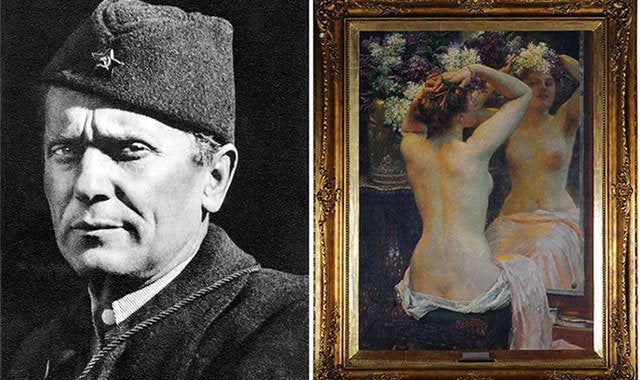 It is a well-known fact that taste has nothing to do with morality. On auction floors and at art fairs, autocrats and Ponzi schemers rub elbows with respectable collectors, while a passion for collecting may double as a vehicle to launder money or dodge taxes. Recent scandals have made corrupt practices a point of conversation, but it's hardly a new phenomenon.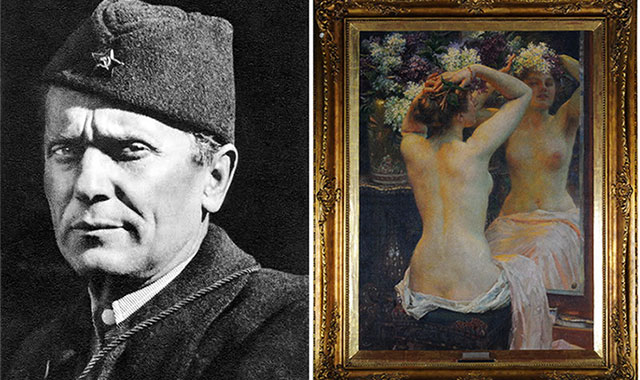 Marshal Josip Broz Tito and Vlaho Bukovac's "Youth, the queen of life," 1915 / Courtesy Wikicommons (L) / Courtesy MIJ (R)

In fact, many of the most notorious dictators of our time have, at one point or another, attended (or sent a representative to appear at) major auctions, while some of the great faces of evil have one or two masterpieces hanging on their wall. Since this is hardly news, more compelling than "who," perhaps, is "what" -- as in, what kind of art do these terrible people like?
To aid in this investigation, we've put together a brief compendium of dictators and other despots along with their preferred artists and art collections. Whether driven by the fetishization of power, their own terrible taste, the attempt to disguise ill-gotten gains, or the megalomaniacal drive to leave a legacy, each offers interesting case study from the darker side of the art market. (For our illustrated guide to dictators and the art they loved, click on the slideshow.)
Adolf Hitler (April 20, 1889 - April 30, 1945): In one of history's great speculative fables that the 20th century might have been spared the mass atrocities of the Holocaust and WWII if a once-aspiring watercolor painter had not been rejected (twice) from the Vienna Art Academy. Though Hitler dropped his craft en route to fascist leadership, he later curated a body of Third Reich propaganda, re-classified the whole of modern art as "degenerate," and pillaged many museums and private collections for Aryan gain. Personal acquisitions erred towards Austro-Bavarian painters such as Carl Spitzweg and Eduard Grutzner, as well as Romantic painters such as Caspar David Friedrich and Swiss landscape painters, particularly Arnold Bocklin; "Isle of the Dead" was his favorite painting.
Hermann Goering (January 12, 1893 - October 15, 1946: Like Hitler, Goering capitalized off of Nazi looting to establish a personal collection that numbered 1,375 works by the end of the war. His preference was for Medieval and Renaissance works, including Botticelli's "Mary with Jesus and St. John the Baptist," Rembrandt's "Portrait of an Old Man," and "Sketch of a Stag Beetle" by Albrecht Dürer. Oddly, despite the artist's being famously labeled as a "degenerate," Goering also owned one painting by Picasso. Many works from his personal collection (along with works from the Third Reich) have been assembled in an online catalogue.
Joseph Goebbels (October 29, 1897 - May 1, 1945): An early fan of modern art (particularly German Expressionism), Goebbels later had to reinvent his taste somewhat to match his Fuhrer's anti-intellectual mandates; while an early collector of Emil Nolde's watercolors, he was forced to abandon his support of the artist when Hitler named Nolde a "degenerate." Considering himself intellectually and culturally superior to his peers, Goebbels personally purchased works for the ministry rather than delegating the responsibility, and he also kept a diary of his personal collection process, which included two works by Rembrandt, "Portrait of the Father" and "Portrait of the Mother" (purchased with government funds). Throughout his time in office, he frequently commissioned famed artists to paint his portrait, including Leo von Konig (in 1935), Conrad Hommel (1938), Wilhelm Otto Pitthan (1938), H.J. Pagels (1940), Arno Breker (1942), and Rudolf Zill (1943).
Pieter Menten (May 26, 1899 - November 14, 1987): A prominent Dutch export businessman and art collector, Menten also participated in the mass killing of Jews in East Galicia -- many of them old friends and neighbors -- while working as an interpreter for the SS under Nazi occupation. But with the help of other friends in Parliament, he managed to escape conviction for most of his war crimes at a trial in 1949. After a bare eight-month sentence, he spent the decades after WWII speculating on real estate and collecting works by Nicolaes Maes, Francisco Goya, Jan Sluyters, and others, which filled 20 rooms of his 40-room mansion outside Amsterdam. A 1976 attempt to auction some of these at Sotheby's Mak van Waay caught press attention, and investigative journalists turned up new evidence of his participation in Lviv massacre of Jewish professors. Menten was convicted in a second trial and sentenced with 10 years imprisonment and fines; his works eventually ended up back on the auction block to pay off his debts.
Josip Broz Tito (May 7, 1892 - May 4, 1980): While the Comrade President didn't exactly encourage creativity during his regime, he did build a substantial collection of art to decorate his residence -- approximately 3,500 works, primarily paintings by 16th - 19th century Old Masters, with preference to Rembrandt -- that he later donated to the Museum of Yugoslav History. Belgrade art professor Nenad Radiæ, later sizing up the acquisitions in the book "Poussin and the Pentagram," aptly noted the symbolic placement of Alfred Wierusz-Kowalski's "Lone Wolf" and "Tribute Money" by Gebrand van den Eeckhout within the General's bedroom.
Nicolae Ceausescu (January 26, 1918 - December 25, 1989): Among the many human rights crimes of the last Romanian Communist dictator -- including mass-imprisonment of dissidents and a contraceptives ban to ensure population growth -- Ceausescu's 1981 "austerity program," an attempt to liquidate national debt through export and strict domestic food and fuel rations, led to an all-time national high in malnutrition and infant mortality. But the dictator spared himself little in amassing a fleet of yachts, bespoke suits, and works by Romanian artists like Constantin Artachino, Nicolae Tonitza, Theodor Pallady, and Gheorghe Petrascu, as well as engravings by Goya. Seized by the state after Ceausescu was overthrown and executed, the works were recently ordered to be returned to the dictator's heirs by a Bucharest court.
Fulgencio Batista (January 16, 1901 - August 6, 1973): Along with his wife Marta, the Cuban autocrat spent much of his political career acquiring historic Cuban masterpieces that encompassed a 200-year period from colonial to modern art. In 1958, shortly before his presidency was on the brink of collapse, he shipped his collection abroad to Daytona Beach, Florida, where the Batistas had lived during exile in the 1940s. Though after the arrest Batista was denied U.S. entry and instead took asylum in Portugal, his full collection was donated to Daytona, and now makes up the Cuban Foundation Museum at the Florida burg's Museum of Arts and Sciences. With works by artists such as Victor Manuel, Armando Menocal, Amelia Pelaez, Mario Carreno, Rene Portocarrero and Daniel Serra-Badue, the selection has provided a rare Western window into contemporary Cuban arts and culture; although, as many Cubans have rightfully argued, it probably belongs back home.
Zhang Xueliang (June 3, 1901 - October 14, 2001): Though once Manchuria's most powerful warlord, made famous most for his 1936 kidnapping of Chiang Kai-shek, Zhang still doesn't really rank in the "terrible" category -- his early efforts to unite Nationalists and Communists against Japanese invasion have since led him to be deemed a national hero and patriot. Nevertheless, he still lived through most his life under house arrest as a result of Chiang Kai-shek's abduction, and surprisingly went on to amass one of the largest collections of fan paintings and calligraphy from Chinese Old Masters, as well as many works by his iconic friend Zhang Daqian (now one of the world's most collected artists, thanks to the Chinese art boom). In 2004, Sotheby's sold 200 of his works in a major Fine Chinese Art auction.
Shah Mohammad Reza Pahlavi (October 26, 1919 - July 27, 1980): During his 38-year-reign, the jet-setting King of Kings Reza drew glitterati like Andy Warhol to Iran while putting together what critics consider now one of the finest collections of late-19th and 20th century art; including major works by Picasso, Van Gogh, Monet, Renoir, Degas, Duchamp, Bacon, Magritte, Chagall, Rothko, Lichtenstein, Hamilton... the list goes on and on. But following Ayatollah Khomeini's overthrow of the Shah, this collection has since languished in the basement of Tehran's Museum of Contemporary Art for nearly 30 years, considered too pornographic or "un-Islamic" to display. Until last year, that is, when its first Pop Art & Op Art exhibition introduced many young Iranians to the works of Hockney and Oldenburg as well as masterpieces like Warhol's Mao paintings and Pollocks "Mural on Indian Red Ground," considered one of his most important works and worth more than $250 million.
King Farouk (February 11, 1920 - March 18, 1965): Were it not for his substantial palace space, Egypt's famously high-living ruler might have earned a spot on "Hoarders" -- he was known for amassing enormous collections ranging from the random (medals, timepieces) to the luxurious (coins) to the historically significant (including antiquities, among them many of Egypt's Armana sculptures). Most of all, he owned a massive collection of erotic art, which included sculpture, paintings, pornography, and a large number of pieces falling into the little-known category of "erotic watches." A 1954 Sotheby's auction of his treasures was later deemed one of the most significant sales of the century.
Ferdinand Marcos & Imelda Marcos (September 11, 1917 - September 28, 1989 & July 2, 1929 -): Throughout her husband's reign in the Philippines, Imelda Marcos, most famous for her legendary shoe collection, also put together an enviable selection of Impressionist and Post-Impressionist art with works by van Gogh, Cézanne, Renoir, and Manet, as well as paintings by Picasso and Rembrandt, often viewed by partygoers in her Upper East Side New York townhome. After the Marcos regime fell, the works mysteriously vanished for nearly 25 years -- until this past November, when Imelda's former personal secretary Vilma Bautista was caught selling (or attempting to sell) pieces such as Monet's "Le Bassin aux Nymphéas" (1899) and "L'Église et La Seine à Vétheuil" (1881), Alfred Sisley's "Langland Bay" (1887), and Albert Marquet's "Le Cyprès de Djenan Sidi Said" (1946), also known as "Algerian View."
Manuel Noriega (February 11, 1934 -): When the Panamanian dictator's home was raided in 1989, U.S. troops discovered a bizarre mix of high-class and hideous taste. In addition to collections of French cognac, opera CDs, and valuable pre-Columbian pottery and figurines, Noriega had stashes of erotic coasters, teddy bears dressed up as paratroopers, and giant paintings of Hitler and Gaddafi.
Saddam Hussein (April 28, 1937 - December 30, 2006): Though the dictator's main contribution to arts in Iraq was the construction of hideous public monuments, a 2003 Marine raid on his private townhouse in Baath revealed a private fetish for "fantasy art": a large collection of brightly colored paintings and murals depicting bare-chested warriors, forked-tongue dragons, and bikini-clad women enslaved by trolls. Several were the work of American sci-fi artist Rowena Morill, who, having sold them to Japanese collectors in the '80s, was horrified to see them turn up in a TV expose. Nevertheless, the pieces strangely fit well within his den's décor: Along with expensive munitions and liquor, the hideout featured shag carpeting, plastic plants, and bean-bag chairs.
Kim Jong-Il (February 16, 1941 - December 17, 2011): A longtime cinephile, Jong-Il's 200,000-plus film collection, which includes hundreds of Hollywood westerns, horror flicks, and porn, is legendary; he also once kidnapped a South Korean director (and his wife) to make low-budget monster movies including the now-cult-classic Pulgasari. He also sought out young painters for official state creation of propaganda. One of these was Song Byeok (a pseudonym), who worked for the regime throughout the '90s. Having relocated to the UK, Byeok now creates satiric paintings of the Dear Leader reimagined as celebrities like Marilyn Monroe, acting out compromising situations.
Slobodan Milosevic (August 20, 1941 - March 11, 2006): A Serbian journalist made a surprising discovery on a visit to the deceased Milosevic's residence in 2008; a rare etching from Goya's 1799 aquatint print series "Los Caprichos," long believed irretrievably missing from the series. Likely once part of Tito's prized collection, "Muchachos el Avio" depicts Andalusian bandits preparing a day of roadside robberies; a mildly appropriate, if curious, dining companion for the dictator.
Pablo Escobar (December 1, 1949 - December 2, 1993): Though the narcoterrorist crimes of this Colombian drug lord far outshadowed his forays into the art world, using valued works by artists such as Dali and Picasso to launder money in cartel transactions were a large part of his success. Painters such as Fernando Botero, on learning that his paintings had been seized from Escobar's home in a raid, were appalled to learn that their work had been turned into currency. The Columbian art icon, however, later revenged himself with his now-legendary "The Death of Pablo Escobar."
Fidel Castaño (August 8, 1951 - 1994?): One of the major operators in Pablo Escobar's drug ring, and brother of the more-infamous paramilitary Carlos, Castaño was also a noted art collector, traveling often to auctions in Paris and New York to expand his collections and others; many of his acquisitions were sold on the black market to South American drug traffickers hoping to build social status. He reportedly owned dozens of Fernando Botero's portraits of Colombians, and had some close connections with international artists: he was both photographed with Salvador Dali and painted by Oswaldo Guayasamin. Missing since 1994, Castaño is widely presumed dead -- but may still be disguised and lingering on auction floors.
Goran Hadzic (September 7, 1958 -): Leader of Croatia's ethnic Serbs and president of the short-lived Republic of Serb Krajina during Croatia's War of Independence, Hadzic was indicted in 2004 by the UN Balkan War tribunal for the torture, mass deportation, and massacre of hundreds of non-Serbs. He was the last remaining fugitive when, in 2011, state security officers discovered that he'd been secretly selling off his private art collection; after tracking him down through the attempted sale of Modigliani's "Portrait of a Man," Hadzic was arrested and convicted.
Muammar Gaddafi (June 7, 1942 -October 20, 2011): While the Colonel's personal art holdings are unknown, it's likely that he has at least a few pieces by his son Saif Al-Islam Gaddafi, who, in addition to being active at Islamic art auctions and planning the Islamic Museum of Tripoli, formerly had a minor art career as a abstract-surrealist painter with exhibitions in London, Moscow, and Brazil. The works, which often featured tigers, desert landscapes, and Saif's dad, were widely panned by critics.
Bashar and Asma al-Assad (September 11, 1965 & August 11, 1975 -): Skipping ahead in time, had the Syrian dictator's regime not fallen so deeply into corruption, his wife Asma might have later been recognized for her great patronage of the arts: In earlier days, she was known for organizing art festivals in Damascus and promoting young local artists. More recently, she has become infamous for her lavish spending and collections on the auction circuit, while her attempt to purchase works by Zambian artist Nick Jeffrey online from a London gallery during a luxury goods embargo imposed by the EU during the July 2011 protests officially landed her in the "let them eat cake" category. Jeffrey's "Ornithop Callicore IV" remains in the UK.
Teodoro Obiang Nguema Mangue (June 25, 1971 -): Despite being one of the most oil-rich nations in West Africa (its per-capita income exceeds the U.S.), Equatorial Guinea is also one of the most impoverished, due to the notoriously corrupt politics of dictator Teodoro Obiang Nguema Mbasogo, with 75 percent of the population living under the poverty threshold. An anti-corruption investigation last summer revealed that much of that wealth was channeled to the Obiang clan's various high-end collections; the president's son Teodoro Nguema Obiang Mangue, for one, had decorated his mansion with paintings by Degas, Renoir, Gaugin, and five sculptures by Rodin, along with many other works purchased from the famous 2009 auction of Yves St. Laurent's estate. Among other objects seized by Paris authorities were the younger Obiang's $2-million dollar Michael Jackson memorabilia collection.
More of Today's News from BLOUIN ARTINFO:
Related
Popular in the Community