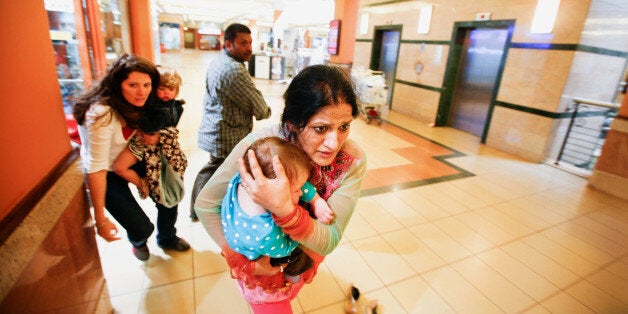 Every week, The WorldPost asks an expert to shed light on a topic driving headlines around the world. Today, we speak with director Dan Reed about his upcoming HBO documentary on a terror attack in Kenya.
On Sept. 21 of last year, four militants of the Somalian terror group al-Shabab entered the high-end Westgate shopping mall in Kenya's capital and began shooting. In the massacre that followed, scores of men, women and children were killed on what was supposed to be a Saturday spent shopping. Dozens of the mall's security cameras captured the horrific events, which lasted days as the militants holed-up inside the building.
In "Terror At The Mall," director Dan Reed has taken these countless hours of footage, obtained without the Kenyan government's involvement, and pieced them together along with eyewitness accounts, cell phone videos and photos from an intrepid journalist.
"This is what really happens inside a terrorist attack," Reed told The WorldPost. "This is how intimately casually violent it is."
The film focuses on the specific narratives of those caught within the mall, from a plain-clothes policeman who became part of an impromptu rescue attempt, to a wounded mother who pleads for her children to be spared. It follows the attackers as they kill a person in one moment and hand a chocolate bar to a child the next.
Reed, whose previous films have included documentaries on terror attacks in Mumbai and Moscow, began making "Terror At The Mall" just weeks after the attack.
"As soon as I saw the first security camera images," Reed said, "I thought this could give an opportunity to show a terrorist attack from the inside as you've never seen it before, and also to put together what happened."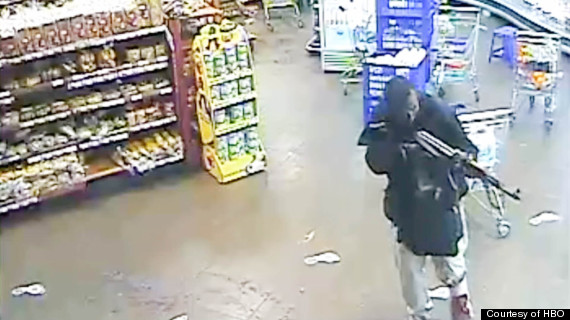 One of the attackers captured on CCTV footage in the supermarket section of the mall
He said that it was an immense amount of work to establish timelines of the event, edit footage from different cameras and track down people in the videos for interviews.
"We probably spoke to two or three hundred people who had been at the mall, and we interviewed 83 on camera," Reed said, noting that this will be the first time the subjects will see footage of their ordeal, which in some cases contains their loved ones' last moments.
In addition to showing people's individual experiences, the film also serves as a scathing criticism of the reaction by Kenyan security forces, who arrived at the building three and a half hours after the attack began, a response that Reed refers to as a "monumental fuck-up." Kenya's president has defended the security forces' response, saying that "they work hard for the country's safety."
The film highlights the civilians who stepped in to help instead, with a spotlight on one policeman in particular whom Reed regards as a hero.
"He went in, had no idea how many terrorists there were, never got a medal, no recognition at all, if there's one person in the police force who should have been decorated, that's him," Reed said.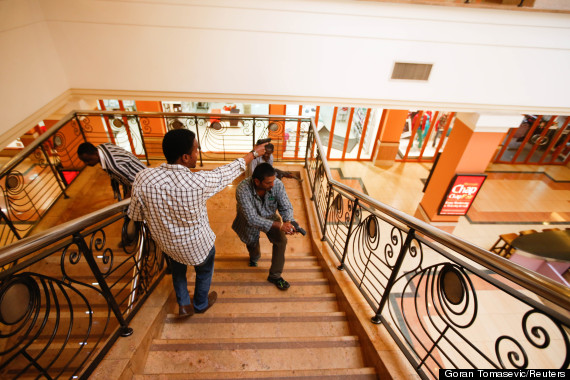 Plainclothes police officers and armed civilians attempt a rescue of the mall (Photo: Goran Tomasevic/Reuters)
The man is also one of the few Kenyan protagonists of the film, which Reed acknowledges is problematic. "I thought, 'this is a Kenyan story and a lot of the main protagonists are white or Asian,' but what happened, happened," he said, referring to the footage he was able to find with clear narratives.
While the film also lacks background on al-Shabab and the regional politics that led to such an attack, the personal stories and images are indelible.
"There's something about being able to put together all these testimonies that's very empowering," Reed said. "Otherwise the film is very bleak."
"Terror At The Mall" airs Sept. 15 at 9 p.m. EST on HBO.
Popular in the Community