A wave of terror attacks rocked three continents and left dozens dead on Friday, leaving the world reeling and authorities scrambling to apprehend the attackers and questioning possible ties to the Islamic State.
And in Kuwait City, Kuwait, a suicide bomber walked into Imam Sadiq Mosque, a Shiite mosque crowded with worshippers during Friday prayers, and blew himself up. At least 27 people were killed and over 200 were injured in the attack. It was the first such attack on a Shiite place of worship in that country.
There was no indication of a direct link between Friday's three attacks, but the Islamic State claimed responsibility for the attacks in Tunisia and Kuwait. Earlier this week, the group released an audio message urging followers to intensify attacks during the holy month of Ramadan.
Authorities believe the suspect in France had links to unnamed extremist groups. The Tunisian assailant was unknown to authorities.
"There is no other link other than to say that terrorism is our common enemy," French President Francois Hollande told reporters, referring to the attacks in Kuwait and Tunisia.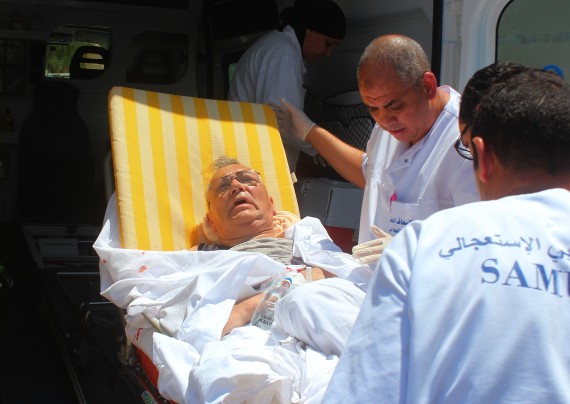 Wounded people are carried after an armed attack on a tourist hotel in Sousse, Tunisia, on June 26, 2015.
In Tunisia, Peter Chervontcev, a 23-year-old from Moscow, was sunbathing on the beach in Sousse when shots rang out. "I fell to the floor and pretended to be dead," he told The WorldPost by email.
Tunisian officials said the attacker came onto the beach hiding his Kalashnikov under an umbrella before opening fire. Security officials said the slain gunman was from the Tunisian city of Kairouan and was not previously known to authorities. British officials said at least five Britons were among those killed at the tourist resort.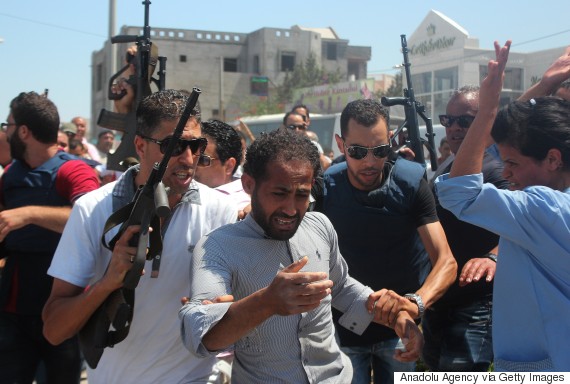 A suspect is arrested after an armed attack on a tourist hotel in Sousse on June 26, 2015.
"I thought it was fireworks and then I thought, 'Oh my God, it sounds like gunfire,'" Elizabeth O'Brien, an Irish tourist in Sousse, told Ireland's RTE radio. "I ran to the sea to my children and grabbed our things and, as I was running towards the hotel, the waiters and the security on the beach started shouting, 'Run, run, run!'"
In France, Paris Prosecutor Francois Molins said the suspected attacker, his wife, sister and another person were detained in connection with the attack. French Interior Minister Bernard Cazeneuve named 35-year-old Yassin Salhi as the main suspect, and said he had been monitored by intelligence agencies between 2006 and 2008 over suspected links to extremist groups.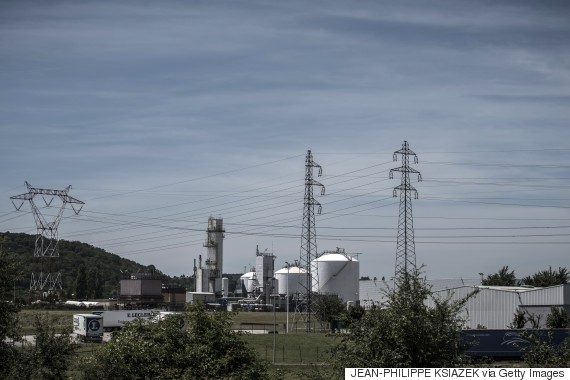 A photo taken on June 26, 2015 shows the Air Products gas factory in Saint-Quentin-Fallavier, near Lyon. (JEAN-PHILIPPE KSIAZEK/AFP/Getty Images)
French authorities identified the decapitated victim as a local businessman, and said he was the main suspect's employer. The company that owns the factory, U.S.-based Air Products, said on Friday all its employees had been evacuated and accounted for.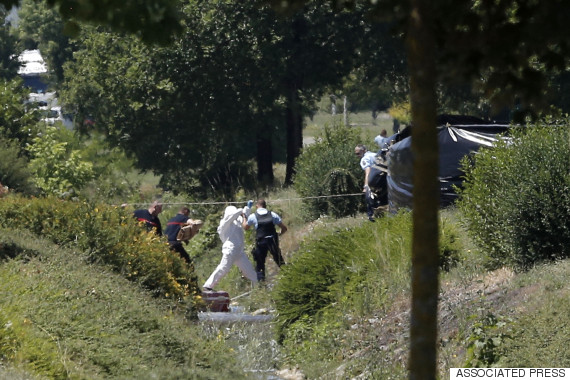 Investigating police officers work outside the plant in Saint-Quentin-Fallavier, June 26, 2015. (AP Photo/Laurent Cipriani)
In Kuwait, officials vowed on Friday that the terrorist attack would not succeed in fracturing the nation. "Kuwait will remain an oasis of security for all groups of Kuwaiti society and all sects," Minister of Justice Yaqoub Al-Sanea said.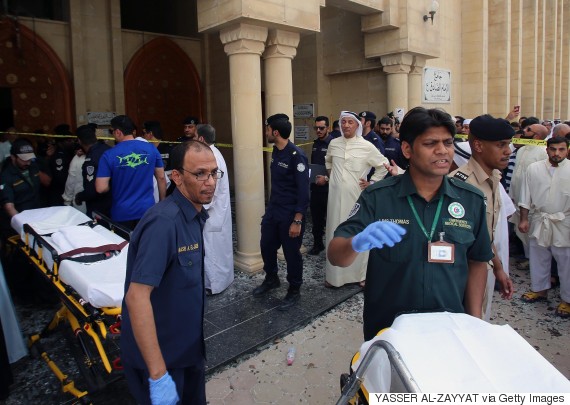 Kuwaiti emergency personnel pull stretchers past security forces outside the Shiite Al-Imam al-Sadeq mosque in Kuwait City on June 26, 2015. (YASSER AL-ZAYYAT/AFP/Getty Images)
As the three countries hunted down the attackers and mourned their dead, the rest of the world struggled to respond to multiple crises on multiple shores.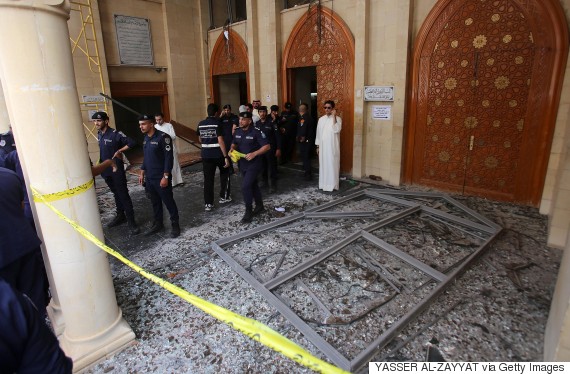 Kuwaiti security forces gather outside the Shiite Al-Imam al-Sadeq mosque on June 26, 2015, in Kuwait City. (ASSER AL-ZAYYAT/AFP/Getty Images)
Britain convened the country's COBRA emergency committee to discuss the attacks. "This is a threat that faces all of us, these events that have taken place today in Tunisia and in France, but they can happen anywhere -- we all face this threat," British Prime Minister David Cameron told reporters. In the U.S., President Barack Obama was briefed on the triple attacks, officials said.
Pentagon spokesman Col. Steve Warren said it was too early to tell if the attacks were coordinated in any way. The Pentagon is looking into "whether or not these various and far-flung attacks were coordinated centrally or whether they were coincidental," he said. Meanwhile, the White House released a statement condemning the attacks "in the strongest terms."
"We stand with these nations as they respond to attacks on their soil today," the statement said.
Hollande and Tunisian President Beji Caid Essebsi spoke after Friday's attacks and expressed "solidarity in face of terrorism," according to Hollande's office.
Calling all HuffPost superfans!
Sign up for membership to become a founding member and help shape HuffPost's next chapter
BEFORE YOU GO
PHOTO GALLERY
Mosque Bombing in Kuwait City