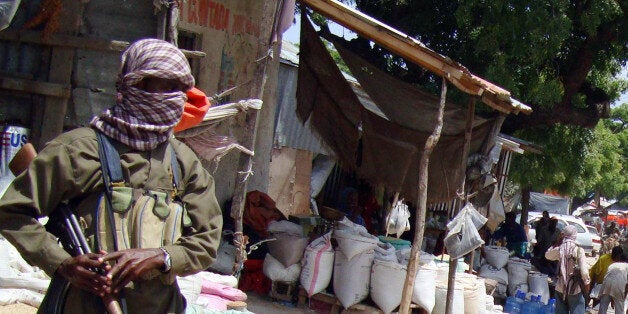 The typical terrorist in Somalia was recruited when he was young, poor and afraid. In some cases, he just wanted $50 and a cell phone.
These are the findings of a new study published this week by the Institute for Security Studies, examining how the Somali extremist group al-Shabab recruits new members. Through a series of interviews with 88 former recruits, researchers Anneli Botha and Mahdi Abdile have created a multifaceted profile of the type of person who is prone to join Somalia's largest terror organization.
Notably, the vast majority of recruits were young. Ninety-one percent of those interviewed became radicalized before the age of 30, which is apt considering al-Shabab means "the youth" in Arabic. The interviewees also tended to come from impoverished backgrounds, and to join al-Shabab as a career rather than simply out of support for the group's cause. In almost all cases, recruits grew up in something of an ideological vacuum, with little to no education and no exposure to belief systems other than Islam.
One member who joined the organization as a teenager told the researchers: "When you join, they give you a mobile phone and every month you get $50."
"This is what pushes a lot of my friends to join," he added.
Another interesting section of the study concerns the role of religion, with al-Shabab using Islam to promote a collective sense of identity, and making membership synonymous with being Muslim. As the "identity of the organization becomes the identity of the individual," the study says, members become more likely to support the group's cause.
Botha and Abile have done important work, and their study is worth a read if you want a better understanding of what drives some extremists. The research appears to indicate that in many cases, there is no specific propaganda or belief that draws people to al-Shabab. Rather, it is the systemic dissolution of social services, security and national identity in Somalia that is driving youths to radicalize.
Among the other notable data points:
98 percent of interviewees perceived Islam to be under threat.
98 percent believe the Somali government only protects its own interests.
100 percent received no or limited education.
64 percent joined with friends.
0 percent referred to a Somali national identity or the concept of 'Somalis.'
Calling all HuffPost superfans!
Sign up for membership to become a founding member and help shape HuffPost's next chapter