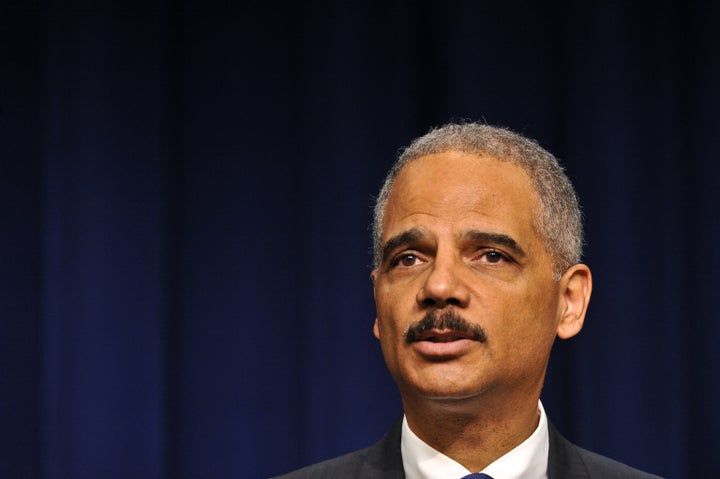 When Attorney General Holder announced today that federal authorities had thwarted a "made for Hollywood" murder-for-hire plot by alleged Iranian-linked operatives tied to Mexico drug cartels to assassinate the Saudi ambassador to the U.S, it came as no surprise to counter-terrorism experts familiar with Iran's terrorist activities in Latin America. Iran's terror plotting south of the border has been a well-known fact -- orchestrated by the Al Quds paramilitary wing of Iran's Revolutionary Guard Corps (IRGC), a terrorist organization very well versed in the the art of the tango and tortillas for some time.
For over two decades, Al Quds operatives and their proxies from terrorist organizations throughout the Middle East have been deployed throughout Iran's embassies in Latin America -- most recently in Venezuela and Mexico.
Starting in the late 1980s and early 1990s, using Hezbollah as initial cover, Al Quds masterminds began populating the "failed state" region in Latin American known as the Tri-Border Area (TBA) of Argentina, Brazil and Paraguay as a base from which to train Islamic extremists. The 1992 and 1994 attacks against Jewish and Israeli interests in Buenos Aires originated in the TBA. A veritable Star Wars bar scene of terrorists have reportedly been trained by Al Quds in the TBA and have taken shelter at one time or another there, including Iran proxy terrorists belonging to Hezbollah, Hamas, and al-Gama al Islamiya -- all under the watchful patronage of Iran's Al Quds operatives.
The TBA is ideal for laundering terrorist identities because once an operative enters Paraguay he/she can just drive into Brazil and return without the need for showing a passport. This has not gone unnoticed, of course, by CIA and Israeli Mossad agents, who have been engaged in a secret war in the TBA for some time to neutralize the growing nexus between Iran, Hezbollah and Venezuela's Hugo Chavez.
In 2007, a joint investigation by investigative journalists from Telemundo and NBC News uncovered details of an extensive Latin smuggling network run by Hezbollah for the Al Quds force. Until it was blown apart by joint U.S. & Latin counter-terrorism forces, the smuggling network was laundering large sums of Latin money (estimated between $300 million and $500 million annually) to terrorism organizations in the Middle East, and finance training camps, propaganda operations and Hezbollah-run attacks on Jewish interests in South America.
Credible warnings by U.S. military officials increased in recent years. Navy Admiral James Stavridis, then head of U.S. Southern Command, told the Senate Armed Services Committee that Hezbollah was also taking root in Colombia.
Just last year, in April, 2010, the Pentagon provided Congress a report on the current and future military strategy of Iran, outlining Al Quds' and Hezbollah's penetration of Venezuela courtesy of Venezuelan dictator Hugo Chavez. In the wake of the indictments announced by the Department of Justice, additional information regarding Al Qud's clandestine funding source operations in Caracas are surely going to emerge, including the creation of an Al Quds owned Banco Internacional de Desarrollo (BID) -- which is a wholly owned subsidiary of Iran's national bank. BID is likely engaging in money laundering on behalf of the Al Quds force and Hezbollah.
To what extent Al Quds operatives are using Venezuela as a base of operations is not publicly disclosed. But intel from the region indicates that Al Quds terrorists and their Hezbollah proxies have largely vacated the TBA and set up shop on Venezuela's Margarita Island and have been using the island as a staging area to increase their operations in Mexico and Bolivia.
The Pentagon report details that Al Quds force agents are burrowed into Iran embassies in Latin America, charities, religious and cultural organizations which are Shiite-friendly, and that Al Quds operatives are recruiting Venezuelan youths of Arab origin to serve as agents in Latin America (Muslims account for less than .4 percent of Venezuela's population; of which Shiites are less than 1 percent). Radical Hezbollah websites operating in Spanish from Venezuela are calling for "holy war" against U.S., Israeli and Saudi targets.
Just a year before, Secretary Gates accused Iran in 2009 of engaging in "subversive activity" in Latin America, without further elaboration. But piecing together reports from Latin sources, it is evident that there are two intertwined terror rings operating under Al Quds force direction encompassing over 80 operatives in 12 Latin countries, mostly in Brazil, Venezuela, Argentina and Chile. Safe-haven hospitality on Margarita Island for Al Quds and Hezbollah are accorded by a Venezuelan of Lebanese descent and former member of the Venezuelan legislature tied to Chavez.
As early as 2004, a CIA report singled out the Mexican border with the U.S. as an especially easy target for Hezbollah/Iran operatives since they carry Latin passports, speak Spanish and look like ordinary Hispanic tourists crossing into the U.S.
Testimony before the U.S. House of Representatives Committee on Homeland Security on July 7, 2011 details the growing threat to the U.S.-Mexican border region by Al Quds and its proxy Hezbollah from Latin America, indicating a growing link with Mexican drug cartels. The most unnerving is a leaked report from the Tucson, Arizona police alluding to possible transfers of bomb-making technology and expertise from Hezbollah, as well as the type of narco-tunnel construction techniques used by Hezbollah in Lebanon.
In 2010, Mexico foiled a plot by Hezbollah to establish a new network throughout Latin America, according to Kuwaiti newspaper Al-Seyassah. Mexican police mounted a surveillance operation against the alleged leader living in Tijuana, Mexico (just south of San Diego) -- one Jameel Nasr, who was shuttling frequently between Mexico City and Beirut. Mexican police also told the newspaper that Nasr had also spent two months in Venezuela. Although there was no overt link disclosed, the timing of Mexico's move against the Nasir Hezbollah ring and the indictment in Miami of three men charged with financing Hezbollah out of Miami does not appear to be coincidental.
Whether today's salacious indictment leads to Iranian officials and Hezbollah as the federal indictment alleges remains to be seen. But given Iran's Al Quds force's well-known and well-feared record of penetration in Latin America, and credible reports of linkages by Al Quds and Hezbollah to Venezuela, Mexico and Mexican drug cartels, there is plenty of smoke for a fire to be.
Calling all HuffPost superfans!
Sign up for membership to become a founding member and help shape HuffPost's next chapter