Terrorism analyst Michael S. Smith II has been fired from his position at the think tank New America after tweeting offensive remarks about Chinese intelligence agencies.
Smith, who was an international security fellow at the organization, shared a Quartz article on Friday regarding the Chinese government's acquisition of New York's Waldorf Astoria hotel.
In a tweet rife with Asian stereotypes and typos, Smith impersonated a Chinese accent, switching l's with r's. He even made a reference to eye shape, writing, "We know wheh you sreep, rouwound eye. And who you sreepy with!!!"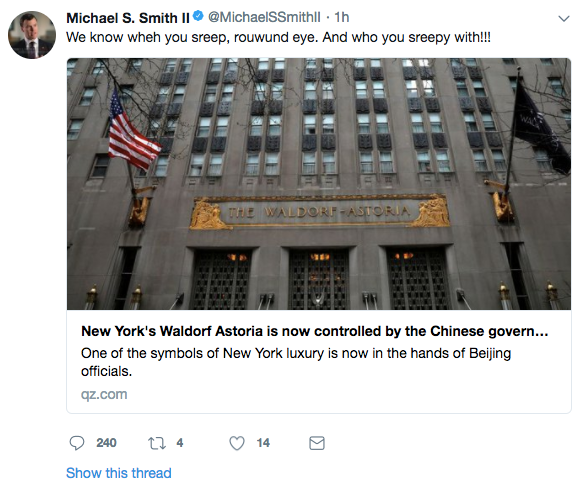 While the tweet has since been removed, it provoked an outpouring of criticism from both the Asian community and the national security community on social media. Many called Smith's comments racist.
Smith initially defended his original post, saying he was "poking fun at Chinese 'intelligence' agencies," in another since-deleted tweet.
He also dismissed his critics for making "false claims of racism," and blamed friends of Mia Bloom, another terror analyst who has been critical of Smith, for the backlash.
Smith doubled down on his racist comments by sharing a screenshot of the Urban Dictionary definition of "Chile Please."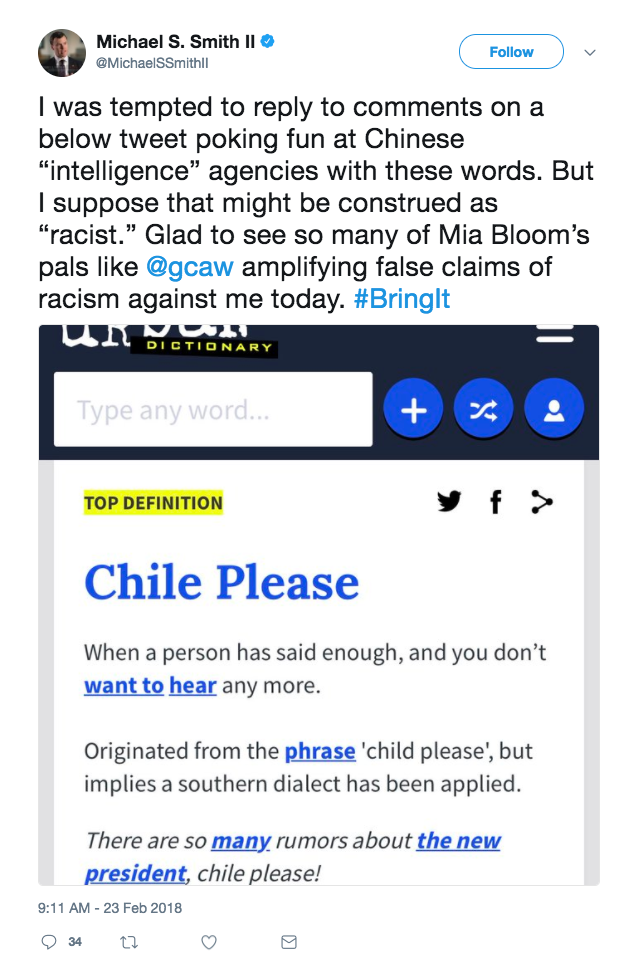 Shortly afterward, New America announced it had terminated Smith's fellowship due to his "use of inappropriate language."
"New America does not tolerate or condone the use of racist language or racist conduct of any kind," the group's statement read.
While Smith finally walked back his earlier comments, he insisted that he is "not a racist."
"I apologize to everyone who found my comments to be offensive and hurtful. I have removed the tweet in consideration of your concerns," he wrote.
Many social media users have called that statement insincere. Some people pointed out that Smith hadn't just mocked intelligence agencies, but Chinese people as a whole, and had failed to address the actual issue. Others accused the analyst of backpedaling only because his actions had professional repercussions.
Popular in the Community