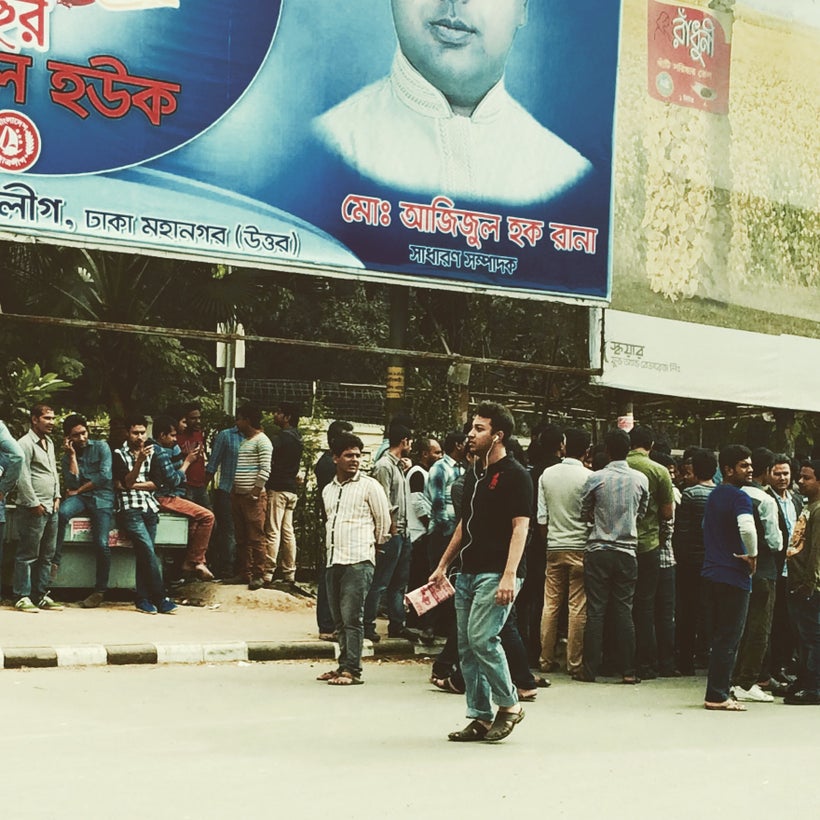 Every time we turn on the news, it seems like there is a violent attack related to extremism somewhere in the world.  But, this most recent attack in Dhaka, and a new one in Kishoreganj, Bangladesh should not come as a surprise.  The attacks were perhaps inevitable not only because of the spread of extremism worldwide, but also because this government in Bangladesh, like previous ones, has slowly been curbing any means of political expression from the opposition.  Moreover, neither the current government nor previous ones have looked at real causes of extremism, preferring to live in denial. For many Bangladeshis, the attacks are a wakeup call to the growing extremism in the country.
As an American-Bangladeshi, who was born in the United States to parents from Bangladesh, frequent trips to see my extended family in Dhaka often left a lasting impression.  In particular, I remember the stark change in the country between 2001 and 2010. In 2010, I remember thinking that people had grown much more "religious" in the ten years that had passed.  More women were wearing Hijab and other Islam garbs, across the most socio-economic status.  The language had changed to include more Islamic verbiage, and in general, it felt more conservative.   But these were merely observations, and more importantly, a society that turns more religious is not one that is necessarily more violent. 
In 2001, then Prime Minister Sheikh Hasina (from the Awami League Party) let a caretaker government takeover in preparations for elections.  In that same year, Sheikh Hasina lost to Khaleda Zia's Bangladesh National Party (BNP) and its three coalition parties, including the main Islamic party—Jamaat-e-Islami Bangladesh.  They were in power until 2006, when another caretaker government headed by the President took over.  During the period of 2006-2008, there was a large amount political instability including numerous boycotts, house arrests, and violence instigated by both the Awami League Party and the BNP.  In 2008, when elections were finally held, Sheikh Hasina was declared the winner with an overwhelming majority.  In 2014, the BNP opposition, led by Khaleda Zia, boycotted parliamentary elections and Prime Minister Sheikh Hasina returned for the third term in office. The enduring rivalry has led to large amounts of political violence over the years.  
To be fair, government repression is not limited to the Awami League. Bangladeshi history is marred by autocratic governance.  Hussain Muhammad Ershad suspended the constitution and political parties when he was in power between 1982 and 1990.  When the BNP governed Bangladesh, they too oppressed opposition parties.  But the difference between then and now is that the stakes of being repressive are much higher.    
Amidst the growing political repression, there has been a trend of political killings carried out by extremist groups, some with supposed links to ISIS and Al-Qaeda in the Indian Subcontinent.  The bombing and hostage situation on July 1 is the culmination of the murders of prominent secular, progressive, and liberal figures in Bangladesh, as well as people who are religious minorities and foreigners. The same day, July 1 saw the murder of a Hindu temple worker, Shaymanonda Das.  In June, Ananda Gopal Ganguly, a Hindu priest was murdered in the western Jhenaidah district, Sunil Gomes, a Christian in Bonpara village was hacked to death, and Mahmuda Khanam Mitu, the wife of the police superintendent in Bangladesh's second-biggest city, who was investigating Islamic groups, was killed in front of her 6-year old child.  This year, Bangladeshi gay rights activist Xulhaz Mannan and actor Mahbub Rabbi Tonmoy were hacked to death with knives. In the same month, three masked men armed with machetes attacked a 28-year-old student activist named Nazimuddin Samad after he finished a college law class, and a university English professor A.F.M. Rezaul Karim Siddique was hacked to death while on his way to work.  Five secular bloggers were killed in a similar fashion during 2015.  In total, more than 40 people have been killed in attacks blamed on Islamist militants in Bangladesh since February 2013. The government's response to all of this has been to deny the presence of externally influenced groups such as ISIS in the country and to blame the opposition. 
The current government has some cause to believe that conservative political elements could be complicit in some of the violence.  When the more conservative BNP party was in power, they were accused of harboring and protecting growing extremist Islamic movements in the country.  Thus, on one hand, the past BNP government perhaps bears some responsibility for sheltering growing extremism, on the other hand, some might argue that they were at least able to control some factions of extremist movements.
The million-dollar question is why.  There is a growing movement all around the world of young people being targeted and recruited by extremist groups, and then being brainwashed to follow extremist and violent philosophies, including the practice of unspeakable cruelty as has been seen in Dhaka, Turkey, Iraq, Saudi Arabia, Paris, Brussels, Orlando, and so many other places. 
Most governments are trying to figure out why youth are joining these terrorist groups—the "countering violent extremisms" agenda.  In Bangladesh, one explanation for growing extremism could be a lack of national identity on the part of the youth. The birth of Bangladesh was founded on freedom of religion, culture, and language.  It is the land of Rabindranath Tagore (the first non-European to win the Nobel Prize in Literature in 1913) and Kazi Nuzrul Islam, among others; the rich culture seems to be lost in the midst of political bickering, corruption, growing authoritarianism, and rising religiosity. Bangladesh is also unique in that it has historically been secular.  This uniqueness and cultural richness must continue to flourish if there is a chance to counter violent extremism. 
Moreover, recent attacks, including the shootings in Orlando, demonstrate that participation in this kind of violence brings instant fame on social media.  This is the flip side of the "selfie-culture."  Becoming famous for doing something to make the world a better place is difficult, but murdering dozens of people means you become famous overnight.   Social media is obviously not to blame, but it might be a time to think about how Facebook, Twitter, Snapchat are used to fuel extremism and violence in all parts of the world. 
Regardless, what is certain is that extremism is on the rise in Bangladesh.  Countering this extremism means tackling the problem from many angles, including restoring democracy, but also includes doing some deep soul searching about what it means to be Bangladeshi. The problem must be stopped at its roots; the responsibility rests squarely on all of us—friends, families, communities, and the government.
Calling all HuffPost superfans!
Sign up for membership to become a founding member and help shape HuffPost's next chapter
This post was published on the now-closed HuffPost Contributor platform. Contributors control their own work and posted freely to our site. If you need to flag this entry as abusive,
send us an email
.