President Donald Trump called it an "act of evil." But why, many wondered on social media, aren't authorities using the term terrorism to describe a horrific attack that left at least 58 dead and more than 500 people injured? Was it because the shooter wasn't Muslim? Was it because he was white?
Similar questions came up after a left-wing extremist opened fire on a Republican congressional baseball practice in Alexandria, Virginia, in June. And again when a white supremacist crashed into a crowd of anti-racist demonstrators in Charlottesville, Virginia, in August. Weren't those acts of terror as well?
There's a reason that law enforcement authorities are hesitant to label an attack like the one in Las Vegas as terrorism. Specific federal statutes target international terrorism and acts associated with groups that the U.S. government has labeled as foreign terrorist organizations. But there's no specific federal statute aimed at acts of domestic terrorism, meaning acts inspired or carried out on behalf of domestic extremist organizations. Some federal laws are aimed at particular acts that might be carried out for terrorist purposes, like hijacking planes or assassinating government officials, but mass shootings are not on that list.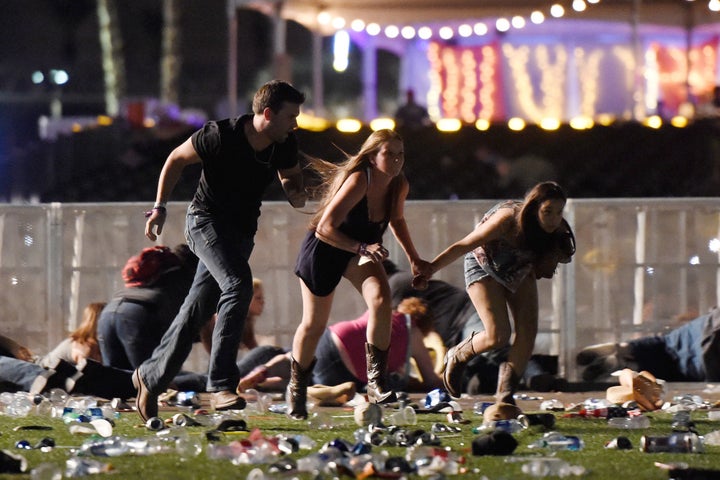 So had Stephen Paddock lived, it's unlikely that he would have faced federal terrorism charges. And unless authorities turn up evidence that his attack was motivated by hatred for a specific racial group ― which is unlikely, given that he fired indiscriminately into a crowd of thousands ― there's a good chance he wouldn't have faced any federal charges at all.
HuffPost reported in August that the Justice Department had been discussing the possibility of asking Congress to pass a federal law against domestic terrorism. FBI Director Christopher Wray said last month that he was aware of such discussions in the executive branch.
Yet even if such a law were on the books, it's not clear the Las Vegas massacre would qualify as an act of domestic terrorism. There is a federal definition of the term ― yes, even though there isn't a charge. An act of domestic terrorism must be intended to intimidate or coerce a civilian population, to influence a government policy by intimidation or coercion, or to affect the conduct of government by mass destruction, assassination or kidnapping. We don't know yet if Paddock had any of those goals in mind.