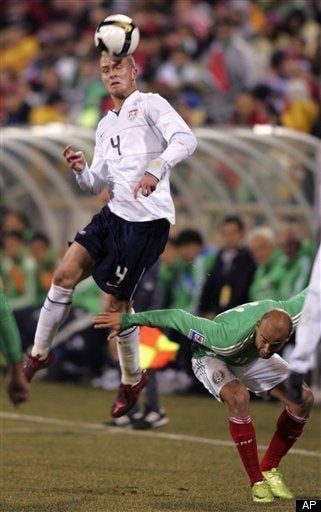 The attack on the Togo national team bus on Friday that killed three people during the African Cup of Nations in Angola was a serious incident. African soccer and security officials should investigate it fully to determine what led to the attack and how these types of incidents can be prevented in the future. This one attack in Angola has caused some to foolishly question whether the World Cup should go ahead in South Africa this summer. That kind of hysteria is exactly what terrorists are trying to provoke, as our own over-reactions often do more damage than the terrorists could inflict themselves. South African officials are rightfully indignant, but their response needs to be confident and reassuring rather than defensive and complacent.
The attack on the Togo team which killed the bus driver, assistant coach, and spokesperson as well as injuring nine others took place in the Angolan region of Cabinda, separated from rest of Angola by a strip of the Republic of Congo that reaches the Atlantic coast. Insurgents in the oil rich province have been fighting for the region's independence and claimed responsibility for the machine gun attack on Friday that occurred just after the bus crossed into Cabinda. Angola was mired in decades of civil war than ended in 2002 and the attack and resulting withdrawal of the Togo team was a severe blow to the government that had hoped the African Cup would showcase a country emerging from violence.
The particular circumstances of this attack are unique to Angola and Cabinda and a poor predictor of possible events in South Africa. The perpetrators of this attack are not foreign terrorists but rather domestic insurgents. There is not an active insurgency in any part of South Africa and nor is there a corresponding region cut off from the rest of the country. Angola is just emerging from a long a bloody civil war while South Africa has been free of organized violence for more than a decade.
These differences haven't stopped some of the less responsible figures in world soccer to question whether South Africa is capable of protecting players and fans from terrorist attack during this summer's World Cup. Hull City Manager Phil Brown said that the attack "throws a question mark against next summer's world cup." Tottenham's Harry Redknapp urged the African Cup to be called off then said, "we can't just sit around and wait for the next shooting."
This brings to mind the national media and conservative freak out in the United States following the thwarted underwear bombing attack on Christmas day. Conservative politicians and media voices seemed eager to proclaim the failed Al Qaeda in the Arabian Peninsula plot a success. At least in the case of these soccer coaches, they had the safety and security of their players and fans at heart. Regardless of the motivations, giving in to these fears plays right into the hands of al Qaeda and other terrorists who hope to provoke a counterproductive overreaction as much as wreaking death and destruction in an attack.
That's why the response of South African officials is so important. They need to project the calm confidence that will reassure a worried public that it takes the threat of terrorist attack seriously, has made the necessary preparations, and will learn from the security breakdowns of this incident so that it can prevent its recurrence during the World Cup. Unfortunately, South African organizers have let their emotions get in the way of reasoned leadership.
At a news conference Tuesday, the head of the World Cup Organizing Committee Danny Jordaan, responded to a question about whether South Africa could be targeted by international terrorists, "we surely must be judged on the reality, not just on flights of fancy and imagination." His frustration was partially understandable as in few other circumstances could one imagine a terrorist attack in one country sparking such concerns about an event in another. But still, it is not "fantasy or imagination" that the World Cup could be targeted by terrorists.
Jordaan's comments are an own goal, especially as South Africa does have a strong record to fall back on. They hosted the Confederations Cup last summer, attended by the United States, without threat or incident. It has also put on the Cricket and Rugby World Cups within the last ten years. Now, the soccer World Cup is bigger than any of those tournaments, but the South Africans have preparing for this event for years and have put security at the top of its priority list.
South Africa deserves to be judged on the merits of its own preparations and security. It does not, however, have the luxury of minimizing the threat of terrorism or other violent disruption during next summer's World Cup. However hysterical the reaction to the attack in Angola has been, the South Africans must project responsible leadership to reassure the soccer world that it is ready to host a safe and secure World Cup.

Calling all HuffPost superfans!
Sign up for membership to become a founding member and help shape HuffPost's next chapter