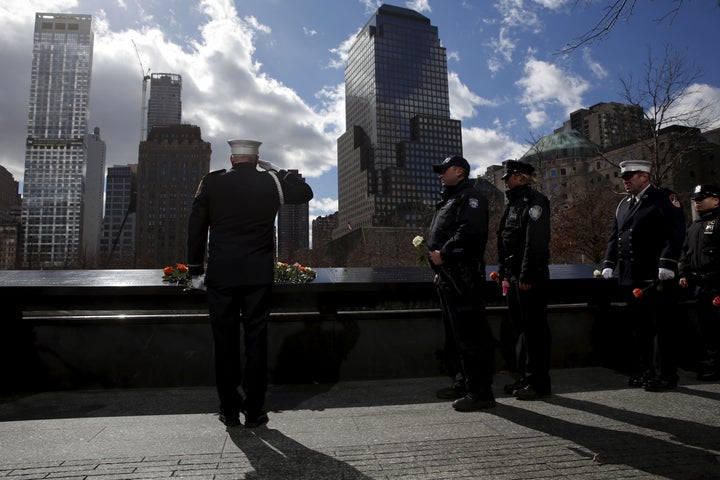 As the 15th anniversary of the Sept. 11 terrorist attacks approaches, many Americans think terrorists are more capable of launching an attack on the U.S. than they were in 2001, according to a new poll from Pew Research Center.
Forty percent of adults think terrorists have improved in this regard, while 25 percent believe they are less capable of attacking the U.S. than they were in 2001. Nearly a third said the situation is about the same.
This is the highest concern has been since 2002. Concern was lowest in February 2008.
There's a big partisan divide, though. More than half of Republicans ― 58 percent ― say that terrorists are now better able to attack the U.S. Only about a third of Democrats and independents share a similar belief, at 31 percent and 34 percent, respectively.
The percentage of Democrats and independents who believe that terrorists are more able to launch a major attack on the U.S. has increased only slightly since Pew last asked the question in 2014. However, the number of Republicans who share that belief has grown nearly 30 percent.
During President Barack Obama's tenure, Democrats have tended to be more skeptical of terrorists' ability to launch a strike on the U.S., while Republicans say the threat is higher. During the Bush presidency, the opposite was true.
Pew also asked about participants' views of the government's anti-terrorism policies. Almost half replied that they believe the government has not done enough to protect the country, while 33 percent say it has gone too far in restricting the average person's civil liberties.
Here, too, there is a partisan divide: 68 percent of Republicans say the government hasn't done enough to protect the U.S., in comparison to 46 percent of Democrats and 40 percent of independents.
Finally, when participants were asked if they remembered exactly where they were when they heard about the 9/11 attacks, 91 percent said they did. This number declines as participants get younger, with 16 percent of 18-29 year-olds saying they don't remember it exactly. That figure is not surprising, considering the youngest people in that age band were toddlers or in preschool at the time of the attacks.
The analysis in the Pew report is based on telephone interviews conducted Aug. 23-Sept. 2 among a national sample of 1,201 adults, 18 or older, living in all 50 U.S. states and the District of Columbia (301 respondents were interviewed on a landline telephone, and 900 were interviewed on a cell phone, including 536 who had no landline telephone). The survey was conducted under the direction of Abt SRBI. A combination of landline and cell phone random digit dial samples were used; both samples were provided by Survey Sampling International. Interviews were conducted in English and Spanish.
Calling all HuffPost superfans!
Sign up for membership to become a founding member and help shape HuffPost's next chapter