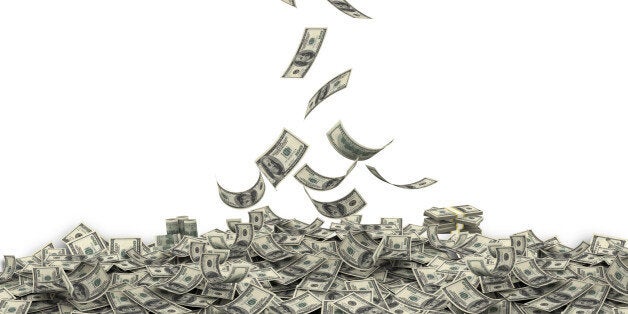 The paris tragedy highlights once again the crucial need to destroy illicit financial networks that support terrorism.
A sprawling dark network of financial agents has long supported terrorist operations. The U.S. Patriot Act, pushed by the last Bush Administration following the 9/11 disaster explicitly sought to strengthen efforts in this area. But, still more must be done. The killers in Paris, financed and organized by ISIS, had the means to buy weapons, rent cars and support whatever they needed.Money laundering, supporting gangsters of all kinds, from Afghan opium traders to corrupt politicians, to tax evaders, to terrorists, sees over $300 billion of funds entering just the United States every year, according to recent U.S. Treasury Department estimates. Once in the U.S., teams of lawyers, consultants and accountants, working for gangsters ensure that the money is laundered through the purchases of real estate, art, luxury goods, shares and bonds and - no doubt - weapons.
The dirty cash is often managed through holding companies registered in places like the British Virgin Islands, the Cayman Islands, Switzerland, Liechtenstein and Luxembourg, in ways that hide their true ownership. The New York Times ran a series of articles earlier this year that showed that some of the most expensive condominiums in New York are owned by such anonymous offshore holding companies.
According to another investigation earlier this year by Transparency International in the UK, more than 36,000 properties in the central area of London were registered in the names of such holding companies - nobody knows who the real beneficial owners are!
The long-planned economic policy discussions set for the Group of 20 Summit of world leaders last weekend in Turkey was shunted aside by the actions in Paris. But, preparations had been made to confront the issue of beneficial ownership of the secret holding companies and not before time. Indeed, when President Obama met with his G20 colleagues one year ago in Australia they pledged to develop frameworks for dealing with this problem.
It is essential that the G20 governments now take the issue far more seriously and act on principles that they agreed. These include establishing clear definitions of beneficial ownership; developing detailed risk analyses; setting and maintaining adequate, accurate and current data; creating public registries of beneficial ownership; and, ensuring international sharing of information in this area.
Security, Trade and Finance
What is at stake in sharply ratcheting-up anti-money laundering enforcement is the battle against terrorism and for our international security. It also can have profoundly positive effects on world trade, on ensuring the soundness of the financial system and making life far, far harder for corrupt politicians and business people.
The Parisian nightmare has to be the catalyst for long overdue action to ensure that terrorists, wherever they may be, have far greater difficulty in obtaining the cash that fuels their work.
Popular in the Community