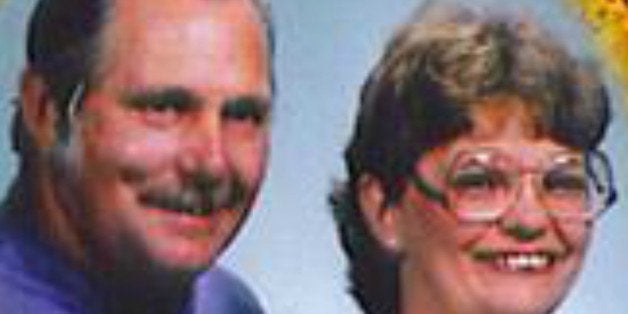 In 2005, an unknown intruder brutally murdered Terry and Darleen Anderson. The crime –- LaGrange County, Indiana's first double homicide –-- shocked their rural community and left many deep emotional scars.
Today, eight years later, the homicide case may have long since gone cold, but emotions surrounding it remain heated.
"I think about it every day," Terry's daughter, Sherry Musilek, told The Huffington Post. "It's horrible. I'm angry and frustrated."
"They were murdered at their property," she said. "My dad was in his barn and Darleen was in their house."
It was Musilek's half-sister, 20-year-old Amanda Ella Anderson, who made the discovery on Oct. 21 at about 7:21 a.m. A police news release would later estimate their times of death as somewhere between 8 p.m. the previous night and the morning that Amanda Anderson found them.
Inside the house, the young woman found her mom, still dressed in her nightclothes, slumped over on the couch. A book was in her lap and a bowl of popcorn was sitting next to her. Someone had viciously attacked the 57-year-old woman while she sat relaxing inside her home.
Outside, in a nearby pole barn, lay Darleen Anderson's husband of 25 years. Like his wife, the 59-year-old had been brutally bludgeoned to death.
"I have the autopsy report," Musilek said. "It indicates a hatchet or similar item was used. It was a very angry crime. There were no defensive injuries."
The LaGrange County Sheriff's Department did not respond to requests for comment from HuffPost. According to a 2011 article about the homicides by Indianasnewscenter.com, police said whoever killed the Andersons tried to disguise the slayings as a robbery.
Visiting the crime scene not long after the murders, Musilek's husband, Eric Musilek, said his in-laws' house did not appear to be ransacked, and only a few items were taken, including a shotgun, a handgun, a crossbow and some collector coins.
Eric Musilek said he was left with the impression that whoever took the items knew where they were. He also said the crime scene suggested his in-laws were not taken by surprise when they were killed.
"Whoever did it had to walk through the house to the living room and Darleen would have seen them coming," he said. "She was still sitting on the couch with her legs up. She was comfortable, reading and eating popcorn. It did not appear she had been startled, so I believe someone was in the house who was welcomed."
Eric Musilek said the scene in the barn left him with the same impression.
"Terry was hit from behind," he said. "He had a battery charger hooked up to a John Deer and was facing it, so he was obviously comfortable enough to turn away."
Sherry Musilek said there is another clue that stands out in her mind.
"Rocco, my dad's bullmastiff, was tied next to the only entrance to the barn," she said. "If a stranger had walked up, he would have barked. My grandmother lived behind my dad's and she did not hear anything."
Equally puzzling is the fact that the Andersons had no known enemies.
Terry Anderson, who was known to friends as "Topwater Terry" because of his passion for muskie fishing, worked for a tree trimming business and got along with everyone in the community of 200 people.
"Terry's most famous in Mongo [Indiana] for his iron skillet –- it's never been washed," Terry Anderson's best friend, Bill Gage, told The Kendallville News-Sun in October 2005. "He made the best deer meat in the whole state, maybe the whole country."
Community members equally loved Darleen Anderson, who was nearing retirement from Kraft Foods in Kendallville. She was known for her love of the piano and shopping at area garage sales.
"[She was] a real nice lady," friend Deanna Magnuson told The Kendallville News-Sun. "We worked together for quite a few years … [She was] pretty laid back."
CASE PHOTOS: (Story Continues Below)
PHOTO GALLERY
Terry And Darleen Anderson
With few clues to follow, the case soon grew cold. Nevertheless, Sherry Musilek and her husband did everything they could to keep it on the minds of everyone in the area. They hired private investigators, erected billboards, offered rewards and even got an offer from Unsolved Mysteries to film in the town, which fell through when the sheriff's office declined to participate.
The case had all but dropped from local newspapers when, in 2008, Amanda Anderson, then 22, and two other men –- Robert Lee White, 36, and Randy LaMar Waite, 49 –- were arrested at the Andersons' property on charges of manufacturing methamphetamine, according to The Journal Gazette.
During a February 19, 2008 SWAT team raid on the property, authorities reportedly found eight firearms, along with items related to the manufacturing of methamphetamine.
Indiana State Police Detective Jeff Boyd told The Journal Gazette the arrests were not related to the Anderson homicides.
The disposition of the arrests remains unclear. According to Sherry Musilek, a rift developed between her and her half-sister after the murders and they did not keep in touch.
The case again faded from local media, except for an anniversary piece here and there.
The most recent development occurred on June 18 this year, when Amanda Anderson "died suddenly" in Sturgis, Michigan. No further details have been provided. She was 29 years old.
No further information has developed in connection with the case since Amanda Anderson's death.
Sherry Musilek has her suspicions but admits she does not know for certain who killed her father and stepmother. However, she remains determined to find out. She has taken the cause to Facebook and continues to hold vigils every year in honor of their memory.
"Darleen was a sweet woman and my dad was a great guy – a cross between Jerry Garcia and Santa Claus," she said. "I miss them. We just want, no, we need answers. We need to bring this to an end."
Anyone with information on this case is asked to contact the LaGrange County Sheriff's Department at (260) 463-7491, or Crimestoppers at 1-800-342-7867. For more information, join the "Justice For Terry And Darleen Anderson" Facebook page.
Calling all HuffPost superfans!
Sign up for membership to become a founding member and help shape HuffPost's next chapter
BEFORE YOU GO