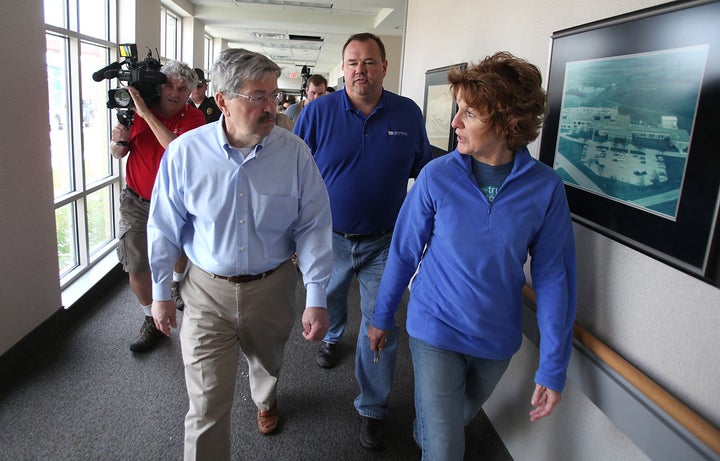 WASHINGTON -- Iowa Gov. Terry Branstad told reporters in Iowa on Monday it's "doubtful" that the Hawkeye State will expand Medicaid under President Barack Obama's health care law, now that the U.S. Supreme Court has ruled it doesn't have to.
In an interview Friday with The Huffington Post, Branstad was even more forceful.
"We're opposed to it and we're not going to have any part of it," Branstad said. "But we're taking our own approach. We want to put our own effort together to be the healthiest state, and we're willing to help people who are willing to help themselves. But we're certainly not going to buy into this federal effort. We're going to fight it in every way we can."
"We don't believe the federal government when they say they're going to pay the whole cost of this for the next three years," Branstad added, "because the federal government is dead broke."
The Obama administration's plan has been for the federal government to pay for 100 percent of each state's Medicaid expansion from 2014 to 2016, and then phase down its share of the expenses, stopping at 90 percent in 2020.
But until the Supreme Court's ruling last week, states faced losing all of their Medicaid funding if they refused to accept the expansion, which broadens eligibility for the program. The nation's highest court, however, ruled that the federal government cannot take away existing Medicaid assistance if states don't accept the expansion.
Branstad's decision not to expand the program puts him at the vanguard of Republican governors who have moved quickly after the ruling to say they would do the same. Louisiana Gov. Bobby Jindal, Florida Gov. Rick Scott and Wisconsin Gov. Scott Walker all said last week they would reject the expansion and that they would not set up the health care exchanges required under Obama's health care law.
Branstad, while rejecting the Medicaid expansion, has accepted federal funds "to prepare and plan for an exchange, and taken steps to prepare for the implementation of an exchange," said spokesman Tim Albrecht.
There are plenty of political considerations for these governors.
Branstad, Walker and Scott are in key swing states that will decide the presidential election this fall. Republican governors in other battleground states such as Virginia, Ohio and Nevada are proceeding more cautiously about what they'll decide regarding Medicaid.
But Ohio Gov. John Kasich's spokesman Rob Nichols told The Huffington Post they anticipate that even with the federal government picking up 100 percent of the tab for the first three years, the state would still incur an additional cost of $369 million in 2014, and that by 2018, it would be spending $675 million a year more than it is now on the program.
That's because of what Nichols called a "woodwork effect," where Ohio residents who are currently eligible for Medicaid but are not signed up come forward to receive benefits due to publicity around the expansion, or in 2014, when the government mandate goes into effect. The federal government would not pay for those Medicaid beneficiaries who were already eligible in full, but rather at the traditional average rate of 57 percent.
Nevada Lt. Gov. Brian Krolicki told The Huffington Post last week that the Medicaid expansion has been projected to cost his state roughly $580 million over five years, but added that "there needs to be clarification" about the impact of the Supreme Court's ruling.
"We can opt out," Krolicki said, "but this is a question that people who have expertise need to address."
Popular in the Community