Terry Crews knows just how damaging toxic masculinity can be.
The actor and activist participated in a discussion at Tina Brown's ninth annual Women in the World Summit in New York on Saturday afternoon. Crews ― along with panelists Joanna Coles, chief operating officer at Hearst Magazines, and Lauren Duca, a journalist ― discussed the recent Me Too movement and how it's affected cultural perceptions of sex, consent and gender roles.
True to form, Crews took a moment to point out how masculinity contributes to issues of sexual violence and gender inequality.
"Masculinity can be a cult," Crews said. "And when I say 'cult,' it's no different than David Koresh. It's no different than Jim Jones."
He said that men ― whether consciously or unconsciously ― rarely see women as "all the way human."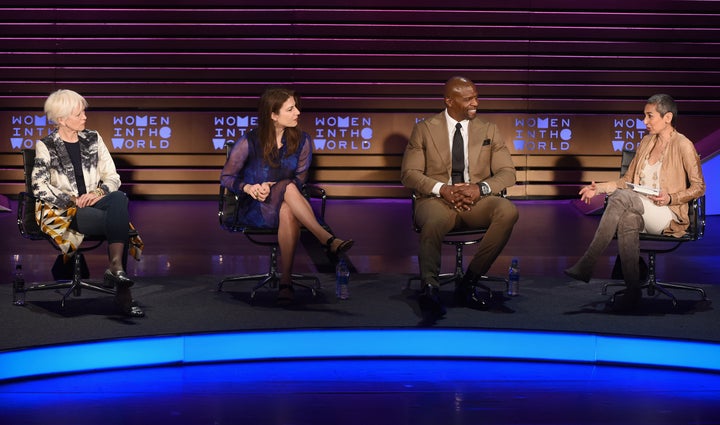 "This is what you have to understand ― there is a humanity issue here," he continued. "[Women are] like, 'Why don't you hear me? Why don't you see my feelings?' And [men are] like, 'But you're not all the way human. You're here for me, you're here for my deal.' It's real."
Crews' comments were met with applause from the crowd at Manhattan's Lincoln Center Theater.
"I am guilty," Crews added. "I believed, simply because I was a man, that I was more valuable than my wife and the other women in my life."
As an example, Crews recalled when he used to play football and he and his teammates would go to strip clubs. They'd be having fun, Crews said, until the stripper began talking to them about her life outside of the club.
"Once she starts talking about that she has kids or she starts talking about anything in her life, it's like, 'Stop, stop, stop.' Because [she's] becoming a human before my eyes," he said. "I don't want you to be a human. I want you to be an object. I want you to be something pretty to look at. But as you talk, you're making things too real for me."
Popular in the Community