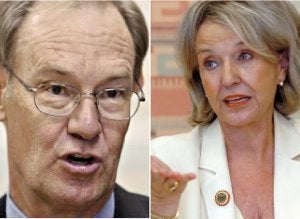 State Attorney General Terry Goddard (D) leads Republican incumbent Gov. Jan Brewer in Arizona's 2010 gubernatorial election, according to a new survey from Public Policy Polling released on Tuesday.
The poll finds Goddard ahead of Brewer 47 percent to 44 percent in what is becoming an increasingly competitive match-up. An earlier poll from several weeks ago found the candidates to be locked in a tight contest, highlighting a dramatic shift in the race since last fall when the Arizona governor held a 10-point lead over her Democratic challenger.

Hispanic voters also appear to be flocking to Goddard -- his support among that group has more than doubled since September. Hispanics prefer Goddard over Brewer by a 71 percent to 25 percent margin, according to the poll.
The new poll comes in the aftermath of Brewer's decision to enact a controversial immigration bill into state law making it a crime to be in the country illegally. An excerpt from the poll analysis provided by PPP:
Where Brewer was getting only 59% of the Republican vote in our last poll, she's now at 73%. But Goddard has seen a similar improvement in his own party, improving from 77% of the Democratic vote to 88%. The main reason for the overall tightening is that where Brewer trailed Goddard by 12 points with independents previously, that's now just a 2 point deficit.
On the bright side for Brewer, the latest polling data suggests that the Governor's handling of immigration issues has given her a much-needed boost among Republican voters amid a crowded primary race for the GOP nomination for Arizona governor.

Calling all HuffPost superfans!
Sign up for membership to become a founding member and help shape HuffPost's next chapter