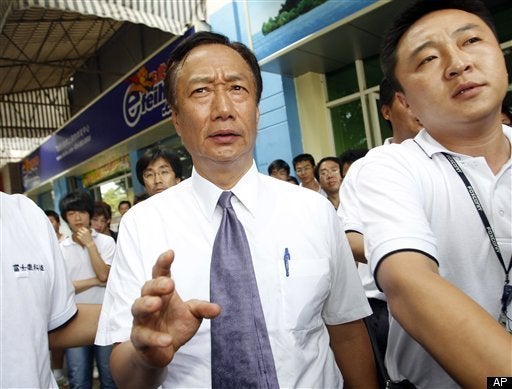 After a string of eleven suicides this year at Chinese electronics manufacturer Foxconn put the company under intense international scrutiny, the builder of iPhones granted Bloomberg Businessweek exclusive access to the press-shy CEO Terry Gou.
Previous investigations have focused on the workers, but Businessweek has gotten Gou's take on the suicides--and it's blunt. Here's Gou:
"I should be honest with you. The first one, second one, and third one, I did not see this as a serious problem. We had around 800,000 employees, and here [in Longhua, a factory campus] we are about 2.1 square kilometers. At the moment, I'm feeling guilty. But at that moment, I didn't think I should be taking full responsibility."
Gou, whom Forbes ranks as Taiwan's richest man with a $5.9 billion net worth, got his start making television knobs with a $7,500 loan from his mother. He claims to be not quite sure how much money he actually has: "I am not interested in knowing how much I have. I don't care. I am working not for money at this moment, I am working for society, I am working for my employees."
There's a joke among executives who work with Foxconn, Businessweek says, that in 20 years everything in the world will be made by Foxconn and sold by Walmart. Author Chang Tien-wen, who wrote a book about Gou, said "Steve Jobs' achievements wouldn't be possible without Terry." His factory in Longhua makes 137,000 iPhones each day, or, to put it in more startling terms, about 90 a minute.
The article includes some great tidbits about Gou. His current wife didn't know how big of a deal he was when he first hired her to teach him to dance, but she did know that he "danced very well for an amateur." At their wedding, Gou did 30 push-ups on stage, after taking off his tuxedo jacket.
To address the high suicide rate, which, to be fair, is lower than the U.S. national average, Foxconn has instituted a "Prevention-Reengineering Caring" program, whose "Campus Loving Heart" Web site and counseling programs are supposed to help workers improve morale. "
Related
Popular in the Community