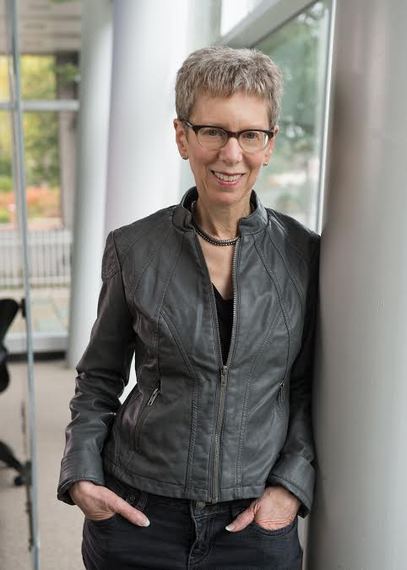 Two titans of Philadelphia's cultural scene, Terry Gross, the host of NPR's "Fresh Air," and famed Roots drummer Amir "Questlove," Thompson will share the stage on Sunday, April 24 at the Penn Museum auditorium for a fundraiser for WHYY public radio. Fans that want to meet Questlove or Gross will have the opportunity at an exclusive, limited availability reception before the main event. Gross, who is a veteran of more than 14,000 studio interviews, will conduct a rare live "Fresh Air" with the musician, who some critics say is the real star of "The Tonight Show with Jimmy Fallon".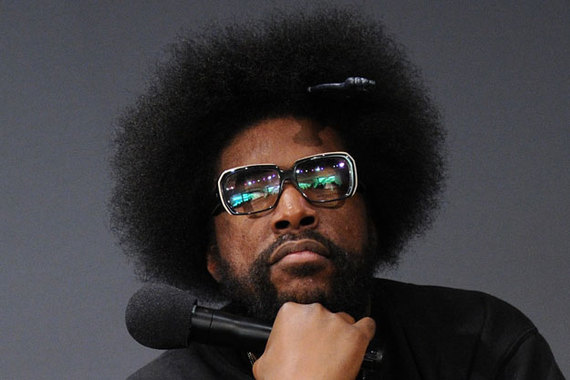 They will be discussing his latest book, "Something to Food About: Exploring Creativity with Innovative Chefs." The Grammy winning musician emailed, "I look forward to talking again with the one and only Terry Gross. It's an honor to be spending time with her in front of a live audience in my hometown Philadelphia. She is a true icon."
Gross pulled back the curtain on the legendary radio show, which 5 million listeners tune into weekly, and spilled some of her secrets for surviving on 40 years in advance of the event. In an era where too many journalists make themselves the story, her declaring the show "is not about me" is literally a breath of fresh air. She continued, "It's about the guest. My job is not to talk about me and to show off who I am. My job is to shine a light on the person that I am interviewing and to use everything that I know and have experienced to help understand them. Not to share more about me."

Her smooth, unflappable voice is now the sound that most of us associate with public radio, but surprisingly her voice was more of a high pitched squeal at the beginning of her career in radio. "My voice was higher and faster when I started in radio," confessed Gross. "Part of why it got deeper was age. Part of it was listening to myself. Telling myself you have to slow down, breathe. I spent one session with a vocal coach a long time ago. She was brought in to work with contributors but I wanted a session too. That was very helpful even though it was mostly about reading copy as opposed to voice placement. I have studied singing for a few years. I am an absolutely terrible singer. I love song. I wanted to learn more about my voice and the voice."
Gross, who conducts interviews every day except for Friday, makes it look easy, but actually there is a lot of preparation that goes into the show. For a book to get on the show there is a multi-layer vetting process with input from her staff of 12. She explained, "Our book producer looks through all the books that come in. He orders books that he thinks we should have. He goes through crates of books each week which he then narrows down to a few rows of books on a table that he thinks I should look at. He will tell me what they are all about and about the authors. Then we mutually agree on which 4-6 books I should take home and spent a little time. Then we talk about which one of these books that we really want to do. He might call the author and see how they are as an interviewee. Do they speak well? Are they enjoyable to listen to?"
Deciding who to book is only one part of the secret sauce of the success of "Fresh Air". The Peabody award winning radio host then has to prepare for the interview. "On Monday, I am interviewing an author," said Gross. I am going to read the book and articles by and about her this weekend. I have interviewed her before so I read the transcripts of the interviews."
She doesn't write an outline of what she wants to ask until the morning of the interview. "Often when I go to sleep, I have no idea what is this interview going to be about, what am I going to them about? What's the structure? I don't know. I hope I can figure it out. In the morning, when I am in the shower, I see the interview taking shape. I have interviewed brain experts. They say that the brain synthesizes data as you sleep," said Gross. Her interviews are recorded for an hour and then edited for broadcast. The show has a similar process for movies with the staff scouting potential movies at film festivals.
Despite the heavy workload to prepare for the interview and the stress of daily interviews, Gross, in person, is preternaturally calm. She credits biofeedback with helping her manage the stress. She said, "My life is a series of endless deadlines. I have 3 deadlines a day minimum-the deadline for my interview, the deadline to write and edit the copy for the show, and a deadline to actually do the show. It's actually 4 if you count that I have to have all the material read for the next day's interview before I go to sleep. The last thing I do before I brush my teeth before going to sleep is meet another deadline. Your body is constantly producing adrenaline when you are on deadline. The adrenaline is of questionably value. You are not being chased by a wolf. You are sitting in a chair reading fast or trying to write. All those adrenaline hormones are helpful in the short-term when there is a crisis. In the long term, those hormones going through your body is really bad. I looked for a way of de-stressing, quieting things down so I figured I would try bio feedback."
Gross, whose show is syndicated to 620 stations globally, is very happy on the radio and never had any interest in making the leap to television. She explained, "I have done a little television. I do feel more comfortable on radio because you don't have to think about how you look. You don't have to buy clothes. I am 4'11. Buying nice clothes that are TV worthy clothes is actually really challenging. I have shopped at Gap for kids. When I was doing that 3 part TV series, honest to god, I spent more time shopping than I did preparing for the interview. That doesn't make any sense at all."
She is married to jazz critic Francis Davis. Gross, whose work day typically begins at 6 30 am and ends at 10: 45 pm, chose not to have children because she didn't think she could have a career and be a parent. She said, "When I was growing up all the adult women I knew were full time homemakers and mothers. I just knew that wasn't the life I wanted. I wanted out. When I discovered radio, I thought okay this is it. I found something that I really want to do. I was skeptical that I would be able to do it if I was also a parent. I did not know how I could find time to do both."
The lack of support for working parents in the 1970's was an important factor in her decision not to have children. "I started in radio in 1974. The women's movement had gained some momentum but there was some work to be done," recalled Gross. "Day care centers were hard to come by. There is now some kind of infrastructure for working parents that did exist then. Even things like certain light weight strollers didn't exist. Everything was more difficult. I could not see how I would be able to do it. Given the choice, I really wanted a career, a different life than the women I had grown up with had. I also didn't feel strongly about being a mother so I didn't feel like it was a big sacrifice. I have realized that I have missed out on a lot. I don't fool myself about that. But I gained a lot too so I don't have any regrets about it. In some ways, I think perhaps it was necessary to have a generation of women that had a lot of members of that generation who decided not to have children and see what that life looked like because we didn't know."
For more information and to purchase tickets for the Questlove live interview, which promises to be surprise and delight his fans, go here.
Calling all HuffPost superfans!
Sign up for membership to become a founding member and help shape HuffPost's next chapter