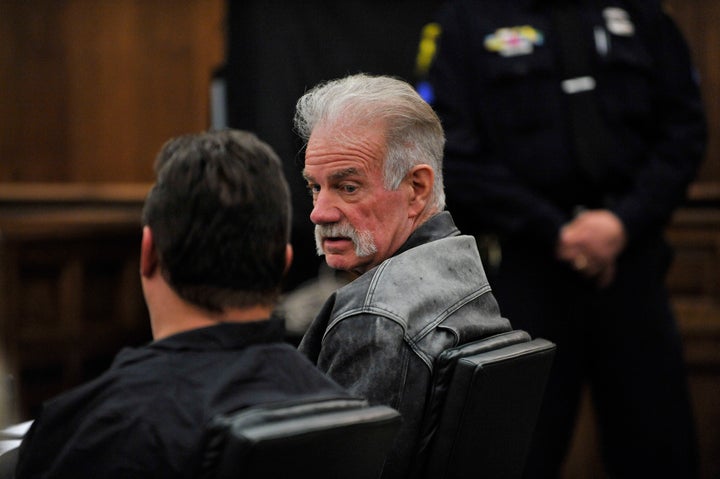 Last month, the pastor of a tiny church in Florida dressed up in a judge's robes and held a mock trial in which he pronounced a death sentence upon the Quran, an order he then carried out using kerosene and a barbecue lighter. News of his deed spread to Afghanistan, where thousands rioted during two days of protests that left 21 people dead, including 7 U.N. workers.
This week, Terry Jones, 59, went back to court -- a real court this time, in Michigan's 19th District. He'd come to Dearborn, a city with a large Muslim population, to demonstrate what he described as "the rise of Sharia law." The plan: Stage a rally outside the Islamic Center of America, the largest mosque in the United States.
On Thursday, Judge Mark Somers summoned Jones and a supporter named Wayne Sapp to the courthouse in response to a Wayne County prosecutor, whose office warned a protest in front of the mosque could "incite a riot." A jury determined the following day that the demonstration would likely "breach the peace," and Judge Somers ordered the men to stay away from the mosque for three years and pay a nominal $1 bond. Jones and Sapp initially refused to pay the bond and were briefly jailed.
Although the protest Jones organized figured to be sparsely attended -- at one point he said he expected only five participants -- the news of his plan triggered a huge reaction from locals opposed to him and sympathetic to the mosque.
Hundreds gathered at the Islamic Center on Thursday night for what was described as an interfaith rally against the Jones protest. An Episcopal bishop led a prayer, and about a dozen religious leaders from nearly as many faiths and sects led the crowd out of the mosque in silence. Participants stood outside for about ten minutes with their hands joined, no one talking. The religious leaders posed for photos with their arms interlocked.
Dearborn Mayor John O'Reilly Jr. attended the event after writing an open letter to Jones that read, "You are coming to protest against an imaginary threat that doesn't exist in our community."
Another demonstration against Jones was held at a library on Friday, this one drawing about 1,000 people. Protestors carried signs reading ""I Am American" and "We Are All Brothers in Humanity."
The idea of demonstrating against Sharia law in front of the Islamic Center of America came not from Jones, originally, but from a Michigan fraternal group called the Order of the Dragon. After Jones announced he planned to join them, the group backed out. "He's a little off his rocker," the organization's president, Frank Fiorello, said of Jones.
In the courtroom, Jones, who defended himself, wore what has become his trademark rebel costume. He sported a Harley-Davidson t-shirt and jeans to match his Hulk Hogan mustache and slung his scuffed leather jacket over a chair. His cohort, Sapp, wore a Harley t-shirt, too.
"You may not agree with what we've done," Jones said, addressing the court for the first time in his baritone preacher's voice Friday morning. Quick to defend his constitutional rights, he added, "This is, to a certain extent, a First Amendment issue ... and the First Amendment does us no good if it confines us to saying what popular opinion is."
Much of the court discussion did center on the First Amendment, and specifically, a Dearborn ordinance requiring demonstrators to obtain permits for protests outside of four specific areas known as "free speech zones." At the trial, Robert Moran, an assistant prosecutor for Wayne County, noted that the police department had invited Jones to hold the demonstration in one of those designated areas.
"They said 'No,'" Moran said. "They said, 'We're going to come demonstrate where we want, when we want, regardless of the law.'"
Jones, for his part, dismissed the concept of free speech zones as "ridiculous."
"All we want to do is exercise our First Amendment rights," Jones said. " Freedom of speech does not have speech zones."
The American Civil Liberties Union of Michigan filed a friend of the court brief. "If the First Amendment means anything, it means that the government cannot interfere in a person's free speech simply because it doesn't agree with the message or because someone else may not agree with the message," spokesperson Rana Elmir penned in the statement. "As reprehensible as his beliefs may be," Elmir added, "we believe this is an unconstitutional attempt to limit his unpopular speech."
In response to the final verdict, Elmir said, ""The prosecutor's office and the Dearborn court turned the First Amendment on its head."
At the Detroit Metro Airport on Saturday, Jones told reporters that his constitutional rights had been violated and vowed he and his supporters would return to town next week. According to Wayne Sapp, however, the men now intend to demonstrate not in front of the mosque but at City Hall.
"Right now, our direct confrontation is with the city of Dearborn," he said.
Popular in the Community