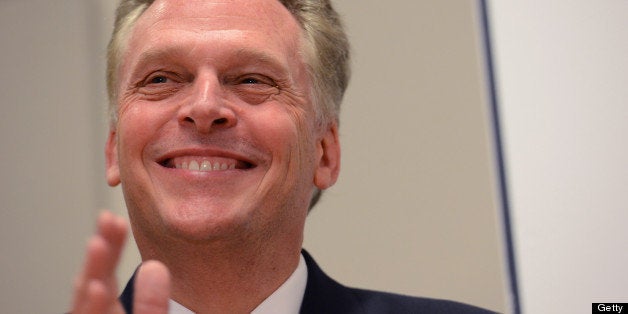 RICHMOND -- Virginia's governor's race remains close, with Democrat Terry McAuliffe edging Republican Attorney General Ken Cuccinelli 43-39 percent -- but their running mates have some work to do.
The bulk of voters are too unfamiliar with the candidates for lieutenant governor to even give an opinion of them, according to a Quinnipiac University poll released this morning.
McAuliffe's 4-percentage point lead overall is helped in part by a 16-percentage point advantage with women voters, though 50 percent of voters say they still haven't heard enough about the former Democratic National Committee chairman to say whether they view him favorably or not.
Only 36 percent of voters said they didn't know enough about Cuccinelli, who served in the Virginia Senate before being elected attorney general.
"Democrat Terry McAuliffe is ahead by a nose in this tight race, but half the electorate doesn't know enough about him to decide whether they view him favorably or unfavorably. Attorney General Ken Cuccinelli is somewhat better known with only a third of voters having no opinion about him," said Peter Brown, assistant director of the Quinnipiac University Polling Institute.
"With such a large segment of the electorate unfamiliar with either candidate, there is a lot of movement possible, in either direction, before Election Day. Solid or shaky, McAuliffe's lead is built on women voters."
Since Quinnipiac's last poll in May, McAuliffe's net favorability has increased 6 percentage points while Cuccinelli's has dropped 6 points, according to the survey.
As of now, Virginians polled say the furor over undisclosed gifts given to Gov. Bob McDonnell will not affect their vote. When asked if the matter makes them more or less likely to vote for Cuccinelli, 70 of those polled said the scandal makes "no difference." Another 14 percent said it made them less likely and 10 percent said more likely.
Though the November tickets are now set, voters appear to know little about the men running for lieutenant governor and attorney general.
Eighty-one percent of voters hadn't heard enough about GOP lieutenant governor nominee E.W. Jackson to form an opinion, and voters apparently know even less about Sen. Ralph Northam, the Democrat running for the office, with 90 percent saying they hadn't heard enough.
More than 80 percent of voters hadn't heard enough about Sen. Mark Herring, the Democratic nominee for attorney general, nor his opponent, Sen. Mark Obenshain.
"Unknown doesn't come close to describing just how anonymous the candidates for lieutenant governor and attorney general are to the citizenry that will elect two of them in three and a half months," said Brown.
The poll also shows Virginia voters support allowing same-sex couples to marry in the state by 50-43 percent, with Democrats backing it 68-26 percent and Independents 52-39 percent. Republicans oppose it 68-26 percent.
Quinnipiac surveyed 1,030 registered voters July 11-15 and the poll carries a margin of error of plus or minus 3.1 percentage points. ___
(c)2013 the Richmond Times-Dispatch (Richmond, Va.)
Distributed by MCT Information Services
Calling all HuffPost superfans!
Sign up for membership to become a founding member and help shape HuffPost's next chapter
BEFORE YOU GO
PHOTO GALLERY
United States Governors