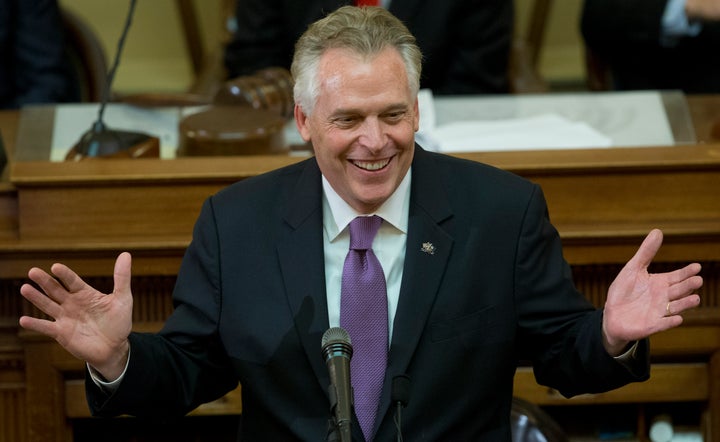 Democrat Terry McAuliffe announced Wednesday that he is officially jumping into the 2021 Virginia governor's race, making a bid for his old job.
McAuliffe was governor from 2014 to 2018, and Virginia bars governors from serving consecutive terms. He is known for his fundraising abilities, was chair of the Democratic National Committee from 2001 to 2005 and has a long and deep relationship with the Clintons.
McAuliffe's entrance into the race has long been anticipated, and his name recognition and popular tenure make him the clear front-runner.
But McAuliffe has already faced some backlash for jumping into the race, potentially blocking the path for a Black woman to become governor. All three of the other Democratic candidates are Black.
State Del. Jennifer Carroll Foy and state Sen. Jennifer McClellan are both running in the Democratic primary and would make history as the state's first female governor and the country's first Black female governor.
Virginia has seen a remarkable shift in recent years, with the former seat of the Confederacy turning bluer and more diverse since McAuliffe's time in office. Last year, Democrats won control of both houses of the state legislature for the first time in more than two decades.
On Wednesday, McAuliffe held his launch event outside an elementary school named after Richmond's first Black school board chair. He was joined by his campaign co-chairs, who are all prominent Black leaders in Virginia: Richmond Mayor Levar Stoney, state House Majority Leader Charniele L. Herring (D) and Louise Lucas, the first Black woman to serve as president pro tempore of the state Senate.
Lucas, who has been a steadfast McAuliffe backer, expressed frustration with people who criticized him for standing in the way of potentially electing the nation's first Black female governor.
"At the appropriate time, I would say either one of them might have an opportunity," she said of McClellan and Carroll Foy in an interview with Politico. "But for right now what we need is Terry McAuliffe, somebody who we know has history with the Black community. He always asks what the Black community's needs are. We've got somebody who we know can deliver."
In an email to supporters Wednesday, Carroll Foy ― who resigned from the state House to focus on her gubernatorial run ― said McAuliffe was "emblematic of the status quo that has simply left too many people behind."
McClellan was less blunt in her criticism of McAuliffe in a statement to reporters, but said Virginia requires "a new approach and a fresh vision to rebuild an economy that benefits all Virginians while addressing healthcare, education, climate and inequity crises."
McAuliffe focused on his remarks Wednesday on the coronavirus pandemic, vowing to help address education disparities and trying to pitch himself as someone not of the past.
"The old Richmond approach just doesn't work anymore," he said. "Folks, it is time for a new Virginia way. I know that old way of thinking because I fought against it constantly as governor, time and time again."
On the Republican side, state Sen. Amanda Chase ― who is a strong supporter of President Donald Trump ― recently announced she would run as an independent rather than seek the GOP nomination at a state convention. Former state House Speaker Kirk Cox is also in the race.
Popular in the Community