 As previously reported , next month Terry McMillian is scheduled to participate in the upcoming Anguilla Literary Festival. In addition to celebrating various authors, the event also aims to influence aspiring authors with its informative workshops and empowering panel discussions.
During a recent interview with The Huffington Post, the former University of Arizona at Tucson English professor opened up on her involvement with the festive five-day event, her thoughts on Oprah Winfrey playing Whitney Houston's role in the sequel to "Waiting To Exhale" and her idea of a futuristic gang story hitting the silver screen.
How did you get involved with the Anguilla Literary Festival?
I was asked by Marva Allen [who owns Hue Man book store in Harlem], she and I are friends. And she was the one who mentioned it to me a while back, and I kind of lost the point that it's the very first literary conference [for the island]. But I'm excited! I think I'm going to teach a writing workshop.
The event is also aiming to influence aspiring authors. What personal advice would you give to young writers who are striving to be in your position?
As far as young kids go, my primary interest is to get parents to read to their kids. That's about the most you can do, I think. And make sure they see you reading, because you can't preach what you don't practice. Read to your children -- it makes a big difference. It's right up there with forcing them to learn how to play a musical instrument and learn a second language. When you do it while they're younger, when they're impressionable, it has a long-lasting effect on their lives. And I wish they did it more. But as far as young writers go, I try to be very supportive and just try to be encouraging. And that's what I hope to do here [with the Anguilla Literary Festival]. I just believe that young people need to be able to learn how to write in their own voice. Just like a musician, you pride yourself on having your own distinct sound.

And speaking of distinguishing yourself from other authors, the sequel to your New York Times best-seller, "Waiting To Exhale," is slated to hit theaters sometime in the future. How much are you involved in the development of the film?
Myself and [screenwriter] Lori Lakin Hutcherson wrote drafts for the film and then Whitney passed away. And so now the studio is trying to take a moment to think about how best to proceed. They've made it crystal clear that they want to proceed, but it's just a matter of how. I have mixed feelings about which way might be best to tell the story. I have critics who feel like they are casting directors, and they know more about what should happen. You have no idea. People have said that we should just kill off the Savannah character, or have her go get a job somewhere and move out of the state. I mean, all kinds of things. And then I have people who think they have in mind who should play Savannah. And right now I'm not in a position to be an advocate one way or the other, with the exception of the fact that it's hard to imagine the story without the Savannah character in it. Even though I know how other people may feel the opposite. I feel terrible about Whitney, just like everybody else, but there's a part of me that also feels that she would want the film to go on. That's just my gut feeling. And it has nothing to do with me not having an allegiance to her or respect for her. I just have a feeling that Whitney would love from heaven, to sit up there and watch who else can do the character.
What are your thoughts on the reports and rumors that were circulating that Oprah would play the role?
Someone told me this and I said, 'Oh, really?' I mean, I don't have any thoughts one way or the other. I love Oprah. I know that I heard that she would like to be able to act again. When she would possibly have the time, who knows? But I haven't thought that far, because again, I am not a casting director. That is not my area. I mean, I also love Viola Davis, but we're not there yet. I'm still wrapping my head around the fact that Whitney is no longer here with us.
Aside from the stories that you have published throughout your career, is there a specific story that you would love to tell that you haven't had a chance to work on?
Well, it's not so much me, but I would love to see a story about gangs. Sort of like a futuristic story where instead of killing each other with guns, they do just the opposite. It's almost like magic realism, where education becomes the new weapon of choice and they start taking care of each other in their communities instead of destroying them. And they realize that they're not doing anything but committing genocide by killing each other and they're not getting anywhere. And if they get hip to that and realize, 'Guess what? We've been doing somebody else's job for them.' That's what I would love to see.
It sounds like you have a great vision that you're passionate about. Why wouldn't you want to write it?
Well, I had a dream about this years ago when I was in Paris. It woke me up and I wrote down all these notes, but I don't personally feel equipped to tell the story. I think somebody like John Singleton, or someone like that would be good. There are a lot of people. But it's a story that would be the opposite of "Boyz n the Hood."
Are you currently working on any new books?
Yes, I'm working on a book, it's called "Who Asked You?" And it deals with a lot of different characters, but the primary character is a grandmother who is forced to take care of her grandkid. But it's a community of people and it's from a lot of different characters' point of view, not just hers. I have a couple hundred pages complete, but hopefully it'll be published sometime next year.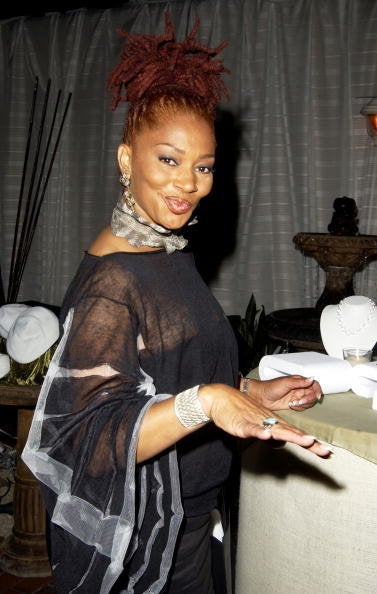 Terry McMillan Photos
Popular in the Community