 Terry McTaggart, the president of a Michigan convenience store, liquor and home heating conglomerate, sent his employees a letter this month suggesting they vote for GOP nominee Mitt Romney and threatening to cut their hours in order to save money under President Barack Obama's health care reform law. McTaggart's claims about the Affordable Care Act, however, reveal more about his own lack of business savvy than the legislation's actual effects, according to other small business owners.
McTaggart, whose company, Forward Corporation, also operates dozens of Subway sandwich shops and three hotels, sent workers a note with their paycheck claiming that he does not offer most of them health insurance benefits in order to keep the company "competitive." He stated that he may have to cut back on their hours in order avoid being required to provide them with health insurance under the 2009 law, and said that if he chooses to do this, the employees will have to purchase their own health insurance, or be penalized for violating the individual mandate.
"Retail businesses are very competitive and in the businesses we are in-hotels, restaurants and convenience stores, we are competing with many businesses that do not provide healthcare coverage," McTaggart wrote. "Do I like that fact? No, but we operate in that competitive environment."
All of this, McTaggart claims, is due to the fact that his 650-person operation will be unable to compete with firms that have fewer than 50 employees. The health care law does not require companies of that size to provide their workers with health insurance.
"I guess the government thinks that if you work for someone who employs less than 50, you do not deserve healthcare," McTaggart wrote. "Try to make sense of that. What has been created for us is a competitive nightmare. The law essentially puts us in a position where we cannot compete with others in the same industry ... For those of you who are working full time and need those hours, you may need to work two jobs."
McTaggart goes on to suggest that a Romney presidency will be better for his workers' own bottom line than another term under Obama.
"There are stark choices between the two political parties in this November election and you will need to vote for the person that best represents your best interest. President Obama will continue with the current law and Mitt Romney has said he will repeal and replace it."
McTaggart's claims only hold up if his company isn't actually making money, or is incapable of raising prices by small amounts. A financially robust firm could just eat the cost of providing health insurance to its employees, and live with slightly lower profit margins.
"Any competitive disadvantage would be pretty damn small," said economist Dean Baker, co-Director of the Center for Economic Policy and Research.
Forward's website describes it as "family owned and operated," so lower profits for the entire corporation likely mean smaller paychecks for McTaggart himself. By raising concerns about the "competitive environment," McTaggart hides a choice he makes between his own payday and his employees'.
"What's that say about how much your employer cares about you?" said Brian England, president of British American AutoCare, a small business in Columbia, Md. "That's the most short-sighted thing to do."
But even if Forward really is struggling to make ends meet, McTaggart could always just pass along the higher costs of health insurance to his customers.
"Look at his numbers," said England. "It costs $1,500 a year to provide a single person with health insurance. For a part-time person, that's probably a dollar an hour. If that person sells 10 subs in an hour, that's 10 cents a sub. You're not going to go into a Subway store and say, 'Oh my God, it's 10 cents more,' and leave."
"He's down to pennies per transaction," said Lew Prince, who owns Vintage Vinyl, a record store in St. Louis. "Does he really expect us to believe that someone will drive miles to save a couple of cents on bottle of sodapop?"
It is also extremely rare for large or mid-size companies to buckle under the competition they face from mom-and-pop operators. Competitive pressures are generally much stronger from larger enterprises than from small stores.
"Usually they fear the larger companies more than the smaller companies," Baker said.
"It's the big chains," said England. "The places that are like me, we are sort of together. The Merchant Tires and all these big places try to nibble around your edges."
McTaggart also claimed that the company's "reluctance to give wage increases" has been because "the cost of the healthcare law to Forward is unknown at this time."
"We have been given two lump sum bonuses, but have only been able to commit to one permanent increase because of the uncertainty since the law was passed," McTaggart wrote.
"By this logic, no one should ever get a raise," said Prince, noting that retailers face more powerful forces affecting prices on a regular basis.
McTaggart joins a handful of CEOs who have urged their employees to oppose Obama, including Westgate Resorts founder David Siegel and the Koch Brothers. Corporations were banned from pressuring their employees on voting for decades, but the Supreme Court's 2010 Citizens United decision freed employers to campaign among their workers as a form of free speech.
McTaggart and Forward declined to comment for this article. The company's mission statement includes a paean to the well-being of its employees: "Our growth will be built upon a foundation of mutual trust and respect among all employees with everyone enjoying the opportunity to gain by being a part of Forward."
October 16, 2012

Dear Valued Associate,

Sometimes we have choices to make that are unpleasant or do not reflect what is in our best interest. The Affordable Care Act (Obama Care) forces us to do just that. The intent of this letter is to give you a little insight into what impact the law may have on you and what options the Company is considering.

Since the passage of the healthcare law and its inherent cost, you and everyone who works here have been paying a price for it. Those who have insurance have paid higher premiums and everyone has been affected by the Company's reluctance to give wage increases because the cost of the healthcare law to Forward is unknown at this time. While the slow economy has also been a factor, this new mandate has been the real obstacle to "business as usual". We have been given two lump sum bonuses, but have only been able to commit to one permanent increase because of the uncertainty since the law was passed. I am in favor of providing healthcare for everyone, but what I would like to do and what the reality of the situation is creates a serious competitive dilemma. Please bear with me while I try to give you a little history and explain what we see as the issues and options.

I will begin by explaining why we do not currently provide healthcare for everyone. When we originally started in the convenience store business, we provided healthcare for everyone who worked here. What we found out, after a couple of years, is that our competitors were not providing health coverage. They were able to price more aggressively than we could and we could not make any money being in the retail convenience business. We had a tough choice to make. We either had to make changes or we would have to give up our plan to grow in the convenience business. We discontinued coverage for most positions. Retail businesses are very competitive and in the businesses we are in-hotels, restaurants and convenience stores, we are competing with many businesses that do not provide healthcare coverage. Do I like that fact? No, but we operate in that competitive environment.

The new healthcare law mandates that we cover everyone or pay a penalty because we employ more than 50 employees across our various companies. Many of the businesses that we compete with employ less than 50 and they will not be required to provide health coverage. I guess the government thinks that if you work for someone who employs less than 50, you do not deserve healthcare. Try to make sense of that. What has been created for us is a competitive nightmare. The law essentially puts us in a position where we cannot compete with others in the same industry. It only takes one business with an advantage to make a market unprofitable for those of us who have to comply with a government mandate.

The easiest example that I can give you would be our Subway stores. In Bay City, we compete with other Subway's that are operated by a company that employs less than 50. We will be required to provide insurance or pay a penalty - they will not. We sell the same product at approximately the same price with the same cost of food and the same image and yet we will be at a major disadvantage if we can not pass on the increased cost of insurance. If the owner of a store in that market decides he wants to take advantage of the situation in their pricing , we will not be able to compete and will be forced to sell or quit operating. The new law does to us what our competitors have not been able to do and that is to make us uncompetitive.

What are our options as a company? One option is to provide the minimum insurance required by law for all covered employees and hope that we can increase our prices enough to pay for it. This is highly unlikely and our competition will ultimately decide this for us. Another option is to cover some employees and reduce the hours worked below 30 for the others. If you work less than 30 hours per week you are considered part-time and do not qualify for coverage under the law.

We have been concerned that our competition would reduce hours to avoid providing coverage, forcing us to do the same to be competitive, and we were correct. Darden industries (Red Lobster, Olive Garden, Longhorn etc) just announced their plan to do this and we hear that Meijer has also started reducing hours. That will force everyone they compete with to do the same and this will spill over to other businesses as well. For those of you who are working full time and need those hours, you may need to work two jobs.

What will change for you? You will be required by law to have health insurance even if you are part-time. If you are covered by the company you will be required to pay a portion of that cost. We estimate your cost will be about $1,500/year for single coverage and approximately $3,800/family. You can refuse the coverage, but you will then be subject to a tax/penalty by the government for not having coverage. That penalty is $95/adult person in year 2014. $325/adult person in 2015 and $695/adult person in 2016 (Dependents under 18 will have a penalty of one half the adult amount). There are various subsidies built into the law to help low income people, but I don't believe those have been clearly defined at this time and I cannot tell you what those are.

We need to reform the system but we feel the current legislation is not going to do it. While the government says that the healthcare law will reduce the Federal deficit, they do not mention who is going to pay for it. You will pay a penalty/tax if you do not have coverage. The company will either pay the insurance bill, suffer a penalty, or reduce some full-time employees to part-time. The state of Michigan will also pay more under Medicaid after a period of years and all of us will help pay for this too. The Medicare fund is being raided to fund this law at the expense of our seniors.

Those of you who currently have insurance here should expect changes in both coverage and cost. To further complicate our situation, we just received notification that our health care premiums from Blue Cross Blue Shield will be 26% higher next year.

Please study this issue for yourself. There are stark choices between the two political parties in this November election and you will need to vote for the person that best represents your best interest. President Obama will continue with the current law and Mitt Romney has said he will repeal and replace it. Now is the time for you to get informed.

Sincerely,

Terry McTaggart
President
Before You Go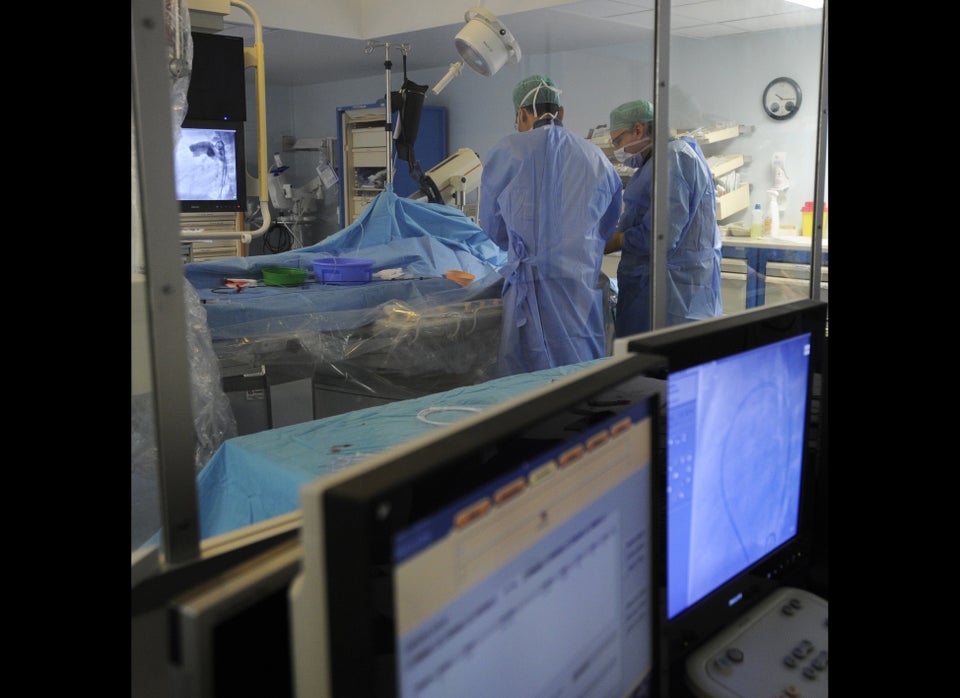 Lies And Distortions Of The Health Care Debate
Popular in the Community