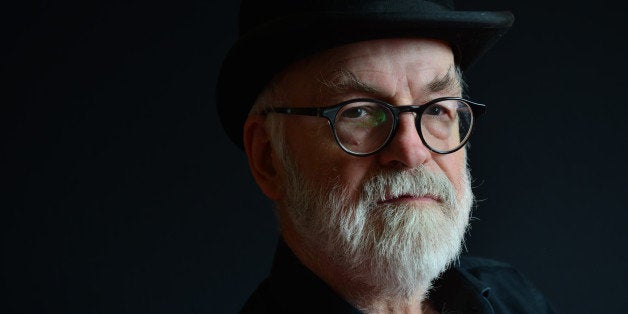 Terry Pratchett, the author of the beloved Discworld fantasy series, died on Thursday at age 66, after battling Alzheimer's disease for many years.
Pratchett was born April 28, 1948 in Beaconsfield, Buckinghamshire to David and Eileen Pratchett. An only child and self-described indifferent student, Pratchett has credited Beaconsfield Public Library with the bulk of his education. In addition to wide-ranging and sometimes unusual reading habits (Pratchett has stated that he read the entire dictionary as a child), he nurtured offbeat interests such as amateur radio and astronomy.
Pratchett attended High Wycombe Technical High School after passing his 11-plus examination in 1959, explaining later that he felt woodwork would be "more fun" than academic studies. His literary interest remained strong, however, and he became a published author at the age of 15 with the appearance of his short story "The Hades Business" in Science Fantasy. Though he began A-level courses in English, Art and History, he left school at just 17 to pursue his interest in journalism, taking a job at Bucks Free Press.
In 1971, Pratchett published his first book, The Carpet People, with the small press Colin Smythe Limited. Colin Smythe eventually became Pratchett's long-time literary agent after the popularity of his books compelled him to move to a larger press.
The first Discworld book, The Colour of Magic, was published in 1983. In 1986 he published a sequel, The Light Fantastic, and he quickly began publishing more in the series as the popularity of the books burgeoned. In 1987, Pratchett left his position at the Central Electricity Generating Board, where he'd been Press Officer since 1980, in order to focus fully on his books. He published dozens of Discworld novels, in addition to a number of related books such as The Discworld Companion (1994) and The Science of Discworld (1999). The popularity of the Discworld series made Pratchett the bestselling author in the U.K. during the 1990s.
A prolific writer, Pratchett has also published several non-Discworld books, including the comic Apocalypse novel Good Omens, a collaboration with Neil Gaiman. In 1998, Pratchett was made Officer of the Order of the British Empire (OBE), and in 2009 he was knighted for his services to literature. He professed himself "stunned, in a good way," at the honor, adding, "It will also impress some of my American friends, who started calling me 'Sir' after I received my MBE, which was a little embarrassing."
In 2007, Pratchett announced that he had been diagnosed with rare form of early-onset Alzheimer's. He became active in the fight against the disease, donating $1 million to the Alzheimer's Research Trust and becoming a vocal advocate for more allocation of resources to Alzheimer's patients and to research. In 2008 and 2009, he starred in a two-part documentary series, "Terry Pratchett: Living With Alzheimer's," on the BBC. He also detailed the slow deterioration of his memory and visual perception in an account of his illness for The Daily Mail, writing: "Alzheimer's is me unwinding, losing trust in myself, a butt of my own jokes and on bad days capable of playing hunt the slipper by myself and losing."
Pratchett's Alzheimer's diagnosis led him to become a supporter of legalizing assisted suicide in the United Kingdom, though he never confirmed he would choose to take this route himself. In 2011, he presented the documentary "Terry Pratchett: Choosing to Die," which followed the assisted suicide of a man who suffered from motor neurone disorder.
In 2012, however, Pratchett stated that his disorder was progressing more slowly than he had expected. By using voice recognition software and dictation to an assistant, he continued writing well after his diagnosis in 2007, even saying that these techniques made writing a book "[b]etter [...] If it all came back, I would probably stick with talking." In 2013, he published his 40th Discworld novel, Raising Steam.
Calling all HuffPost superfans!
Sign up for membership to become a founding member and help shape HuffPost's next chapter
BEFORE YOU GO
PHOTO GALLERY
Writers We've Lost In 2015