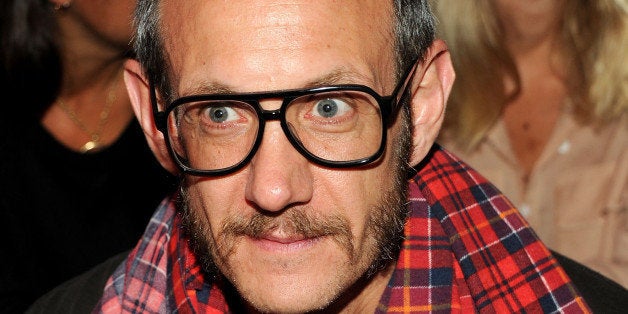 Another woman who posed for Terry Richardson has stepped forward to say the notoriously provocative photographer took advantage of her during a photo shoot. The allegation comes in the wake of New York magazine's thorough profile on the evolution of the photographer's illustrious and controversial career.
Del Gaizo says she jumped at the opportunity to be photographed when she was asked to come back to Richardson's loft after a launch part for a New York City eatery in 2008. But she says the experience has haunted her. From Jezebel:
At first, I simple stood in front of the white wall, making goofy faces, then I moved around, vamped it up. He suggested I show my "tits." I'm not against nudity by any means, so again the answer was, "Sure. Why not!" He entered the shot for a few photos. Then, as I was kind of crouched down posing, I suddenly felt his semi-hard penis pressing very hard into the right side of my face. No warning whatsoever. (I had been looking straight ahead at the camera, evidently too distracted to notice him whip it out beforehand.) He pressed it to my open mouth, giggling. Leslie smiled, saying something to the effect of "Isn't this fun?" He wanted a blow job, and he wanted it documented.
Del Gaizo joins a growing list of women -- including models Rie Rasmussen and Charlotte Waters -- who have alleged that Richardson exploits young models or has sexually harassed them in front of the camera.
The photographer told NYMag he was never alone with any of these women and that his behavior was all out of "fun."
"It was very daytime, no drugs, no alcohol. It was a happening, there was energy, it was fun, it was exciting, making these strong images, and that's what it was. People collaborating and exploring sexuality and taking pictures," he said.
In March, Richardson issued a statement on The Huffington Post , saying his sexual imagery is much like the work of photography greats Helmut Newton and Robert Mapplethorpe. Accusations that he in any way took advantage of these "consenting adult women" were purely rumor, he said.
"Well-intentioned or not, they are based on lies. Believing such rumors at face value does a disservice not only to the spirit of artistic endeavor, but most importantly, to the real victims of exploitation and abuse," he wrote at the time.
Del Gaizo says she decided to speak out because men like Richardson "seem to go unscathed all too often." She says part of the reason is the stigma attached to sexual assaults. "[F]or every girl who didn't want to make a 'big deal' about what happened to you when you were 12, 23, or ever, this is for you," she wrote on Jezebel.
The Huffington Post reached out to Richardson regarding the latest allegation but did not receive an immediate response.
Popular in the Community