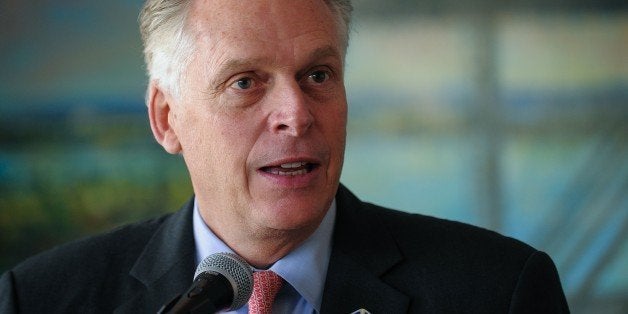 The Virginia Governor invited the NRA to the table, but not gun violence prevention experts, and it shows.
Within days, a series of gun bills of great import will land on the desk of Virginia Governor Terry McAuliffe. This legislation stems from a deal the governor's staff negotiated last month with lobbyists from the National Rifle Association (NRA) and Virginia state Senator Bryce Reeves (R-17th).
Gun violence prevention advocates and gun violence survivors were conspicuously kept away from those negotiations. Lori Haas, who is the Virginia State Director for the Coalition to Stop Gun Violence (CSGV) and the leading voice for sensible gun laws in the Commonwealth, wasn't even informed about the deal until 48 hours before it was leaked to the Washington Post. The input she provided at this late hour was then ignored. Ditto for high-profile survivors like Andy and Barbara Parker, who lost their daughter Alison in the gruesome WDBJ shooting captured on live television this summer, and African-American leaders in the communities hardest hit by gun violence in the Commonwealth.
Unfortunately, this lack of balance in the negotiations had serious repercussions. What could have been a momentous step forward for public safety instead turned into a bad deal; poorly navigated by a McAuliffe team with far less experience in writing gun legislation than their NRA counterparts. The results are perhaps best summed up by this uncomfortable question asked by Andy Parker: "If [this is] a meaningful deal, why is it that the NRA and their local minions are the only ones who are celebrating?"
That said, the deal is not done yet. Governor McAuliffe still retains the ability to make things right by signing good legislation that will help keep guns out of the hands of dangerous individuals and vetoing an ill-advised bill that would put many violent concealed handgun permit holders on Virginia's streets.
The centerpiece of the deal is a rollback of Attorney General Mark Herring's recent decision to revoke concealed carry reciprocity agreements with 25 states that fail to meet Virginia's permitting standards. HB1163/SB610 would force the Attorney General to recognize the concealed carry permits of all 49 other states, regardless of their standards (which is more states than Virginia granted reciprocity to prior to Attorney General Herring's decision). This would allow the following dangerous individuals with out-of-state permits to carry loaded guns in Virginia again: Stalkers; individuals convicted of violent misdemeanors (i.e., assault/battery, weapons charges, sex offenses, etc.), DUIs and drug offenses; juveniles convicted of offenses that would have been felonies had they been adults; and persons who received mental health treatment or substance abuse treatment in a residential setting less than five years prior to the date of their application for a concealed handgun permit. Equally egregious, if a Virginia resident with a disqualifying criminal and/or mental health history failed to obtain a concealed handgun permit in the Commonwealth, he/she would be able to obtain a mail-order permit from an outside state with weaker standards and carry in Virginia regardless!
In addition, under HB1163/SB610, Virginia would grant states reciprocity without requiring them to be able to verify their concealed handgun permits on a 24/7 basis. So much for "enforcing the laws on the books."
Governor McAuliffe has tried to assuage concerns about this rollback by claiming that "there is no evidence that anyone with a concealed carry permit has ever harmed anyone in Virginia." This claim can be immediately disproven by visiting the Violence Policy Center's "Concealed Carry Killers" website, which contains many such cases from Virginia, including mass shootings. Research from Stanford University has also found that "right-to-carry laws are associated with substantially higher rates" of aggravated assault, rape, robbery and murder. The governor's claim appears to be based entirely on the testimony of Fox News columnist John Lott, whose research has now been thoroughly discredited.
In exchange for this "huge expansion of gun rights" as Republican state Delegate C. Todd Gilbert described it, two modest gun violence prevention provisions--totally lacking in enforcement teeth--were included in the deal. The first (HB1386/SB715) would direct Virginia State Police to be present at each gun show in the state to conduct background checks upon the request of private sellers of firearms. But no private seller would ever actually be REQUIRED to run such a check on their buyers. And private sellers are currently able to conduct such checks through federally licensed firearms dealers at gun shows, if they so desire.
The second, more important, provision (HB1391/SB49) would make it a felony offense for someone who is the subject of a permanent protective order in cases of family abuse to possess a firearm under Virginia law. The provision would only apply to this one specific type of protective order. Temporary orders and other types of permanent protective orders (including those designed to protect abused and neglected children) would not be addressed. Additionally, although the legislation allows abusers 24 hours to transfer their firearm(s) to another party, it does not provide them with any guidance on how to do so.
Who should an abuser transfer their firearm(s) to? That remains entirely unclear. Does this mean law enforcement? What about a friend, neighbor or spouse? Would the person taking custody of the firearm(s) have to pass a background check first? How would the appropriate court know who the firearm(s) has been transferred to? All of these questions remain unanswered, even though several other states offer models for best practices in this area. Furthermore, no removal process is defined in the legislation if abusers simply refuse to give up their guns.
So what would a good deal look like? In regards to the concealed carry reciprocity portion of the deal, it would require the following:
• People not eligible to obtain a concealed carry permit in the Commonwealth would be barred from carrying in Virginia even if they got a permit from another state with weaker standards.
• States granted reciprocity by Virginia would have to ensure they can verify their permits on a 24/7 basis.
As for the domestic violence provisions in the deal, the following changes should be made:
• A specific process should be defined for domestic abusers to dispose of their firearm(s) to a Federally Licensed Firearm dealer or law enforcement. That dealer or law enforcement would have to provide a receipt upon taking custody of the firearm(s) that would be filed with the appropriate court. Finally, a background check should be completed on the abuser at the termination of the protective order to make sure that there are no new disqualifications in his/her background.
• A specific process should be defined for law enforcement to remove firearms from domestic abusers who refuse to surrender their firearms.
I understand that Governor McAuliffe gave his "word" to the NRA when he agreed to this flawed deal, but before that he gave gun violence prevention advocates his "word" that he would stand up to the gun lobby and support only the best gun laws. At a moving vigil for victims of gun violence at the State Capitol on Martin Luther King, Jr. Day (January 18), the governor told us:
We have not changed our tune [on gun policy] one iota and we are just warming up. I want the folks in [the General Assembly] to understand that we are going to continue to fight for every single citizen here in the Commonwealth of Virginia ... It is our goal to make Virginia the safest state in the United States of America and we are not going to let them stop us ... Our voices will never be diminished. We will continue to fight for what is right ... Are you ready to fight?
Either way, the governor has to break a promise to somebody. Will he disappoint a radical, far-right wing lobby that called him a "liar" who is "ideologically opposed to the private ownership of arms and doggedly committed to its elimination" just three months ago? Or will he break the hearts of gun violence survivors and gun violence prevention advocates who worked so hard to get him elected?
That choice should be an easy one.
In addition to his national work with the Coalition to Stop Gun Violence, Josh Horwitz is a board member of the Virginia Center for Public Safety, has testified on dozens of bills before the Virginia General Assembly, has been an invited speaker at public safety forums sponsored by the McAuliffe Administration, and has lived in Arlington County, Virginia for over 30 years.
Calling all HuffPost superfans!
Sign up for membership to become a founding member and help shape HuffPost's next chapter